KNAC.COM Reviews The VINNIE PAUL CELEBRATION OF LIFE Event In Dallas, Texas


By Cynthia Fields-Jalil, Writer/Photographer
Friday, July 13, 2018 @ 10:56 AM


| | | |
| --- | --- | --- |
| | | Sunday, June 28th, 2018 At The Bomb Factory |
All Photos By Cynthia Fields-Jalil
Thanks to Vinnie Paul's management team, I was granted access to a "Celebration of Life" gathering that I would rather have not had to attend. While the music world is still very much shocked and still trying to come to terms with the realization that we've lost yet another world-class musician, PANTERA, DAMAGEPLAN and HELLYEAH's founding member and drummer Vincent "Vinnie" Paul Abbott, his family has had the tough and emotionally challenging task of burying another son, another brother, another family member & another loved one, a true friend to so many way too soon. Just like so many of you probably first wondered, I too questioned the validity of the initial reports of Vinnie's untimely death as the devastatingly sad news started trickling in. I hoped and prayed that it was all just a terrible rumor. But then the heartbreaking news that Vinnie Paul had in fact suddenly and without warning passed away in his sleep was confirmed on PANTERA's and HELLYEAH's social media platforms, after which a flood of heartbreakingly touching condolences and tributes from Vinnie's music industry peers, industry idols and his fans from all over the world started pouring in. After prematurely and very tragically losing his beloved younger brother and bandmate Darrell "Dimebag" Lance Abbott on December 8, 2004, the world had now prematurely and suddenly without warning lost Vinnie Paul on Friday, June 22, 2018.
And so, on Sunday afternoon July 1st, 2018 at Dallas, Texas' music venue The Bomb Factory in the sweltering heat a few hundred of Vinnie's friends, acquaintances, and his diehard fans started lining up to claim the first come first served wristbands that would grant each wearer admittance to Vincent "Vinnie" Paul Abbott's Celebration of Life gathering.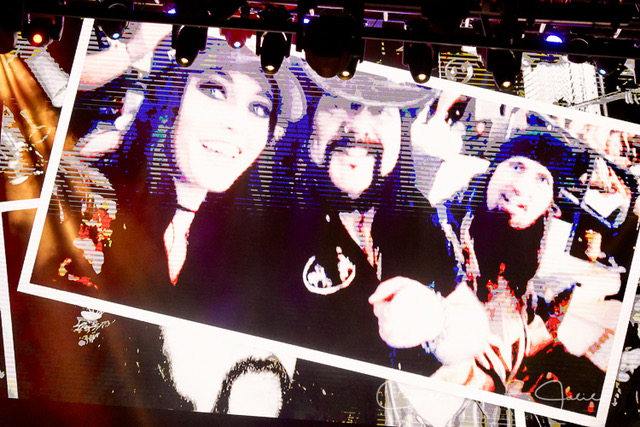 After a few delays, the doors opened roughly between 2:30 pm - 2:45 pm and then the fans were allowed in after going through the routine security checks. Upon entering, we were all directed to another line and two by two we were allowed to sign Vinnie's "Celebration of Life" Guest Books for his family and loved ones. Once we cleared that line, we were in and free to claim our respective spots.
Vinnie's celebration was supposed to start at 3:33 pm aka "Dime Time" to honor his and his beloved brother Dimebag's favorite number 3 that has a story that will surely make y'all laugh out very loud (hint: ear, jewelry, time to start the day, time to pour another drink, etc.)! Unfortunately, due to some of the family members and special guests' challenges of locating the venue, the celebration instead started at 5 pm.
And so at 5 pm sharp Jose Mangin, Sirius XM's Liquid Metal DJ and Radio Personality, along with Chris Jericho of FOZZY and Nick Bowcott, former guitarist for GRIM REAPER and one of the first bands that PANTERA opened for in 1985 hit the stage with each of them sharing their best memories & stories from their treasured friendship with Vinnie. Bowcott talked about how he had become unrelated brothers and lifelong friends since his band GRIM REAPER had first invited PANTERA to tour as the opening band for them back in 1985. Jericho told the funniest story of how everytime he would play wherever Vinnie happened to be at the time, Vinnie would call him up and ask him for not the usual and standard 2 - 3 guest tickets. Instead, Vinnie would ask for 15 or more guest tickets for all of his friends and entourage because, simply put, Vinnie always took care of everyone! Jericho also told the funny story of how Vinnie called him up to say "Hey, I just bought me a limo!" That limo turned out to be an old school classic limo that he had customized! And "wow, was he proud of it!".
Mangin's story was one that was more relatable to the fans. He talked about how he had come to know of Vinnie first as a PANTERA fan and then as a music industry peer and how surreal it felt to him the first time that he met and sat in the same room with Vinnie Paul at the Sirius XM Liquid Metal radio station. His very laughable moment came during his tribute when he exclaimed how much it meant to him to be able to speak at Vinnie's funeral the day before on Saturday, June 30th, 2018 and how, against his better judgment, he still managed to say something so embarrassingly stupid to Mr.
Abbott that he was happy that he hadn't heard. But then just as he thought he had ducked the bullet, one of Vinnie's family members who heard it loud and clear leaned over and whispered it in his ear "You have some magical sperm Mr. Abbott!". Of course, this got the crowd roaring with laughter and chanting "HELLYEAHHHH!!!" in honor of Vinne's legacy and memory!
Next up was Cindy Scull, 97.1 The Eagle's DJ, and longtime Radio Personality and the Abbott family's officially appointed Master of Ceremony. Scull talked about how she had become friends with both Dimebag, Vinnie and their band over thirty years plus ago. She spoke of how devasted and lost she has been ever since she heard the news of Vinnie's untimely death and how she still has not fully come to terms with the fact that Vinnie has also left us all. She however did admit that it comforted her to know that Vinnie was finally back with his beloved brother Dime and their mother, which was very comforting to her, and how the reunited brothers are now together smiling & hugging each other in rock and roll Heaven currently having "the biggest fuckin' rock and roll reunion ever!"
Scull then introduced the first of a stream of video tributes from several of our music industries musicians and Vinnie's peers that included: Ozzy Osbourne, Geezer Butler and Tony Iommi of BLACK SABBATH, Zakk Wylde of BLACK LABEL SOCIETY, Comedian Carrot Top, Scott Ian and Charlie Benante of ANTHRAX, Chris Adler of LAMB OF GOD, Peter Criss of KISS, Chad Kroeger of NICKLEBACK, the House of Blues - Las Vegas' current management team, his previous PANTERA, DAMAGEPLAN and HELLYEAH management team, music producers, long time friends and industry peers, and several acquaintances along with a slew of music videos from Vinnie's bands PANTERA, DAMAGEPLAN, and HELLYEAH to the cheering and fist-pounding chants of "VINNIE PAUL!" and "HELLYEAH!" and a mosh pit of diehard fans! Somewhere in between the fans, myself included, we were caught off guard by a very brief video tribute from none other than Philip Anselmo, the long-estranged former lead singer of PANTERA.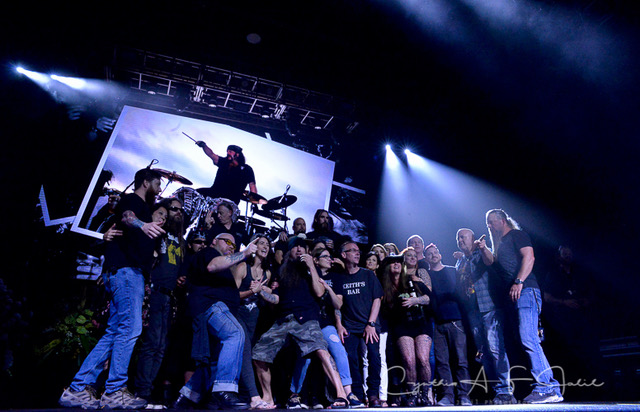 Nearing the end of the gathering, Charlie Benante of ANTHRAX and Chris Adler of LAMB OF GOD appeared together to share some of their heartfelt memories and moments they shared with their fallen brother in music and beloved friend followed by CJ Pierce and Mike Luce of DROWNING POOL, both of who were visibly shaken by the loss of their brother in music and dear friend. Luce was so shocked as he nervously addressed the crowd while stating that he was more comfortable behind the drums. He almost immediately positioned himself behind Vinnie's HELLYEAH drum kit that was placed between the floral sprays & memorial arrangements on Vinnie's drum riser that had the name of HELLYEAH's current album UNDENIABLE spelled out on the riser base to finish his tribute to Vinnie.
Right before one of the final music video tributes titled "Walk" by PANTERA and a Mosh Pit of moaning fans, Scully kindly thanked all of Vinnie's fans for all of their love, support, and heartfelt condolences, on behalf of the Abbott family. And then it was over.
Immediately following Vinnie's "Celebration of Life", the family, and fellow HELLYEAH bandmate Kyle Sanders took to the stage to take a few pictures by the family's photographer and dear friend famed rock photographer Chad Lee. And to openly extend as much love, and comforting support to each other while laughing and crying together as they shared stories of their beloved brother, beloved family member, beloved bandmate and beloved brother in music and very dear and beloved friend Vincent "Vinnie" Paul Abbott while hugging each other tightly. After all of the fans had exited the building and Vinnie's closest loved ones left the stage to retreat to the private backstage area, myself included (thanks to his very hospitable & friendly management team and family members). The most important thing that I learned about Vincent "Vinnie" Paul Abbott is that he gave real love, knew real love and was loved by so many, and that truly comforts me.
Dear Vinny, although you are no longer physically present you and your beloved brother Darrell "Dimebag" Lance Abbott will be alive forever in our hearts & souls, and in all of the music that you brought us. Rest In Eternal Peace Vincent "Vinnie" Paul Abbott.
Check out some more photos from the event!
All Photos By Cynthia Fields-Jalil

Please log in to view RANTS