Houston's LOVE AND WAR Offer Free Title Track To New Album Edge Of The World


By Larry Petro, News Monkey
Friday, August 3, 2018 @ 6:59 AM


| | | |
| --- | --- | --- |
| | | Band Puts Finishing Touches On New Opus |
Houston, Texas energetic melodic hard rock band LOVE AND WAR has released the new free advance title track "Edge Of The World" from their upcoming 2nd album of the same name.

Download the free track "Edge Of The World" HERE.

The band has checked in with the following comments: Guitarist John Adams:

"The process has been a journey well deserved for us! Recording in Beautiful Arcadia Valley Missouri, south of St. Louis, at Endeavor Studios with engineer/producer Greg Gill, former guitarist for Z-LOT-Z. Greg recorded our first record Up The Annie in Houston and has been a long time friend and we welcomed him back with open arms in recording our latest record Edge Of The World"!! It's going to be a MONSTER and we can't wait for everyone to hear it! We expect to release it in the coming months.

Writing the song/title track "Edge Of The World" started in bits and pieces, I had the Intro already written for awhile along with the main riff of the song, not knowing right away where to go with it. I was practicing one day and the chorus came together, I had read a quote about standing on the edge of the world, where the world is your "reality", where you stand and look over the edge into your spirit world, by combining the two you will be whole! I wrote the chorus with that in mind, I turned it over to Jeff from there and said "write the verses" and he finished it off. We are very happy with the way it came out, it's a monster song!"

Vocalist Jeff VandenBerghe:

"Recording our new album Edge Of The World at Endeavor Studios with Greg Gill has been amazing.. The raw tracks were laid down first with the guys. Then John and I went back and I added the main vocal tracks and harmony vocals…John put down rhythm guitar tracks and laid down his scorching leads. Working with Greg is awesome, he's got a great ear and knows his way around the console. He had done such a great job on our first CD, Up The Annie so it was a no brainer. This album is gonna be a Monster …. Can't wait for the world to hear it!

Some song lyrics come easier than others. Edge Of The World just sort of flowed out once I had an idea of a thought process behind the title. Sometimes I write about things that I've done good or bad, or things that I don't want to do, or places I don't want to go emotionally. Sometimes life's frustrations or situations make you feel like you're standing at the edge of a cliff looking down into a huge chasm. It's times like that you have to take a step back, reevaluate and prioritize to make it through it. It sort of came from there, then I just put a twist on it. John's music brought it to life. I love this song and the way it came out. Coming up with a good melody line is always a challenge to make it work with the music John comes up with. That's what I love about working with him. We"ve worked together writing songs for years. It always just seems to come together because we know each other styles."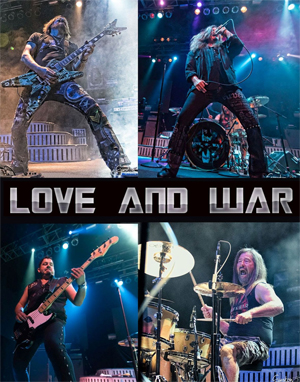 Bassist Ray Soliz:
"The recording process for me was quite easy. We had been playing the tunes for the new record live for quite some time. Leaving Houston and traveling to the beautiful town of Ironton, MO was a much needed change of scenery. I actually recorded all my tracks within a few hours the first trip to Endeavor Studios. Most of them are first takes, and I had very few fixes and punch ins. Greg Gill, our producer, was such a pleasure to work with and has such an awesome ear for music. He allowed me to just flow and play the songs as I had played them live. I'm looking forward to the new release. The first release was already recorded when I joined the band, so to be a part of this project with my friends has been special. The song "Edge Of The World" was written rather quickly. John Adams already had the riffs, some lyrics, and of course guitar solo ideas. This is one of my favorites off the new release. It's got great riffs and hooks. Jeff did an awesome job on the vocals, and the guitar solo is blistering. Donny's double kick work really drives the tune."
Drummer Donny Bragg:
This is the third time I've worked with Greg Gill and he always makes me feel comfortable in the studio. I couldn't imagine working with anyone else in the studio! He captured me at my best, as he did John, Ray, and Jeff. The new record, Edge Of The World, is something that I'm extremely proud and I feel that it's going set our fan base on fire! I think it's heavier and more groove oriented than Up The Annie. I'm really looking forward to EOTW being released soon! I really hope everyone loves it as much we do!

Please log in to view RANTS