SAXON Wheels Of Steel Reissue


By Rob McNees, Vinyl Aficionado
Monday, August 6, 2018 @ 1:15 PM


| | | |
| --- | --- | --- |
| | | |
SAXON
Wheels Of Steel Reissue
BMG Records




An interesting fact that I absolutely never paid attention to till now was the fact that back in the glory days of SAXON history the 2nd album I bought from them was Strong Arm of the Law which Iíll review later. Then I bought Wheels of Steel. Because of that, Iíve always thought in my feeble mind that they were released in that order, Strong Arm then Wheels. But as I get ready for my next review for the SAXON reissues, I found that itís the exact opposite of what Iíve always believed: Wheels is actually the 2nd SAXON album, originally released in February of 1980!! The shock! The horror! Okay, maybe a little melodramatic but because when I start looking at the SAXON legacy, Wheels was always stronger IMO, so it made sense that it was third. No matter, letís get down to brass tacks.

One of, if not the greatest SAXON albums of all time, Wheels of Steel is a monumental slab of NWOBHM greatness! By strength of catalogs, I still lean to SAXON over IRON MAIDEN as the greatest NWOBHM band ever. Which of course is most assuredly up for debate. And this album is a very large part of it.

With the sound of a speeding motorcycle flying by, "Motorcycle Man" roars out of the speakers and grabs you right by the balls. No frills, just headbanging fury with a howling guitar solo and a little double bass kick drum to boot. This is how you kick things off!! "Stand Up and Be Counted" follows and a tad drop in tempo, but not in quality as Biffís melody line in the chorus, not to mention the positive lyrics will have you humming this track in your head for weeks. Not that you wonít do that for the next track "747 (Strangers In The Night)" though, as itís just all killer, no filler on this magnificent opus. This track just oozes with a band hitting on all cylinders.

The title track runs you over like a Ď68 Chevy and harkens me back to high school terrorizing the burg of Baytown, Texas with the stereo blasting and not a care in the world. "Freeway Mad" begins with drummer Pete Gill pounding the skins and the band bringing Heavy Metal Thunder! At 2:40, thereís no wasted energy here, just sheer brilliance. Thereís even the police siren chasing you down, which I heard a Ďcoupleí of times back then. "See the Light Shining" keeps the energy high with a double bass pounder and smoking solos from guitarist Paul Quinn & Graham Oliver.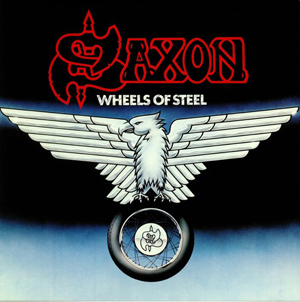 Dueling riffs kick off "Street Fighting Gang", another up tempo asskicker as vocalist Biff Byford relives his youth. Obviously gangs in this day and time take on a whole different concept. I guess you could say "Suzie Hold On" would be the commercial single on the album, but if all bands had hits like this then the world would be a much happier place. A bit subdued but still heavy to these ears. Album closer "Machine Gun" rips your face off like a stray bullet and ends the album off like it started, with headbanging fury! I see no way your neck survives the onslaught of this 39 minutes of Grade-A British Steel!!
But of course BMG Records really gives you value for money with more Saxon bonus tracks in addition to this landmark album! From the demo rehearsals from 1980 you get "Suzie Hold On" and "Wheels of Steel", raw and unpolished but still amazing to hear showcasing the band power and songwriting prowess. Also Live versions of "Stallions Of The Highway" off the debut and 5 from their legendary Castle Donington gig from 1980, namely "Motorcycle Man", "Freeway Mad", "Wheels of Steel", "747 (Strangers In Ihe Night)" and "Machine Gun". This show really reinforced the popularity for SAXON, since the album Wheels of Steel had stormed to No.5 on the U.K. charts!
And for my Vinyl familia, even tho the albums have been released on killer multi-colored Vinyl unfortunately none of the bonus tracks are available on said Vinyl. But if for some reason you donít own them, then by all means buy or die!!!
4.9 Out Of 5.0 Skulls

Please log in to view RANTS