JUNGLE ROT Jungle Rot


By Nathan Dufour, Great White North
Monday, August 13, 2018 @ 1:02 PM


| | | |
| --- | --- | --- |
| | | |
JUNGLE ROT
Jungle Rot
Victory Records, 2018




I have a bone to pick with JUNGLE ROT and I may as well do it here, before the actual review. I have seen the band on a few occasions in my hometown and in each case, the band (or I guess lead singer Dave Matrise) straight up insults the crowd, whether due to attendance numbers or a lack of movement or, I dunno, a bitchin' headache? And I don't mean the familiar cadence of "Come on, motherfuckers!" more like "You all fucking suck. All of you." It's not professional, not endearing, and above all, for that 40 minutes or whatever, it's your job for that time period. There are literally thousands of starving artists out there (not saying there are millions in death metal), nevermind some kid in the crowd who is awestruck that "This band is playing my town, man!" It's goddamn shameful behavior and I hope it's not repeated in every stop on a tour. I feel better now.

The above notwithstanding, it is undeniable that JUNGLE ROT are damn fun to listen to. The band plays, and has played, no frills meat and potatoes death metal for 25 years now, roughly. For their newest opus the band have opted for the eponymous title and that is, well, a bold move. Historically, simply naming an album the band name has had mixed results or can have the effect of perhaps scaring fans off for fear of a departure from a marked sound or image in favor of more copies sold, more accessibility for an underground band, or some similar concern. Leave that concern at the door, as JUNGLE ROT remains firmly in the trenches, muck and pus and all, on their tenth overall full length.

Jungle Rot is easily the most fun I have had listening to straight ahead death metal this year (so far) - it deftly scratches the itch for want of something just plain bludgeoning without slamming about in a pig pen. I can find something in every track I enjoy, specifically with some of the guitar solos verging on some wah-Hammett territory to my ears at least. And I mean, seriously, check out that deliciously SLAYER flavoured lead that snakes its way around your ear holes on "A Burning Cinder" before locking into a sickly sweet groove that is really at the heart of what JUNGLE ROT does: they groove. They thrash, they never grind, they play in their end of the pool and that is that. Are we reinventing the wheel? No. It isn't broken.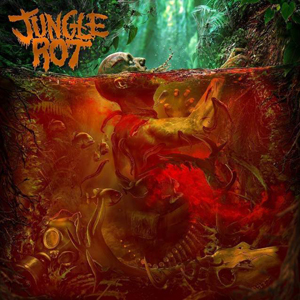 By the time "Triggered" comes in to stomp on your head for a bit, JUNGLE ROT are in full swing and I'll be damned if that inhale grumble before the chorus hits doesn't make you want to squeeze that invisible orange with everything you have. I can see that track being a live favourite really, it's just so effective in its execution (and there's that wah-ing solo). Just tasty, kids. Just tasty, tasty, meat and potatoes death metal.
Coupling nicely after "Triggered", "Fear Monger" is the other shoe dropping on your jaw, with a swagger and a plainly awesome breakdown. Now, I have not paid a whole lot of attention to the lyrics of JUNGLE ROT generally but on these tracks, and the album as a whole, they seem legitimately pissed about something. Funny, I hadn't noticed the world going to hell recently…
I am pretty sure that "Glory For The Fallen" is my favorite song on the album, a smoldering riff monster lurking under your bed at night, threatening to burrow its way so far into your brain that randomly, at 3 a.m., for no reason, the majesty of the riff will wake you up. Your spouse will wonder what is wrong, as you whisper "nothing, go back to sleep" and then bang your head ever so gently. It's that good.
The KREATOR cover is a nice touch, albeit slightly unexpected. Sure, the stylistic similarity is there, but JUNGLE ROT take the song and make it their own - the mark of a great cover, in my opinion.
I'm gonna go listen to "Triggered" again. JUNGLE ROT have created one of the best pure death metal albums of the year.
4.5 Out Of 5.0

Please log in to view RANTS