A new GoFundMe page has been launched to help with the steadily increasing medical bills for STRYPER guitarist Oz Fox, who suffered a seizure and collapsed onstage while performing with the band SIN CITY SINNERS last weekend. Oz currently doens not have medical insurance so every dollar raised in this campaign helps. The page description (which can be found HERE) is as follows:

"While performing on stage in Las Vegas, on August 12th, 2018 at approximately 12:30 am Oz Fox had a seizure on stage. He was taken to the hospital to stabilize his vitals and was given a CAT scan & MRI. Results showed that he had 2 masses in his head, one by his ear and the other in the back of his brain. The next day he was given a spinal tap. Results stated he had no infections in his spine, so now Oz will go under testing for brain surgery biopsies.

At this time, the procedures that need to be done will not be covered on insurance. We are in the process of attempting to get him coverage, but in the meantime, his hospital bills are piling up at an enormous rate! We don't know how much the brain biopsies will cost, nor what will happen when we get the results back--whether he will need more surgery to remove any tumors or treatment plans for healing.

Oz cannot drive, fly or work for 3 months because of the potential seizures. STRYPER has had to cancel some of the shows out of the country because Oz cannot perform due to his medical condition.

Anything that is given will go directly to the costs incurred to help to Oz & Annie with medical bills and supplement any income lost.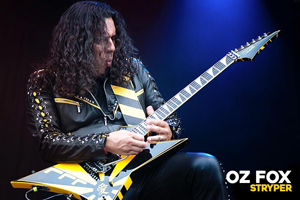 Oz has been in STRYPER for over 30 years as a founding member and is in many different bands in Las Vegas— SIN CITY SINNERS, HART ATTACK & BLOODGOOD. God has used his joy filled soul and zest for life in so many ways with countless people! When you meet Oz--you feel like you've known him all your life! He is a wonderful son, dad, husband, musician, but most of all a faithful, reliable and a loyal friend. He would give his shirt off his back to help anyone in need--that's who he is. Oz truely has a heart of gold!
Oz would like to sincerely thank everyone—he is overwhelmed with the support that's been shown so far—he didn't know so many people would care so deeply.
If you cannot give through Go Fund Me, you can send a check to:
Oz Fox
10120 W Flamingo Rd
Suite 4-647
Las Vegas, NV 89147
We love you all! Your love, support & concern has meant more than you know. We trust God and not the results! Please continue to lift Oz up in prayer for total healing & restoration ~ Annie (wife of Oz)"
Recent reports have stated that the results have come back and both masses are inoperable, with doctors being more concerned with the mass near the back of his brain. Allegedly, Oz has opted to have a biopsy done on this mass to determine the next course of action.
As of press time, the page has raised $30,000.