SLAYER, LAMB OF GOD, ANNTHRAX, TESTAMENT And NAPALM DEATH In Ridgefield, WA With Photos!


By Ruben Mosqueda, Contributor
Wednesday, August 29, 2018 @ 11:17 AM


| | | |
| --- | --- | --- |
| | | August 23rd At Sunlight Supply Amphitheater |
All Photos By Mike Lewis Photography
The near capacity slayer show at Sunlight Supply Amphitheater on August 23rd, 2018 took place just as a heatwave ended; and just that afternoon the smoke from fires in Oregon, Washington, Northern California and British Columbia cleared as the gates opened. It was 'divine intervention' from the metal gods, to ensure that all those that made it out to what is likely SLAYER's last stop ever in the Portland/Vancouver area would have good air quality throughout the performances.
NAPALM DEATH warmed up the audience with their brutal, aggressive metal called 'grindcore'. If you've never experienced NAPALM DEATH it's like getting your flesh ripped from your bones with a barrage of relentless sound waves. The shed was at ¼ capacity when NAPALM DEATH went on at five o'clock on the dot, but those present seemed to be relatively familiar with their music. The crowd went bananas when they performed "Suffer The Children", "Scum" and the closer, THE DEAD KENNEDYS' "Nazi Punks Fuck Off". In watching Barney Greenway frantically move about the stage like a beheaded chicken doing jazzercise, I can't help but wonder how much of his stage presence has influenced Andrew W.K.?
The energy rose two fold when TESTAMENT hit the stage for their 40 minute set. The venue was filling up and the audience was clearly more familiar with their work judging by the reaction of opening song "Brotherhood Of The Snake". A smiling Chuck Billy immediately proceeded to 'air guitar' along to the guitarists Alex Skolnick and Eric Peterson's grinding riffs; while grinning from ear to ear. Steve DiGiorgio and Gene Hoglan's grooves and percussive blasts broke through the titanic wall of sound that was their set. The standouts of the TESTAMENT set were "Rise Up", "Practice What You Preach", "Into The Pit" and the closer "Over The Wall".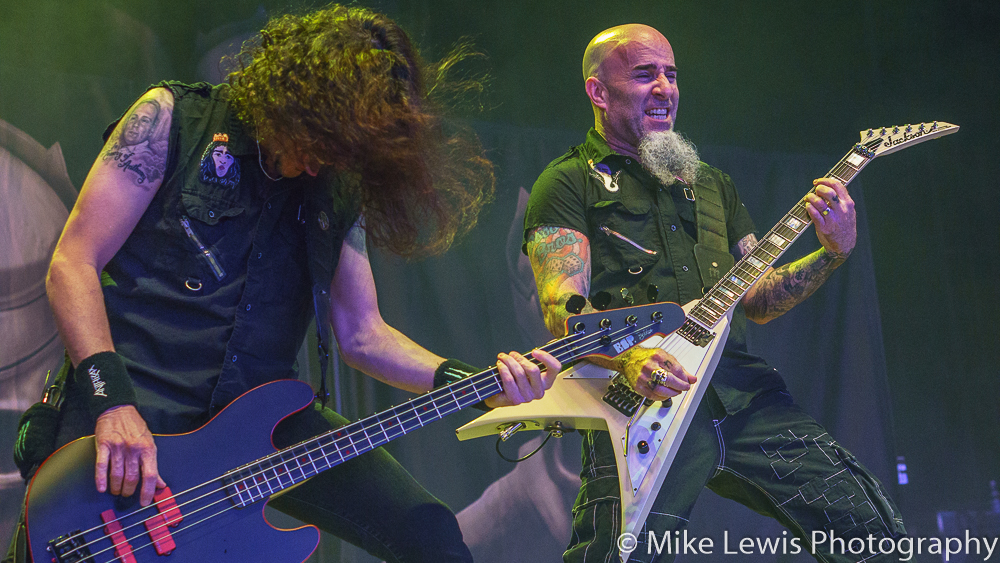 ANTHRAX hit the stage at 6:55 pm and frontman Joey Belladonna's stage presence was status quo, as has been the case since ANTHRAX took part in 'The Big 4' shows. The last time ANTHRAX was at this venue [MEGADETH's Gigantour] Belladonna's performance was stiff and lifeless. Since that time, he's been working the crowd, he's all smiles and he looks like he is genuinely having the time of his life; add a handful of classics, and a tight band---the sky's the limit. Guitarist Scott Ian stomped around the stage perfectly complementing bassist Frank Bello's animated facial expressions and charismatic performance. Holding down the fort was one of the most underrated thrash metal drummers bar none, Charlie Benante. The latest addition to the band [now in the band for 4-5 years] Jonathan Donais [formerly of SHADOWS FALL] plays the classic stuff true to form; he looks lackadaisical on stage, he's the Ian Hill of this band. The set was 'hits' and classics which included "Caught In A Mosh", "Madhouse", "Antisocial", "Got the Time", "Evil Twin" and the encore "Indians". Unfortunately there was no "Breathing Lightning" or "In The End" this time around, but they paid tribute to PANTERA's Dimebag Darrell and Vinnie Paul by including a coda instrumental of "Cowboys From Hell". ANTHRAX had the sweet spot, between Belladonna's ability to work the crowd, the strength of the set and an incredible band performing it. ANTHRAX probably stole the show, making them the 'lucky Pierre' this night.
LAMB OF GOD are a love/hate type band, you either love 'em or you don't get 'em. I'm not the biggest fan, but I certainly keep track of what they do. Their most recent album is a BURN THE PRIEST album titled Legions: XX, where the band covers their favorite punk and alternative rock tracks. Sadly, nothing from that album was performed, which was somewhat surprising, because why not try to sell a few more albums? Randy Blythe and Co, like it or not, are the heir apparent to the SLAYER crown now that their time is winding down. Blythe is an explosive frontman and tore through the set with limited talk. Interestingly enough, there was no mention of the fact that Art Cruz [PRONG] has been sitting in for Chris Adler who announced that he'd be sitting out this tour. The standouts from this face melting set were "Omerta", "Walk With Me In Hell", "Now You've Got Something To Die For" and "Redneck".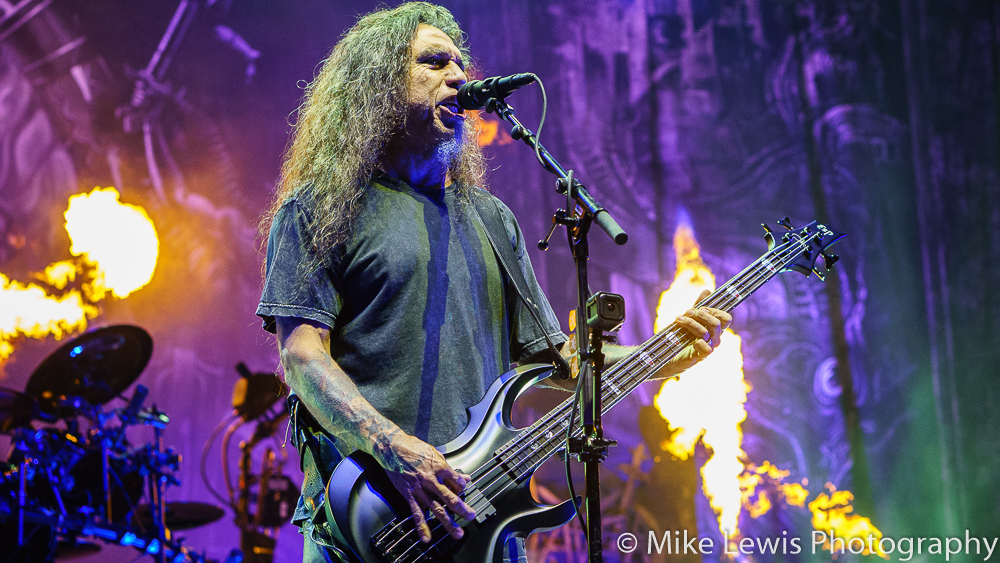 SLAYER have always done great business in Portland, Oregon, while this show took place in Ridgefield, WA, minutes from Portland, there was a 50/50 mix of Oregon and Washington plates in the parking lot. A band like MOTLEY CRUE, SLAYER's rivals back in the day ended their career using backtracks, overuse of gimmicks and their stay was about a decade too long; SLAYER [who were founded around the same time] remained a consistently good live act and it was all 'real'. Sure SLAYER is ending, which is sad, but it makes sense; Dave Lombardo is out of the band, Jeff Hanneman has passed, Araya has acknowledged that years of the touring grind has taken its toll physically on him and while Gary Holt has answered the call much like Paul Bostaph has, it's not the same.
SLAYER's core is bassist/vocalist Tom Araya and guitarist Kerry King, who have continued to be a force to be reckoned with in Jeff Hanneman's absence. They still give the fans the best show possible and perform at a high level. For this last appearance SLAYER gave us a couple new tracks in the set, opening with "Repentless" from their latest [and likely their last] record Repentless, also including the standout "When The Stillness Comes". SLAYER sprinkled deeper catalog tracks "Hell Awaits", "Chemical Warfare", "Payback" and "Black Magic". Of course staples like "War Ensemble", "Seasons In The Abyss", "Raining Blood", "Dead Skin Mask", "Postmortem", "South of Heaven" and "Angel of Death" were all prominently featured. I've been enjoying SLAYER shows for the past 31 years; this was just as exhilarating as the first. It was their most visual show to date and a real 'fiery' one too. Leaving the SLAYER show early on what is their final tour is sacrilegious. While it's sad to see them go, they're going on their own terms and you've got to respect them for it.
Check out some more photos from the show!
All Photos By Mike Lewis Photography

Please log in to view RANTS