PIG DESTROYER
Head Cage
Relapse Records




If there's such a thing as grindcore for grownups, then I guess PIG DESTROYER – or PxDx - would be it, especially with the D.C.-area ensemble's sixth and latest full-length Head Cage. More refined and less spasmodic than much of its previous work - though still coursing with brutality and irascibility – Head Cage recalls 2007's Phantom Limb with its comparative accessibility – though I use that term very loosely where these guys are concerned.

Finesse and nuance are given greater prominence here, even as the band goes about ripping your head off and shouting down the hole. The grooves are undeniable and unapologetically catchy amid the blast-beats, careening riffs and caterwauling that are still very much a part of the PIG DESTROYER modus operandi.

Much of the material is delivered in concussive, viciously efficient bursts – five of the 12 tracks here are less than two minutes long, and another four are less than three. But with PxDx finally adding a bassist - John Jarvis, who actually came onboard in 2013, joining his cousin drummer Adam Jarvis – there is a thicker, more distinct bottom end under Scott Hull's strafing guitar and frontman JR Hayes' furious holler, and more heft and punch as result.

After the typically microbursty "Dark Train" gets things rolling, "Army Of Cops", "Circle River" and "The Torture Fields" bring the bludgeon with more controlled authority thanks to their booming hooks and heaving rhythms. The heaviness is dialed up considerably as the velocity drops below warp speed, even though the erratic song structures that have long been a hallmark of PxDx's approach remain so. There's only so much "listener friendliness" to go around here. So while the colossal closer "House Of Snakes" opens with a shimmering guitar passage that echoes the beginning to METALLICA's "Blackened", it soon devolves into a quaking doom/post-metal epic that lurches and twitches along for more than seven minutes.

Quick hitters like "Terminal Itch", "Trap Door Man" and "Mt. Skull" pop up betwixt and between to show the band can still grind with the best of 'em. And Blake Harrison's squealing electronics and effects ensure there is plenty of noise and eerie flourishes to keep things from getting too comfortable here – as do guest vocal spots from Hull's AGORAPHOBIC NOSEBLEED cohorts Kat Katz and Richard Johnson on "Terminal Itch", "Concrete Beast" and "Army Of Cops".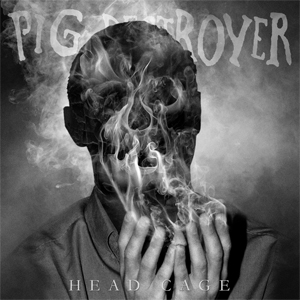 And Hayes' cryptic lyrics and manic delivery certainly have lost none of their edge in the band's sonic transition. They are sometimes curious, as on "The Torture Fields" — "I ride a cockroach/Down your streets of trash/Baptized in shadow/Born in a car crash." At other times, they are insightful and biting, as on "Army Of Cops" — "Nobody likes our direction/Yet we don't turn around/Could it be, that secretly/We like being kept down?" — or "Trap Door Man" — "Apparently if we disagree/We become sworn enemies."
And sometimes, they are just plain wacky, as on the jaunty "The Adventures Of Jason And JR" where he is joined by Jason Hodges to tell of a night out to see IRON LUNG gone terribly awry: "Before we knew it/We were under attack/By Dick Cheney/In his Halliburton jet pack." Yikes. But it ends with them eating tacos from a food truck in Chevy Chase, Md. So no harm done. Sounds like quite an evening.
After 20-some years of reveling in grindcore's extremes and experimenting on the fringes like few others would dare, Head Cage stands as PIG DESTROYER's most "mature" effort – even with the madcap "Jason And JR". It takes what has always made the band unique and subversive, but presents it in a slightly more palatable – or at least less-threatening – manner. Which was about the only direction PxDx had left to take.
4.5 Out Of 5.0