CARRY THE STORM i/E


By Larry Petro, News Monkey
Monday, September 10, 2018 @ 11:00 AM


| | | |
| --- | --- | --- |
| | | |
CARRY THE STORM
i/E
Self-Released




Running the KNAC.COM website is not an easy job, especially when you're solely responsibile for posting all the news items, videos and managing a team of approximately 20 writers and posting their submissions as well. Occasionally something will fall through the cracks, which is what happened with this CD review. The disc was sent to me after I was recommended by someone in another band (AZRAEL'S BANE) for whom I had done reviews previously, saying 'send it to Larry, he'll review it for sure and he's respected'. It was that recommendation that probably jinxed me from the start as time continued to pass and I still hadn't gotten to it. That all changes now and I offer my sincerest apologies to CARRY THE STORM for taking longer to do this review than any other article I have done during my 17+ years of contributing to KNAC.COM.

What we have today is the new EP from heavy-ass Houston rockers CARRY THE STORM, led by guitar prodigy Kelly Fitzsimons, who resembles RUSH's Geddy Lee in appearance but plays with the deftness of Eddie Van Halen on steroids, and I'm not kidding as I've seen them perform on a couple of occasions, both with this band and another called MERCURY CURE.

Rounded out by vocalist Nick Koumbis, bassist Joe Praetorius and drummer Darren Robertson, i/E is a natural progression for this melodic thrash group, building on their previous releases Ripped From Salvation (2009 EP) and From Nothing (2011). The disc starts with a nice little instrumental diddy entitled "I" from Fitzsimons that certainly does a good job of masking what's about to smash the listener's face, that being the next track "Rack And Ruin", where frontman Koumbis introduces the listener to his ferocious set of pipes that, along with the music, reminds one of PANTERA. The followup track, "Now Or Never", showcases that Koumbis isn't just a one-trick pony. On the contrary, this track calls for a mixture of melodic vocals and snarling growls that he pulls off with ease as Fitzsimons lays down the six-string chords that leaves no doubt as to what a VAN HALEN/PANTERA collaboration might have sounded like.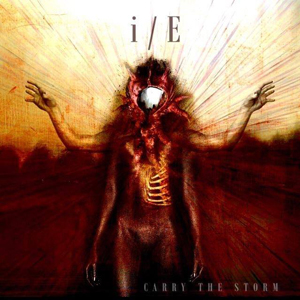 This type of joint mashup continues with the fourth track, titled "IV" (who'd have thought?), with the full-frontal lyrics and Fitzsimons' articulate fretwork, particularly toward the end of the nearly 7 minute track where he pulls off a nice solo that might make Yngwie Malmsteen envious. Okay, maybe not envious but you get the idea here. "Last Call" is an in-your-face hardcore assault of the vocal auditory senses and "E", the closing and longest song coming in at 7:15, starts off in much the same way as "I" did as a nice instrumental before giving way to more meat and potatoes thrash, leaving the listener with a 'what the fuck did I just witness?' kind of vibe, in a good way of course.
Although I've never been a huge fan of this particular genre/style of metal I can definitely appreciate it when it's done correctly and in moderation and that's what we have here: great, melodic, straightforward music combined with just the right mix of 'cookie monster' and clean vocals. The production and mastering of the disc are spot on, making it easy for the listener to pick out any one instrument or vocal and follow it throughout the disc. Nicely done CARRY THE STORM, nicely done.
4.6 Out Of 5.0
https://www.facebook.com/carrythestorm/
http://www.carrythestorm.com

Please log in to view RANTS