HUMBLE PIE Live At The Ottawa CityFolk Festival


By Andrew Depedro, Ottawa Corespondent
Thursday, September 20, 2018 @ 1:51 PM


| | | |
| --- | --- | --- |
| | | Roll The Tape! 60's British Blues Rockers Rock A Smokin' Set September 14, 2018 |
Photos By Andrew Depedro
Their lineup once included Peter Frampton in their ranks, shock rock LA metallers W.A.S.P. covered "I Don't Need No Doctor" on their '84 debut, 70's Canadian rockers STREETHEART also covered their version of Steve Marriott's previous band the SMALL FACES' "Tin Soldier" around the same time as they did, and, less controversially (depending on who you talk to), I've been known to do a decent karaoke version of "30 Days In The Hole" from time to time.
And, yet, the proper headliners of the night weren't coveting the main City Stage – turned out it was Australian singer Nick Murphy whose fanbase evidently looked a good 35 years younger by comparison – but at the Ravenwar Stage inside the Aberdeen Pavilion during the second day of the Ottawa CityFolk festival. The real headliners in question would be 60's blues rockers HUMBLE PIE (the mention of Steve Marriott by now should've been an obvious clue here), straight outta Essex in the UK and rockin' the Fillmore and beyond on their latest North American tour (actually, it was the second night of their Canadian tour as they'd started in Windsor the day before). Yes, the lineup of this legendary band has changed a lot over time, and while the original lineup is down to drummer Jerry Shirley, who acquired the rights to the band name (but agreed to not tour under it), the same lineup is also a solid collection of quality performers – former FM/BAD COMPANY guitarist Dave "Bucket" Colwell (who played with Shirley on HUMBLE PIE's 2002 album Back On Track), former SAVOY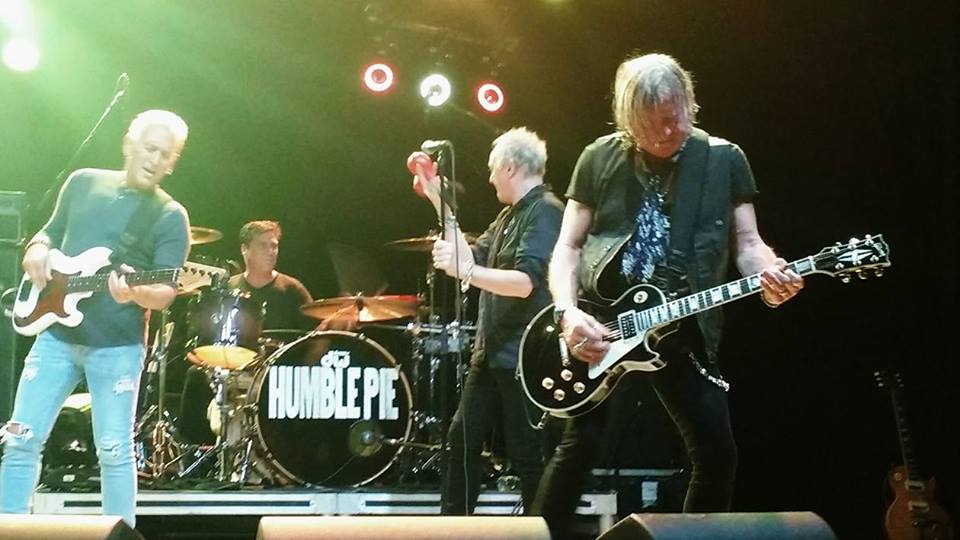 BROWN/CACTUS vocalist Jimmy Kunes, second guitarist James "Roto" Rotondi, bassist David C. Gross and drummer Bobby Marks. Jerry Shirley's aim was "to keep the legacy of HUMBLE PIE intact as one of the greatest live acts in rock, while satiating the need for generations of our beloved fans to again enjoy our music performed live by world-class musicians". And with the only other surviving member of the original HUMBLE PIE lineup being Peter Frampton, whose own solo career since the late 1970's has practically eclipsed his own work with the band, someone's got to keep the natural boogie/bugie alive if not keeping it reborn altogether.
And here's how the performance went:
Kicking off the show with a highly energetic rendition of "I'm Ready" from their self-titled third album, HUMBLE PIE set forth to rock as the modest-sized crowd braved some slightly warm conditions inside the stuffy Aberdeen Pavilion. Jimmy Kunes may be in his mid-60's at least but his vocals are as finely tuned fronting HUMBLE PIE in 2018 as they were while fronting SAVOY BROWN and CACTUS during the 70's. Luckily he never tries to completely overcompensate with his singing, giving the classics such as "Natural Born Bugie", "Stone Cold Fever" and "Fool For A Pretty Face" among others the proper vocal treatment that they deserve. Even during the key number "30 Days In The Hole" and aware of the song's overall popularity, Kunes even gets help from the audience who chant along with him on the chorus. The band's chemistry certainly worked well enough as Colwell – a near dead ringer for THE CULT's Billy Duffy – and Rotondi trade riffs and solos for each song while the rhythm section of David C. Gross and Bobby Marks provided a generous helping of both bottom-end rock and funkified blues.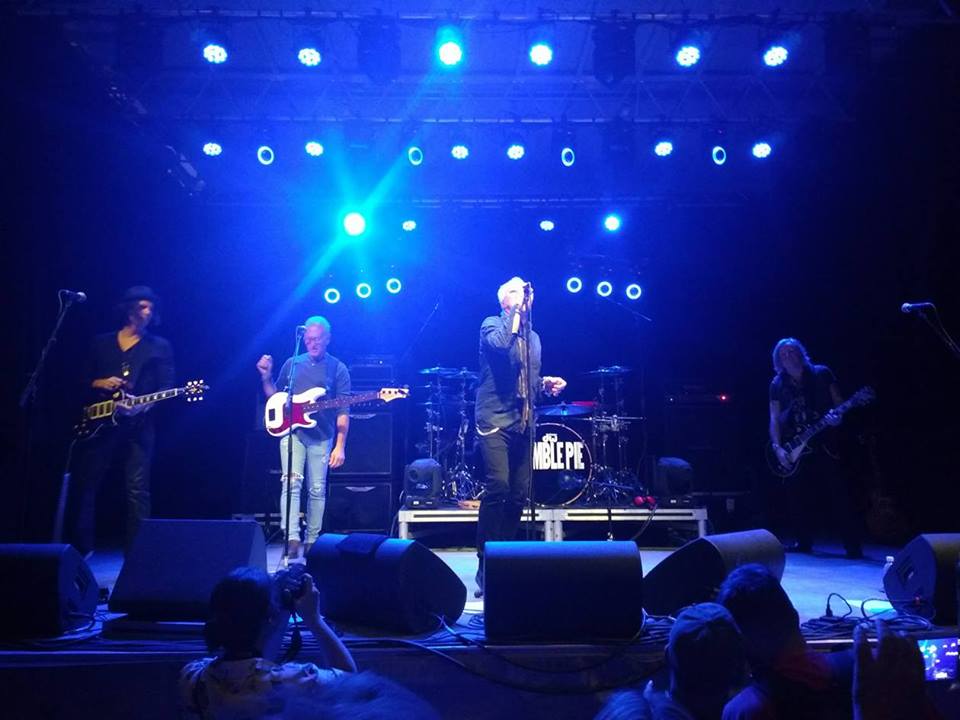 And while many rock and metal bands over the years have paid homage to HUMBLE PIE in song covers in the past, HUMBLE PIE themselves have performed some covers of their own. They had a minor hit with a cover of "C'mon Everybody" by 50's rock icon Eddie Cochrane and most Canadian fans were duly aware of STREETHEART's rendition of "Tin Soldier" which was, after all, a SMALL FACES original that Steve Marriott had written prior to joining HUMBLE PIE (and which HUMBLE PIE had released as a single in 1981 a year before STREETHEART did). Both songs made it to the setlist that night, with "Tin Soldier" getting the better reaction as it had been over a year ago since STREETHEART frontman/founder Kenny Shields passed away.
Whether its inclusion in the set was meant as an homage to him as well as to Steve Marriott, HUMBLE PIE honored both songwriters' memory with their cover. Finally, being that Colwell had played in BAD COMPANY for a good part of the mid 90's, excluding the work of his former boss Paul Rodgers would not go unnoticed as the closing numbers included "Can't Get Enough" and FREE's "All Right Now", Kunes' singing matching Rodgers' inescapably notable soulful high-range powerhouse vocals note for note.
So while the HUMBLE PIE lineup that the core fanbase have known for years has mostly left us, leading the skeptics convinced that the band had become a shell of its former self, thankfully at least one of the original chefs has concocted the perfect recipe to cook up the new version of the band using the same ingredients that helped make the first helping of PIE just as tasty then as it was now.
And big thanks to Ivana and her friend from the Lyft kiosk near the entrance of the Aberdeen Pavilion for the pleasant distraction away from almost catching the wrong concert. Fool for a pretty face indeed…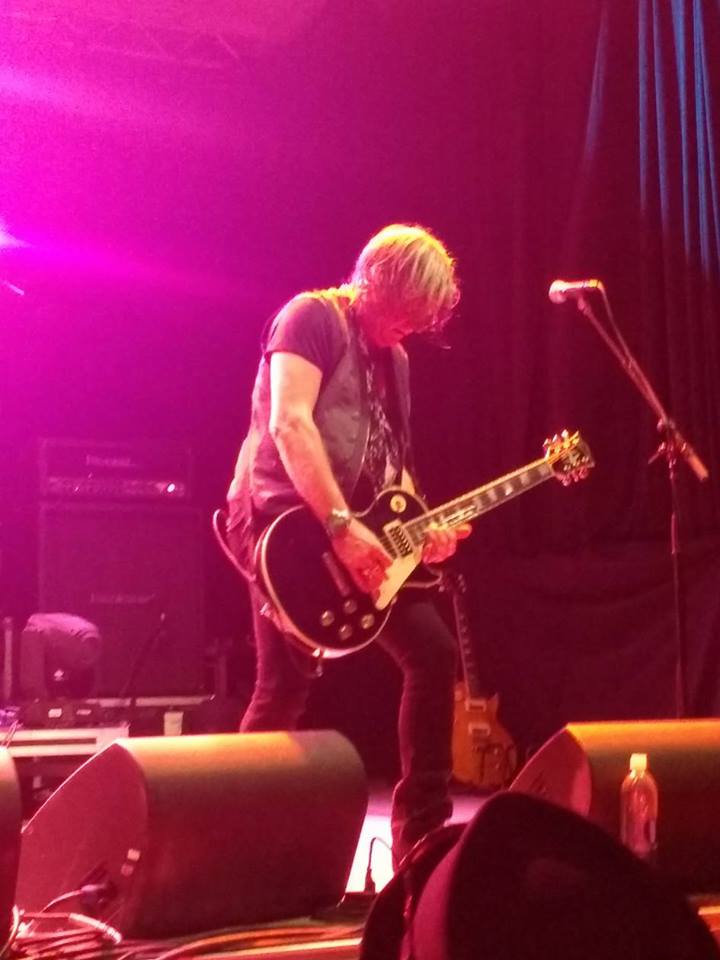 https://www.facebook.com/humblepiemusic/
Setlist:
"I'm Ready"
"Red Light Mama"
"Natural Born Bugie"
"30 Days In The Hole"
"C'mon Everybody" (Eddie Cochrane cover)
"One-Eyed Trouser Snake Rhumba"
"Stone Cold Fever"
"Rolling Stone"
"Shine On"
"Fool For A Pretty Face"
"Hallelujah"
"Four Day Creep"
"Tin Soldier" (SMALL FACES cover)
"I Don't Need No Doctor"
Encore:
"Can't Get Enough" (BAD COMPANY cover)
"All Right Now" (FREE cover)

Please log in to view RANTS