GRETA VAN FLEET Anthem Of The Peaceful Army


By Peter Atkinson, Contributor
Tuesday, October 23, 2018 @ 12:30 AM


| | | |
| --- | --- | --- |
| | | |
GRETA VAN FLEET
Anthem Of The Peaceful Army
Lava/Republic




You really can't get much more "from out of nowhere" than Michigan wunderkinds GRETA VAN FLEET, three brothers Kiszka – Sam (bass/keyboards), Jake (guitars) and Josh (vocals) - and a buddy, Danny Wagner (drums), from a town of 5,000 called Frankenmuth who have taken the world by storm over the past year. On the strength of a pair of well-received EPs and steady touring – not to mention wildly enthusiastic word of mouth – the momentum these guys have built has been nothing short of astonishing, especially when you consider that they are all pretty much still college age.

Though GVF is more than a generation removed from the music that obviously inspired it, the quartet's revivalist, LED ZEPPELIN-tinged tunes certainly scratched the classic rock itch of the masses. Sure, some of the music was unquestionably derivative. But GVF's youthful fervor and naivete, countered by a sense of purpose that belied its relative newness as a band, allowed it to sound more genuine, or at least less contrived, than the ZEPPELIN-come-latelys before it – notably the infamous KINGDOME COME (aka KINGDOM CLONE) or the shameless David Coverdale/Jimmy Page collaboration.

But now comes the real test, as the band issues its full length debut. Can it maintain the head of steam that has been growing exponentially since early 2017? Can it not only recapture the musical lightning in a bottle of the EPs, but bring it forward and really put a distinctive GVF stamp on its sound. And, in the same vein, can the band shake off some of the idol worship, since the convenient "well they're just a bunch kids" excuse probably won't fly again this time.

I guess we'll have to wait and see about the momentum question, as Anthem of the Peaceful Army just dropped Oct. 19, but I would venture to say that all signs point to continued brisk business for the band. The album offers everything there was to like about the EPs and more. The sonic palette has indeed advanced and matured here, as the band does seem somewhat "older and wiser" - as much as one can after the whirlwind of the past 18 months – but, thankfully, no more cynical.

Yes, there are still some unabashedly ZEPPELIN-esque moments here. "The Cold Wind", "When The Curtain Falls" and "Lover, Leaver" - which is reprised and extended at the album's end as "Lover, Leaver (Taker, Believer)" - sound right out of the Houses Of The Holy/Physical Grafitti/Presence playbook with their jangly, tangled riffs, shuffling rhythms, muscular beats and fills, and Josh Kiszka's Plant-like moans and yowls. The rather corny love song "You're The One", with its acoustic guitar, electric piano and rousing chorus echoes the quieter "Hey, Hey, What Can I Do", etc.

But as if to admit as such, the band offers a cheeky nod to Page, Plant and company on the opener "Age of Man", with its "lands of ice and snow" line teasing "The Immigrant Song" from LED ZEP's third album. But I suppose it's better to fess up with a grin than hide behind bogus denials.

That said, much of the rest of Peaceful Army's 11 tracks see GVF making strides at coming into its own. The aforementioned "Age of Man" makes an interesting choice for an opener. Folky and almost serene, it eases the listener into the album as it slowly gains strength. Josh's vocals here hint of YES' Jon Anderson with their more plaintive wail and the song's epic sensibilities give things an understated lift out of the gate. "Watching Over" is similarly sparse but more bluesy, and spiced with a bit of Indian curry in Jake Kiszka's nifty sitar-like forays.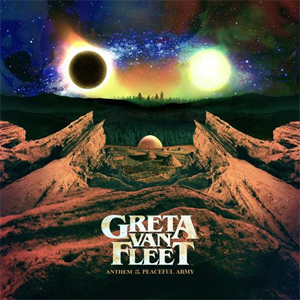 "Mountains Of The Sun", by contrast, offers more hard rock bite, as Josh's vocals take a more ragged tone and Sam Kiszka's fuzzy bass lines thicken the bottom end. "Brave New World" is even grittier, recalling CRAZY HORSE-era Neil Young with its squalling, roughshod riffs and rather desolate arrangement that builds to an emphatic end.
On the mellow side of the ledger, where "You're The One" comes off as syrupy and trite, the largely acoustic "The New Day" is more spry and lively, with a chorus as buoyant and infectious as it gets. "Anthem" harks back to the "hippy" anthems of old, with its "why can't we all get along?" rallying cry delivered over a gentle backdrop of acoustic/lap steel guitar and bongos that sounds like a campfire singalong, especially with its everyone-join-in outro: "just you and me can agree to disagree that the world is only what the world is made of."
But there's another line in "Anthem" that gets to the heart of GVF's appeal: "where is the music tuned to free the soul, a simple lyric to unite us all?" Because you need look no further than here. Despite its intermittent soundalikedness and a few hokey moments, Peaceful Army has the undeniable appeal of the EPs that preceded it. The band's mix of optimism and innocence, and its joyful, unpretentious presentation is such a breath of fresh air amid all of the bleakness of a world seemingly going to shit. It may offer false hope, but these days I'll take any over none. And I'm obviously not alone in that sentiment.
3.5 Out Of 5.0

Please log in to view RANTS