METAL ALLEGIANCE began as a celebration of heavy metal, powered by the almost tribal bond shared between the extreme music community's most revered trailblazers, armed with a list of contributors onstage (and off) that read like a Wikipedia entry on the genre itself.

On January 24th, the band will assemble at The House Of Blues Anaheim for their annual winter assault. This marks the band's fifth year performing annually in Anaheim. The night will include several special guests as well as feature music from their self-titled album and their recent sophomore album, Volume II - Power Drunk Majesty.

Mark Menghi comments, ""NYC might be home but Anaheim is the epicenter of our favorite and most epic MA gigs. Can't wait for everyone to hear tunes from MA1 along with our new record Volume II: Power Drunk Majesty live along with some other amazing surprises we have in store. Gonna be another thrash-tastic night of MA branded thrash metal. Who knows, maybe Blitz and I will actually let the Jersey/NY jokes go for a night?"

Alex Skolnick comments, "While there are many concerts in and around Orange County during late January, when it comes to the heavy side of things, METAL ALLEGIANCE at HoB Anaheim is the place to be (as attested to by more and more fans each year). Even if I weren't playing the show, this one would be at the top of my list to attend. Don't miss it!"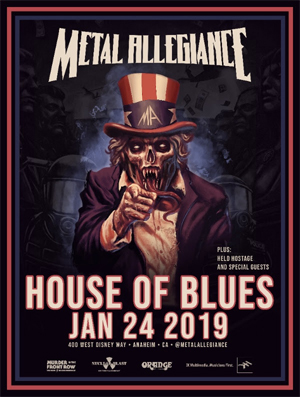 John Bush comments, "Looking forward to my third METAL ALLEGIANCE show - that I am participating in - at the House Of Blues. It's going to be metal mania, again! And we're going to do different songs this time. Not going to tell you what it is... just be ready for a little surprise. The guys are amazing and I have a great time... every time. Be there!"
Bobby "Blitz" Ellsworth comments, "From the East to the West and all in-between… MA bangs Cali in January, Twenty Nineteen. So one more time, Anaheim make all it can be… if Menghi's Long Island don't sink into the sea."
Andreas Kisser comments, "The annual MA jam is the best jam of the year. I'm always honored to be a part of this metal encounter! Love to play the metal classics but also amazing to perform the original MA material! See you all in January 2019!"
In METAL ALLEGIANCE fashion the band will see an all-star line-up including the core four as well as Andreas Kisser (SEPULTURA), Mark Osegueda (DEATH ANGEL), John Bush (ARMORED SAINT), Chuck Billy (TESTAMENT), Bobby Blitz (OVERKILLl), Trevor Strnad (THE BLACK DAHLIA MURDER), Mark Tornillo (ACCEPT), Phil Demmel (MACHINE HEAD), Alissa White-Gluz (ARCH ENEMY) and Doyle Wolfgang von Frankenstein (THE MISFITS).
The night presented by NUCLEAR BLAST will open with HELD HOSTAGE as well as special guests.
Show-goers will have the opportunity to purchase VIP meet & greet packages that will include:
Early access into the venue
Exclusive pre-show Meet & Greet with members of METAL ALLEGIANCE
Personal photograph & autograph signing with members of METAL ALLEGIANCE
Collectible show poster (which they'll happily sign for you)
METAL ALLEGIANCE Volume II: Power Drunk Majesty Album Cover Shirt (sizing from Small to 3XL)
METAL ALLEGIANCE Embroidered Logo Two Patch Set (red logo patch and white logo patch)
Official Meet & Greet VIP laminate
Crowd-fee access to the merch booth
The vip meet & greet package is now available for purchase with a general admission ticket for $100 or without a general admission ticket for $80. Please note that a ticket to the show is required to attend the pre-show meet and greet. Purchase your VIP packages here: metalallegiance.bigcartel.com/product/vip-meet-greet-jan-24-2019-house-of-blues-anaheim

Pre-sale tickets will be available for purchase on Wednesday and Thursday via Ticketmaster. General admission tickets will be available for purchase to the public on Friday HERE.

On Saturday, October 27th METAL ALLEGIANCE will perform the debut BLACK SABBATH album in its entirety. Kick off the Halloween weekend at the Brooklyn Bowl in NYC with a night of SABBATH as well as a special set of original METAL ALLEGIANCE songs from the band's two albums. The night will feature Alex Skolnick, Mike Portnoy and Mark Menghi with the vocals being completed by Bobby "BLITZ" Ellsworth (OVERKILL). Joining the special night are JUDAS PRIESTESS, ALEKHINE'S GUN which features Jessica Pimentel of Orange Is The New Black and MAGUS BEAST!

Tickets are on sale now at http://bit.ly/MASabbathNYC