STRIKER Play To Win


By Alex Yarborough, Orlando Contributor
Tuesday, October 30, 2018 @ 1:37 PM


| | | |
| --- | --- | --- |
| | | |
STRIKER
Play To Win
2018 Record Breaking Records




Edmonton, Alberta's STRIKER are back with their third album in less than three years. The lineup has changed slightly since last year's self-titled album, Striker. Dan Cleary (Vocals), Adam Brown (Drums), Tim Brown (Guitar) and William Wallace (Bass) have reunited with original member Chris Segger (Guitar), returning the band to a quintet. On October 26th, STRIKER released their sixth album overall, Play To Win.

STRIKER play up-tempo melodic power metal infused with '80s metal sensibilities. "Heart Of Lies" gets the train rolling right from the start. STRIKER always has a barnstorming opening track, and this is no exception. I really enjoy the spirit, performance and playing on this song, which once again dabbles in speed metal and thrash. "Position Of Power" is a killer track with many expedient components: catchy chorus, incredible solo section, and swift tempo. There is enough shredding guitar work in these opening two songs to fill an entire album.

"Head First" is a fist-pumping anthem that revolves around the shout-along vocals. You can view the video on KNAC.COM HERE. "On The Run" is a catchy rocker, while "The Front" offers a relationship-based theme that many can relate to. This could be a single release in my opinion. The title track "Play To Win" is a mid-tempo stomper with a commercial edge that will definitely involve the audience. "Standing Alone" is a decent ballad that mixes things up a little. The hidden gem on the album is the crushing "Summoner". With its noodling guitar lead, powerhouse drumming, and exclamation of "Summoner… rise!" this is easily my favorite track on the album. "Heavy Is The Heart" broods and offers more commercial edge, while album closer "Hands Of Time" is refreshing in its humility and is ultimately unlike any other song on the album.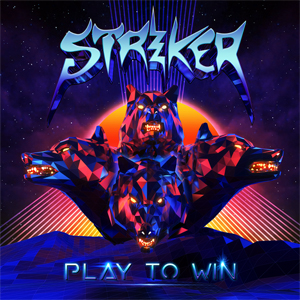 Play To Win absolutely benefits from the addition of guitarist Chris Segger back into the fold. The guitar leads on this album are fantastic, and step up from last year's STRIKER album for sure. There is a wealth of fretboard runs, harmony leads, pinch harmonics and dive bombs to keep the biggest shred-head happy. The band's ability to inject different genres like thrash and speed metal, as well as commercial aspects into their music, gives them the ability to tour with bands as diverse as SKULL FIST, HELION PRIME, UNLEASH THE ARCHERS, SONATA ARCTICA and DARK TRANQUILLITY, and fit right in. Clocking in around 42 minutes, Play To Win is overall a longer and better album than its predecessor.
STRIKER is an independent band doing things their own way, making the music they enjoy, and releasing it on their own label. They essentially answer to nobody but themselves, possibly with the exception of their fans. Give this band a listen if you haven't heard them yet. Play To Win is available now.
4.5 Out Of 5.0

Please log in to view RANTS