ARIA Proklyate Morey (Curse of the Seas)


By Daniel Höhr, European Correspondent
Monday, November 19, 2018 @ 6:11 AM


| | | |
| --- | --- | --- |
| | | |
ARIA
Proklyate Morey (Curse of the Seas)
M2BA, 2018




Giants in Russia and in the Russian-speaking world, ARIA have never received much recognition in the western world, even though their fans – and this KNAC.COM writer has been among their numbers since the early 1990s – would name them in the same breath as IRON MAIDEN, JUDAS PRIEST and OZZY OSBOURNE. Neither have the Russian metal veterans sought much attention in the west, apart from playing occasional and rare shows here and there. Also the fact that the band's lyrics are in Russian has contributed to their status as some sort of hidden exotic gem for aficinados and connoisseurs, despite the fact that artists like Udo Dirkschneider and the Swedish star conductor Uld Wadenbrandt have worked with them. At home, however, the Moscow-based five-piece are synonymous with heavy metal made in Russia and have had that status maybe not necessarily since the release of their debut album Maniya Velichiya (Megaolomania) in 1985, but most definitely since their classic 1987 release Geroy Asfalta (Hero of Asphalt). After a run of outstanding releases, culminating in the 2001 album Chimera, crisis struck with the departure of their lead vocalist Valery Kipelov, guitarist Sergey Terentyev and drummer Alexandr Maniakin in 2002. Bassist Vitaly Dubinin and founding guitarist Vladimir Holstinin, both the main songwriters in the band, were left behind. However, the line-up was soon completed by drummer Maxim Udalov (who had been with the band from 1987 to 1989), guitarist Sergey Popov and singer Arthur Berkut. After the release of Kreshchenie Ognyom (Baptism by Fire) and Armageddon in 2003 and 2006, vocalist Mikhail Zhitnyakov replaced Arthur Berkut in 2011 and with this new line-up, ARIA regained their old form and released two killer albums, Phoenix (2011) and Cherez Vse Vremena (Through All Times) in 2014.

Now, after fours years and long touring, notably on the "Classical ARIA" throughout Russia with local symphony orchestras conducted by Ulf Wadenbrandt, ARIA have released their thirteenth full-length studio album, Proklyate Morey (Curse of the Seas). To come straight to the point, the album is great and the Russians have many a suprise and some novelties in store. The up-tempo opener, "Race for Glory" (for simplicity's sake, only the English translations of the Russian song titles are given here), showcasts all the qualities you would associate with ARIA: explosive heavy metal riffing, a driving rhythm section and, a song structure that continuously builds up suspense, stellar lead guitar work and, above all, captitaving melody lines that always seem to go a slightly different way than you expect. While all this can be found on a host of ARIA tracks, two things are strikingly new. One is the soud. Never have I heard ARIA sound that upfront, punchy and fresh. Little surprise, as none other than guitarist and producer Roy Z, who has worked with Bruce Dickinson, Rob Halford, JUDAS PRIEST and others, was in charge of the mix, while the mastering was in the most capable hands of Maor Appelbaum, who has collaborated with names such as Yngwie Malmsteen, Lita Ford, FAITH NO MORE and others. The second striking thing is the use of keyboards throughout the album, be it in the background to add some colour to the sound or be it in more prominent places, such as the orchestral intro to the second number, "Varyag". Despite its generlly gloomy mood, this song is immensely, rich in diversity and forward-moving. It features a hell of a chorus and a suspense-packed middle section.

Diversity and variety are two other keywords needed here to do Curse of the Seas justice. ARIA pull all the stops of their already wide range of styles and elements they incorporate into their classic heavy metal songs but on Curse of the Seas, they go several steps further. Rock 'n' Roll anyone? Play "Lucifer", the third track on the album. And play it loud. It doesn't matter if you don't understand the Russian lyrics, you will find a way to shout along. The following "Hard To Be God" begins somewhat eery but soon turns out to be a riffy mid-tempo rocker evolving into an almost symphonic composition with an intriguing synth strings part over blasting rhythm patterns in the chorus and a captivating half-time section leading to the solo. "Let It Be" is an uber-melodic power ballad, something ARIA have always been good at. There is a lot of feeling in this masterfully written and arranged song with an extra dose of heartblood, mainly thanks to Mikhail Zhitnyakov's emotion-laden vocals. And yet halfway through the song, the atmosphere unexpectedly turns somewhat doomy, thanks to the BLACK SABBATH-style riff preceding the guitar solo. "Lust for Run" is heavy metal track that combining heavy riffing with heart-pounding melody lines and a twin-guitar part you can certainly Irish dance to. "Alive" begins with a happy, folky feel, mainly clean guitars, but turns somewhat sinister halfway through the track, evolving into fuzzy, doomy riffing completely altering the atmosphere. Alternating between laid-back passages and melodic metal outbursts, this 8:55 composition takes you on a rollercoaster ride of different moods, feels and dynamics. "Kill The Dragon" takes you once again to an altogether different world – rock organ sounds and a sinister, heavy, stomping beat. The contrast to the following "Smoke Without Sunset" couldn't be any bigger.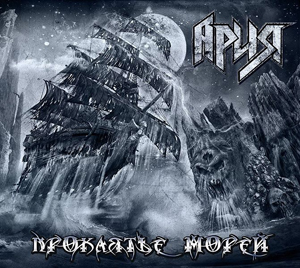 Alternating between atmospheric and intensely heavy parts, this anthem of a song incoporates a good touch of prog and many a surprising moment. One of such moments is the totally unexpected acoustic guitar part towards the end of the track, gradually increasing in intensity before it returns to the intro again. "From Sunset To Sunrise", a JUDAS PRIEST-style neckbreaker, once more showcasts ARIA's heavy riffing-plus-athemic-vocals qualitie. The definite highlight of the album, though, is the title track, which concludes the album. "Curse of the Sea" is a 12-minute long epic and, as far as I am aware, the longest song ARIA have ever written. While the opening lead guitar line is somhow reminiscent in style of IRON MAIDEN's "Age of Innocence", ARIA's song soon takes an altogether different turn. This ballad – in the very poetical sense of the word – is a masterpiece, incorporating a host of ideas, carefully arranged and wrought into a composition that is worthy of comparison to "The Rime of the Ancient Mariner", albeit totally different musically. The point of comparison is, besides the seafaring subject matter and the length, the masterful arrangement that never loses momentum and tension. Listening to it, I once again regret never having learned Russian, because the lyrics certainly play and integral role in this song.
ARIA's new album features each and every quality this band has been known for for 33 years now: Masterful songwriting, stellar guitarwork by Vladimir Holstinin and Sergey Popov, punchy, groovy but at the same time melodic bass lines that ever so often provide a counterpoint to the vocals and lead guitars, excellent drumming by Maxim Udalov and, above all, powerful vocals, drenched in emotion and bound to send a shiver or two down your spine, even though you may not understand a word of the lyrics.
Whether or not this album will one day be numbered amongst ARIA's classics such as Geroy Asfalta (Hero of Asphalt) or Krov sa Krov (Blood for Blood), Proklyate Morey (Curse of the Seas) is a unique masterpiece and stands out of ARIA's most brilliant albums. It is certainly the most creative one. Bursting with inspiration, Curse of the Seas contains some of the best songs the Russian band have ever written and recorded. Enriched with folk, prog and symphonic elements, this album will not only appeal to fans of classic heavy metal but also to AOR connoisseurs, whether they speak Russian or not. This is definitely my number one album of the year.
5.0. Out Of 5.0
The album can ordered through ARIA's webshop HERE
or streamed/downloaded here:on all music digital services iTunes, Apple Music, Google Play, Boom, VK Music, Spotify etc.
iTunes
Spotify

Please log in to view RANTS