TED NUGENT The Music Made Me Do It


By Ruben Mosqueda, Contributor
Wednesday, November 28, 2018 @ 2:08 PM


| | | |
| --- | --- | --- |
| | | |
TED NUGENT
The Music Made Me Do It
Round Hill Music 2018




Ruben Mosqueda TED NUGENT, The Motor City Madman, has become a polarizing figure in rock music, due to his politics, his stance on guns, first amendment rights and then there's the hunting, all topics that tend to turn some people off. Granted, some might be warranted as The NUGE is often times condescending and at times has an abrasive nature, but he's got the right to speak his mind and you don't have to agree with everything he represents. Unfortunately, The Rock And Roll Hall of Fame can't get past this and has ignored TED NUGENT for years--that's criminal.

TED NUGENT has returned with a new album, the follow up to 2014's Shutandjam!, which frankly was a continuation of his plument into mediocrity. NUGENT hit his second peak with 1995's Spirit of the Wild and returned with a respectable follow up, 2002's Craveman. From there forward the albums have been spotty, not as spotty as 80s NUGENT, but pretty damn close.

I went into The Music Made Me Do It with an open mind and honestly, lowered expectations. I must say that The Music Made Me Do It is on par with Spirit of the Wild. Joining TED NUGENT are bassist GREG SMITH [RAINBOW, TOKYO MOTOR FIST] and drummer JASON HARTLESS. The album was produced by longtime NUGE collaborator MICHAEL LUTZ.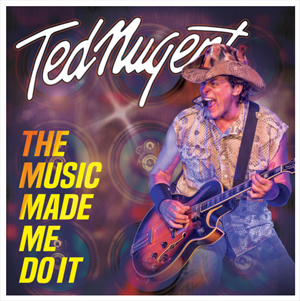 While billed as a 'new' album, there are a number of tracks that die-hard NUGE fans have heard before that have been repurposed. We see "Fred Bear" get revisited here in form of a stripped down acoustic tune, and it works phenomenally well. "Sunrize" was recut with the current band and sounds tight as ever. And then there's "Backstrap Fever" which is "Cat Scratch Fever" with alternate 'hunting' themed lyrics. It's silly, but then the original wasn't exactly CROSBY, STILLS AND NASH. It's fun and a goof, though I don't think I'd pick this over the classic. There are original cuts that are blazing like "Locked, Cocked & Ready To Rock", "Bigfundirtygroovenoize" and "The Music Made Me Do It". The lyrics on the majority of the album reek of redneck culture, but with loud distorted guitars and blues licks. You know if country music sounded more like this than pop music that genre would be so much better off. Worth noting, the first pressing of The Music Made Me Do It features a live DVD recorded at live at Freedom Hill in Sterling Heights, Michigan.
4.0 Out Of 5.0

Please log in to view RANTS