POWER TRIP To Join RAZOR, EXCITER As Headliners Of HELL'S HEROES Fest


By Larry Petro, News Monkey
Sunday, December 16, 2018 @ 2:59 PM


| | | |
| --- | --- | --- |
| | | In Houston April 13 |
Join a worldwide contingent of music fans on Saturday, April 13 as Pegstar Concerts brings the second annual Hell's Heroes Festival to the White Oak Music Hall in Houston, TX. The all-day music fest will showcase a hand-picked selection of international underground metal bands that includes both seminal, genre-pioneers and highly regarded modern day groups in a can't-miss concert event.

Today, a second wave of bands have been added to Hell's Heroes Fest including Dallas new thrash gods POWER TRIP. Unquestionably one of modern day heavy music's leading lights, POWER TRIP formed in 2008, and its sound -- an inseparable mix of hardcore punk, speed, and death metal -- draws fans from across the extreme music spectrum. POWER TRIP will share the stage with previously-announced festival headliners EXCITER (the Canadian speed metal trailblazers performing the band's first Texas live appearance in more than 30 years) and RAZOR, long referred to as one of Canada's "big four", alongside SACRIFICE, VOIVOD and ANNIHILATOR.

"POWER TRIP is incredibly stoked to be a part of the Hell's Heroes II fest line up," says vocalist Riley Gale. "Getting to share a bill with bands like RAZOR, HELSTAR, and EXCITER is a huge honor for us. We don't get invited to many of the "trve" or more "old school" metal fests, so to have Christian invite us means a lot because it shows that he understands POWER TRIP is about the old guard just as much as the new."

Additionally, California classic metal heavy hitters HAUNT have been added to Hell's Heroes. Haunt's uptempo, NWOBHM-heavy sound, which merges the grandiosity and gallop of IRON MAIDEN with the melodic guitar lines and melodies of JUDAS PRIEST, has pegged the fast-rising quartet as a band to watch.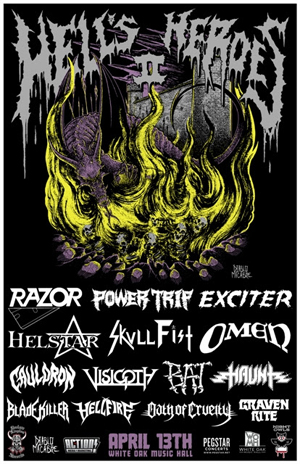 Respected Los Angeles metal band OMEN, Houston power metal prime movers HELSTAR, Bay Area NWOBHM band HELLFIRE, Toronto trad metal revivalists SKULL FIST and CAULDRON, Salt Lake City's new wave of American traditional metal mavens VISIGOTH, Richmond, VA metal band BAT (featuring members of MUNICIPAL WASTE and DRI), cult Austin epic metallers GRAVEN RITE (featuring members of ETERNAL CHAMPION and IRON AGE), Los Angeles trad-metal quintet BLADE KILLER and Houston death/thrash unit OATH OF CRUELTY round out the exciting, exclusive lineup.
Tickets for the Hell's Heroes Fest are $27.50 and are on sale now. Follow the Hell's Heroes Fest on Facebook and Instagram for breaking news and updates.
Hell's Heroes Festival
Saturday, April 13 2019
White Oak Music Hall
Houston, TX
featuring:
Power Trip (Dallas, TX)
Exciter (Canada)
Razor (Canada)
Omen (Los Angeles, CA)
Helstar (Houston, TX)
Hellfire (San Francisco, CA)
Skull Fist (Canada)
Cauldron (Canada)
Visigoth (Salt Lake City, UT)
Bat (Richmond, VA)
Haunt (Fresno, CA)
Graven Rite (Austin, TX)
Blade Killer (Los Angeles, CA)
Oath of Cruelty (Houston, TX)

Please log in to view RANTS