VOIVOD The Wake

By Peter Atkinson, Contributor
Thursday, December 27, 2018 @ 10:29 AM

| | | |
| --- | --- | --- |
| | | |
VOIVOD
The Wake
Century Media Records




Canada's VOIVOD is usually at its best when its at its weirdest or most adventurous, as during its incredible – if underappreciated - run from 1987's breakthrough Killing Technology through 1993's The Outer Limits. This before lineup turmoil and guitarist Denis "Piggy D'Amour's health issues, which ultimately proved fatal in 2005, saw the band hit a prolonged rough patch.

And though VOIVOD has had a pretty good recent run with 2012's Target Earth and the Post Society EP in 2016 - as guitarist Daniel "Chewy" Mongrain grew more comfortable filling the ingenious shoes of D'Amour and Dominique Laroche took the place of once-again departed original bassist Jean-Yves "Blacky" Thériault – the band really recaptures the strange magic of old with its 14th full-length The Wake. In waxing somewhat nostalgic, however, VOIVOD doesn't merely rehash old tropes or stylistic traits for lack of new ideas. Instead, the band takes the essence of what made it so otherworldly during its creative peak – a mix of clever melody, progressive daring, industrial metal clangor, cyberpunk thematics and avant weirdness - and brings it forward. The results are quite stunning.

Where Katorz and Infini were built around a patchwork of parts recorded by D'Amour prior to his death from colon cancer, with ex-METALLICA bassist Jason Newsted filling in on bass, and Target Earth found Mongrain getting his feet wet as Thériault rejoined the fray, The Wake feels like the band is once again truly coalescing – even with Thériault making another exit. With a futuristic grand scheme tying it together, The Wake is the most complete work the band has done since Denis "Snake" Bélanger returned in 2002.

And despite its progressive inclinations, with the eight tracks spanning 56 minutes capped by the sprawling finale "Sonic Mycelium" at 12:24, The Wake somehow feels more concise. The songs blend purpose and guile, yet avoid sounding indulgent, even with their relative length (all are more than 5 minutes) and the symphonic drapery of strings that occasionally emerge. It's a big album with lofty, if somewhat surreal, ideas, but manages to engage even when it is at its quirkiest and nerdiest.

The Wake gets off to a brisk, almost MOTORHEADish start with the gritty riffs and d-beat pace of "Obsolete Beings". It's a fairly straight-ahead track, yet even here, things do go off on an ethereal tangent toward the end that echoes the album's theme as Bélanger announces "A new era has arrived". Similarly, "Iconspiracy" boasts a jarring heaviness and ominous tone as the riffs take on a ragged edge and drummer Michel "Away" Langevin kicks into double-bass overdrive, recalling bygone classics like "Overreaction".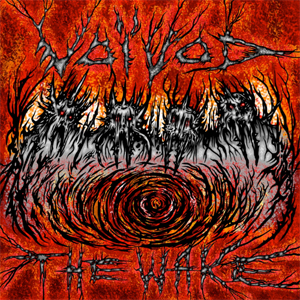 By contrast, "The End of Dormancy", "Orb Confusion" and its apparent companion piece "Spherical Perspective" are a crazy-quilt of bob-and-weave guitaring and herky-jerk time changes – punctuated by moments of deliriously catchy melodicism – making for the perfect amalgam of progressive whimsy and hard rock hooks and heft. "Event Horizon" and "Always Moving" dispatch with much of the catchiness and amp up the technicality, with "Moving" taking on an effects-laden, KING CRIMSON-like sheen while "Horizon" is almost as funky as it is frenetic.
"Sonic Mycelium" serves not only as the album's conclusion, but also as something of a recap. It revisits riffs, lyrics and passages from earlier tracks, splicing them together with a mish-mash of fresh tidbits and a chamber music-like denouement for something truly monumental. It's a unique twist to the usual "concept album" plotting and sends the album off with cheeky flair.
After more than 35 years in the underground trenches, during with it's experienced more than it's share of hard luck, trauma and tragedy, it's encouraged to see VOIVOD undergoing the renaissance it has had over the past few years. And with it hitting sonic stride once again – decades after its supposed "peak" - with the rather fantastic The Wake, the future would seem bright for the band. Here's hoping that is indeed the case.
4.5 Out Of 5.0