BILLYBIO, THY WILL BE DONE In Ottawa, Canada


By Andrew Depedro, Ottawa Corespondent
Monday, December 31, 2018 @ 8:31 AM


| | | |
| --- | --- | --- |
| | | Tales From The Hard Side With Special Guests triple murder And the gormless At Mavericks, December 9 |
Photos By Andrew Depedro
Chemical euphoria! Mass hysteria! And an artist recommendation I made to one of the opening bands!
One of many tales from the hard side would be told throughout this billing known as the Blood For Blood tour as it white knuckled its way across many venues along the east coast including a recent stop here in Ottawa on a frigid Sunday night.
Local talent was represented well in the form of the opening one man crustcore band THE GORMLESS – drummer NeightArmaGeddon, who also plays guitar, bass and covers vocals – who incorporates a variety of high-energy genres ranging between crust, hardcore, death, thrash and industrial. A fairly young up-and-coming band with a 20+ year career toiling in various other local bands before going solo, THE GORMLESS just released their (or his) first EP this past Halloween. His precise yet maniacal rapid fire drumming pretty much speaks for itself though his talents on the guitar and bass, while relegated to a series of recorded tracks throughout his drumming performance, were also solid. Just would've been awkward to see any musician make the live transition of switching across all three instruments at the same time though. 'Til then, THE GORMLESS can pride himself on his happy feet blast beats on songs such as his cover of the ANGRY SAMOANS' "Gas Chamber" among other tracks.
https://www.facebook.com/TheGormless-518902555187316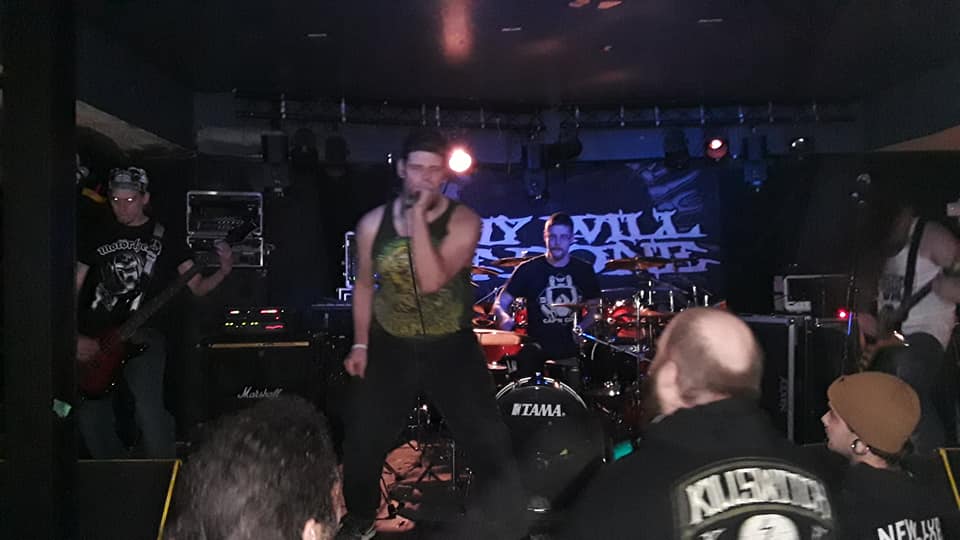 The second of the two local 'bangers debuting their own bangers would be the hard thrashin' quartet TRIPLE MURDER. Not sure how four people in a band whose name hints at a number that's less than four can pull off the name at first, but I'm guessing that QUADRUPLE MURDER just doesn't quite roll off the tongue as their current name, so they went with the current name. The audience don't seem to mind much about the name themselves as the quartet – comprised of Erich Mueller (bassist), Liam Fitzpatrick (vocals), Maxwell Fortin-Proulx (guitarist) and Zachary Lemay (drums) – tear through their small but ferocious catalogue of songs including "The Tyrants Crawling Beneath Me" and new number "Ready To Bleed". The promised breakdowns and equal parts of Liam's hellraising vocals and Maxwell's neckshredding riffs were delivered with fury and high volume as they sent the pit into a wild mass of bodies. Eventually an album should be born from this performance – the band's fourth since their inception last summer – so expect TRIPLE MURDER to make a killing on the scene in the not too distant future.
https://www.facebook.com/Triple.redruM/
On the road from Rhode Island (as they're based in Providence) to Ottawa and beyond would be THY WILL BE DONE. Known for their performance on METALLICA's Orion Festival, their appearance on the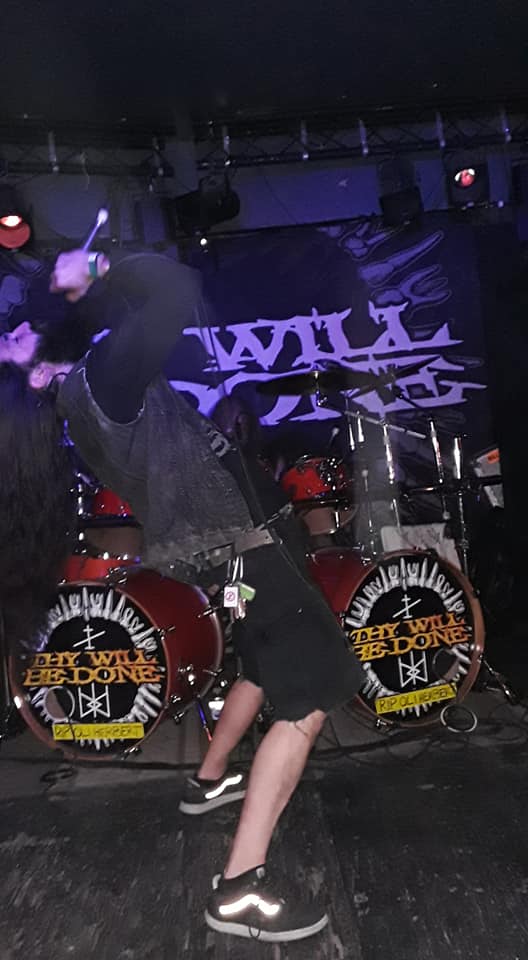 documentary Party To The Apocalypse 2012 alongside SHADOWS FALL and an incorrect labeling of being a Christian metal band during their early stages of their career, this quintet delivered a pretty energetic performance featuring their two-album catalogue. The lineup of J. Costa (vocals), Matt Marcel (lead guitar), Kurt Fraunfelter (rhythm guitar), Jay Waterman (drums) and Chris Côte (bass) made good use of their 30-minute set despite this being their first full co-headlining Canadian tour and first appearance to Ottawa; luckily, the audience were well familiar with their songs such as "Breath Of Light", "A Lion And A Lamb" (maybe this was the song that got 'em confused with the Christian metal movement?), "You, The Apathy Divine", "The Great Rebuilding" and "In The Ways Of The Old". They also scored bonus points with a small yet noticeable homage to late ALL THAT REMAINS guitarist Oli Hebert in the form of a decal placed on the bass drum. Also aiming to score some bonus points of my own, while conversing with frontman J. Costa after THY WILL BE DONE's set, I'd brought up the work of a skilled sculptor/welder originally from the band's 'hood (though now based in NYC) by the name of Launa Eddy. She's also directed a few videos throughout her own career though mostly for indie artists and maybe the odd John Mayer video or two. There was enough interest by the band that was piqued to look up Launa's website – and luckily she's also a metal fan herself though more of the old school. Still, any publicity is good publicity for both parties so consider this gesture of my own will being done here.
https://www.facebook.com/thywillbedone/
https://www.launaeddy.com/ (because I did promise that I would)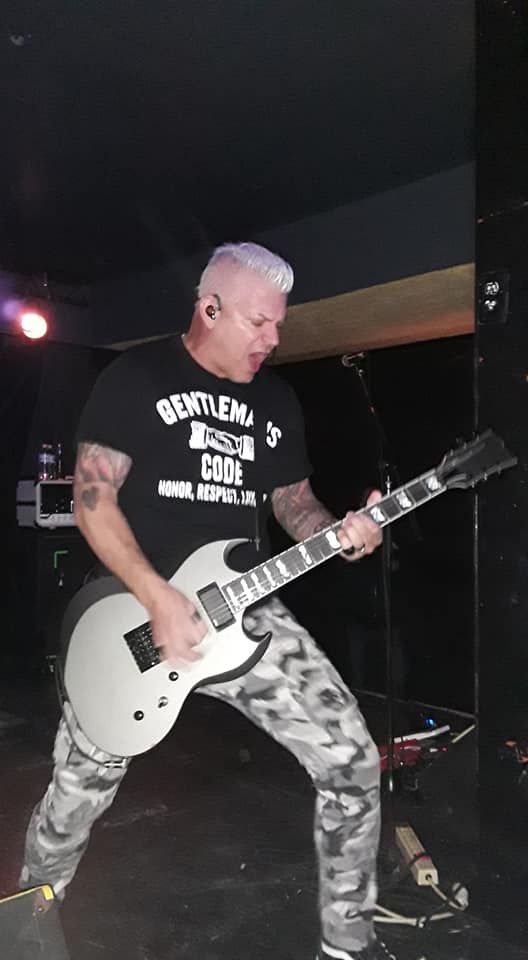 While one would think that there was sufficiently enough uproarious hardcore to heat up the night's events, it takes headliner BILLYBIO to stoke those flames even further. And if that name sounds familiar to many fans of 90's crossover hardcore, it's because BILLYBIO is, in fact, Billy Graziadei from 90's crossover hardcore legends BIOHAZARD (obviously) trying out a solo career while BIOHAZARD themselves are in decompression mode. In fact, BILLYBIO's, er, bio as of late has been reading like a lengthy CV outside of BIOHAZARD's own career. Over the past decade or so, he'd been fronting on-off again Boston-based hardcore underdogs BLOOD FOR BLOOD while fronting his own bands SUICIDE CITY and POWERFLO, the latter featuring Christian Olde Wolbers (FEAR FACTORY), Ray Lozano (DOWNSET) and Sendog (CYPRESS HILL). Lately he's found time to release his first solo album Feel The Fire, whose hardcore-charged songs are as every bit as hard-hitting as BIOHAZARD's own catalogue.
With the assistance of his solo touring band comprised of guitarist Dan Palmer (DEATH BY STEREO/ZEBRAHEAD), bassist Ra Diaz (SUICIDAL TENDENCIES) and Italian-born drummer Simo Perini (TEN FOOT POLE/GUTTERMOUTH), BILLYBIO turned the mere Three Mile Island of the recovering moshpit into a potential Chernobyl with opening number "No Apologies, No Regrets" from his solo album. Armed with a Les Paul and a Bluetooth-like mic because he's frequently running around the stage, BILLYBIO's setlist covers both his solo material as well as the BIOHAZARD classics. "Feed The Fire", "Freedom Isn't Free" and "Untruth" are as every bit signature BIOHAZARD as "How It Is", "A Lot To Learn" and "Shades Of Grey" and Billy's backing band are as every bit musically tight as Evan Seinfeld and Rob Echevarria. Dan Palmer even does his best substitute for Sendog's backing vocals on "How It Is" while soloing at 200 mph throughout the set. Hell, the entire band played like they've ingested a truckload of Red Bull each without slowing down.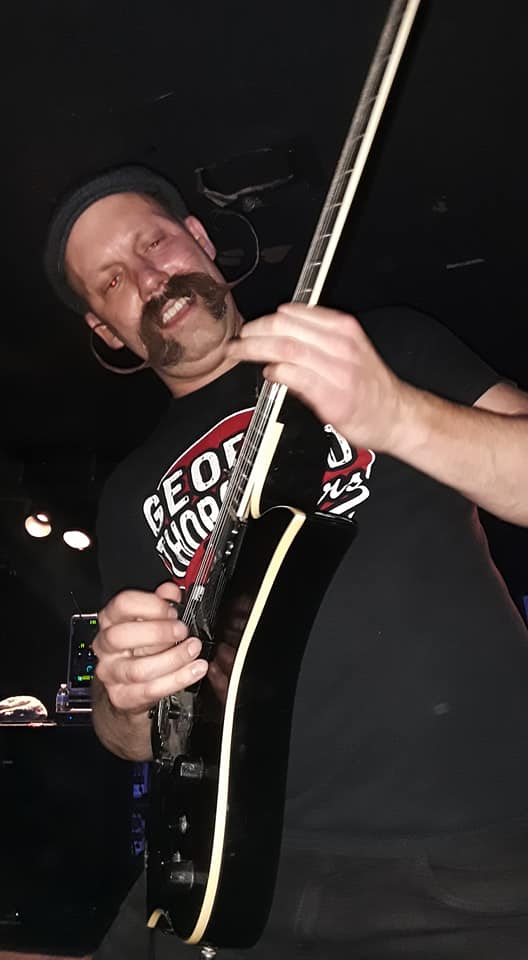 Eventually, the band will have to close their exhaustingly powerful 90 minute set with "Freedom Isn't Free", which means that the sweaty hordes of circle pit participants are also winding down. Almost a shame as TRIPLE MURDER's Maxwell and Zachary's doe-si-doe moves in the pit should've been followed by a cover of "Swing Low Sweet Chariot" for equal measure. But BILLYBIO left the crowd satisfied and the pit's body heat quenched for the evening – and left the new breed of burgeoning local hardcore/metal upstarts with a lot to learn and implement.
With thanks to Christina and CHORD Productions for bringing this show to Mavericks and to Maxwell from TRIPLE MURDERr for the ticket!
http://billybio.com/
https://www.facebook.com/BillyBIOHAZARD/
Setlist:
"No Apologies, No Regrets"
"Get Up Stand Up" (POWERFLO)
"How It Is" (BIOHAZARD)
"Brother"
"Who Is The Enemy"
"A Lot To Learn" (BIOHAZARD)
"Feed The Fire"
"Authority" (BIOHAZARD)
"Untruth"
"Never Again"
"Shades Of Grey" (BIOHAZARD)
"Blinded By Hate"
"Victory" (BIOHAZARD)
"Punishment" (BIOHAZARD)
"Freedom Isn't Free"

Please log in to view RANTS