FLOTSAM AND JETSAM The End Of Chaos


By Alex Yarborough, Orlando Contributor
Wednesday, January 2, 2019 @ 6:14 AM


| | | |
| --- | --- | --- |
| | | |
FLOTSAM AND JETSAM
The End Of Chaos
2019 AFM Records




FLOTSAM AND JETSAM released one of their best albums in 2016, an absolutely relentless self-titled album with no filler tracks. The band toured with Jason Bittner on drums, and then with new drummer Ken Mary (FIFTH ANGEL, HOUSE OF LORDS) (Jason left to play for OVERKILL). Smart move to give the band time to gel and keep the momentum going for the second album on AFM Records, The End of Chaos, due to be released on January 18, 2019.

And keep it going they certainly do, as The End of Chaos extends the vision and sound of the 2016 self-titled album, and then takes it to another level. In fact, those who didn't exactly find what they need from the self-titled album (yes, there are some folks out there) may find it here, as the songs are a little more straight-ahead thrash to these ears. I've had a blast listening to this album. It gives me that extra kick in the ass when I get up in the morning.

Opener "Prisoner of Time" is fast-paced right out of the gate, pauses for a moment, then kicks back in with a Michael Spencer bass riff and Eric A.K.'s voice. Guitarists Michael Gilbert and Steve Conley lay down a layer of guitar shred and harmonies that intertwine with skill and dexterity. I love this track, but I would have probably picked "Prepare For Chaos" as the opener, for the theme, aggression and title. It also appears that the cover art depicts the monster described in this song. Check out the blistering dual solo on this track. "Control" is a balls-to-the-wall thrash track that takes no prisoners, while "Recover" slows things down slightly.

Hell, the album just gets better as you go through it. "Architect of Hate" and "Demolition Man" are simply amazing tracks. Check out the video for "Demolition Man" on KNAC.COM HERE. "Unwelcome Surprise" is an instant F&J classic as far as I'm concerned. (Request to the band to include this one in the setlist on the 2019 tour, please). "Snake Eye" is a speed metal monster that blazes along at light speed; check out the riffs on this track. "Survive" embraces a little more melody, yet thrashes hard and offers another blistering solo section. "Good Or Bad" gives Spencer a chance to show off some bad ass bass riffs and "The End" closes the album with unrelenting emotion from Eric. The End of Chaos features 12 songs at a total time of 50 minutes.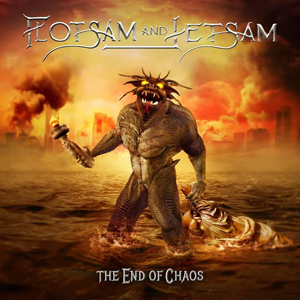 Eric's sardonic vocals are the focal point on The End of Chaos as far as I'm concerned. He is still one of the most unique vocalists and lyricists in metal. Conley and Gilbert lay down some positively vicious riffs on this album and Spencer is enormous on bass. The surprise here is Ken Mary's precision speed and thrash drumming—surprising because I had not heard this style of drumming from him before. This is light years beyond his work with HOUSE OF LORDS or FIFTH ANGEL. I was impressed by Jason Bittner's performance on the last album, but Ken's simply lays waste here. As a fellow Arizonan, his hiring works well and is clearly a perfect fit for the band.
The band describes The End of Chaos as their heaviest album ever. I wouldn't disagree. Danish producer Jacob Hansen had something to do with this. This album is going to land in my "Best of 2019" list for sure, it's that good. It's time to stop describing F&J as "underdogs". They are among the elite in thrash and heavy metal. Are you surprised at how good this band is this late in their career? I bet you didn't see that one coming. Right between the eyes! Haha! Flotz til death!
5.0 Out Of 5.0

Please log in to view RANTS