THE THREE TREMORS The Three Tremors


By Alex Yarborough, Orlando Contributor
Saturday, January 12, 2019 @ 10:36 AM


| | | |
| --- | --- | --- |
| | | |
THE THREE TREMORS
The Three Tremors
2019 Steel Cartel




Three times louder than a sonic boom
Three fingers on the hand of doom
We three Teutonic tons will now unite as one

Once upon a time, Rob Halford, Bruce Dickinson and Geoff Tate tossed around a concept called THE THREE TREMORS, the heavy metal version of THE THREE TENORS. As you probably know, that never happened. Fast-forward to decades later, and THE THREE TREMORS is finally here– albeit by a new generation of metal singers. This is a project nearly six years in the making for Sean "The Hell Destroyer" Peck (CAGE, DEATHDEALER, DENNER-SHERMANN, WARRIOR), along with two other elite veteran frontmen of heavy metal: Tim "Ripper" Owens (JUDAS PRIEST, YNGWIE MALMSTEEN, ICED EARTH, BEYOND FEAR, CHARRED WALLS OF THE DAMNED, DIO DISCIPLES, SPIRITS OF FIRE, TOURNIQUET, WINTERS BANE) and Harry "The Tyrant" Conklin (JAG PANZER, SATAN'S HOST, TITAN FORCE). The backing band for THE THREE TREMORS is the formidable and talented band CAGE: Dave "Conan" Garcia and Casey "The Sentinel" Trask on guitars, Alex Pickard on bass and Sean Elg on drums. As you can see, this metal pedigree is long and strong and this battle station is fully operational! But make no mistake, this album is all about the vocals. If you like to hear three amazingly talented singers do battle together, this is your promised land.

This album is an hour in length and features all original songs. Surprising, considering the multitude of bands that this group could have covered here. But they didn't take the easy way out, and wrote 12 legitimate tracks for this debut. The alien invasion-themed opener "Invaders From The Sky" grabs you by the throat immediately, and does not let go for over five minutes. The war against the undead is unleashed on the speed metal anthem "Bullets For The Damned". "When The Last Scream Fades" imagines a singer as the last line of defense at the apocalypse. Go to this LINK to view the lyric video. Viking tale "Wrath of Asgard" describes Valhalla, Thor, Loki and Ragnarok. Paul Revere's ride is remembered with "One if by land, two if by sea" in the historical gem "The Cause". Tribute is paid to legends RONNIE JAMES DIO and LEMMY KILMISTER (R.I.P.) in "King of The Monsters". This song features one of my favorite Trask/Garcia guitar solos on the album. "The Pit Shows No Mercy" is about exactly what you think it is—surviving the mosh pit. This song is sure to inspire vicious pits and headbanging. "Sonic Suicide" stands as a declaration of freedom, and "Fly Or Die" describes the sacrifices that were made to keep that freedom from turning to tyranny.

"Lust of The Blade" is about Jack The Ripper, and of course wisely sees Mr. Owens taking point on the vocals. "Speed To Burn" is a tribute to space exploration. The album closer is the band's namesake song, "The Three Tremors", an absolutely blistering, monstrous track over six minutes in length, featuring all the vocals and riffs you can handle at once.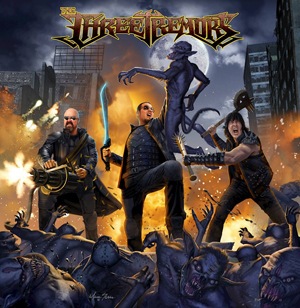 This album is absolutely pure adrenaline to the metal junkies out there. It will take you back to the glory days when you first heard and were excited by heavy metal. Fans of power metal, speed metal and heavy metal in general will find something to love on this album, it's got it all: over the top vocal screams, outrageous lyrics, double bass drumming, driving bass, and ripping guitar work. I don't know what else you can ask for from an album. Sean Peck, Tim Ripper Owens and Harry Conklin have accomplished a daring feat and their performance on this album is nothing short of legendary. The band already toured Europe last year and laid waste with these tracks, as well as some cover songs to the delight of metalheads. A 15-date U.S. tour will happen February to March, covering Washington, Colorado, California, New York, Illinois, Michigan, Kentucky, Pennsylvania and much of New England. If you live in these states, definitely take advantage of the chance to see this band live.
History has finally been written. THE THREE TREMORS has finally happened and in January 2019, the self-titled debut album will finally be released. This album is destined to go down as one of the all-time great power metal albums, and is already a contender for album of the year in my book. This album will be released on digipak CD, (with 16-page booklet) and double gold and silver vinyl, featuring full lyrics, liner notes, and artwork by Marc Sasso (DIO).
5.1 Out Of 5.0

Please log in to view RANTS