Classic Hard Rock outfit, BLACK WHISKEY release "Bitter Pill" on Friday 15 February 2019. It is the third single from a new album due for release in April 2019.

It will be available across all digital download and streaming platforms and is accompanied by a promo video.

Watch the "Bitter Pill" video on KNAC.COM HERE.

Singer, Simon Gordon, said, "The song started to come together when we were touring the UK to support our first album, Heavy Train. If I recall correctly we were in a Travelodge in Bolton or somewhere equally glamorous. I was sharing a room with Kev (guitarist). I went for some private reflection time in the toilet with the newspaper under my arm and when I came out Kev had come up with the opening riff! I must have contributed to the creative atmosphere. Ha!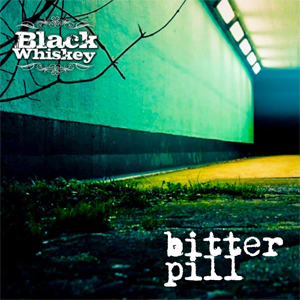 Lyrically it's a bit of a mix. Mostly it is influenced by where I live and what I see there. London is one of the wealthiest cities on the planet but there a lot of homeless people here. When you hear some of the stories you realize that there are really very few steps between a comfortable life and being on the streets.
I also had this theme in the back of my mind about how we are all just here for someone else's amusement. Movies like The Matrix and The Truman Show are loosely referred to in the song."
"Bitter Pill" was recorded at Empire Studios and engineered, mixed and mastered by Guy Davies.
The last 2 years have been a tough road for BLACK WHISKEY. Guitarist, Kevin Ingles was diagnosed with cancer following the release of debut album, Heavy Train, and treatment for that has taken its toll. Songwriting, rehearsals and recording for the new album have all needed to be worked around treatment plans and just the ability to function. But, the band are a tight-knit unit and have worked through these challenges to produce a hard-hitting album that will be released in April 2019.