All Photos By Larry Petro/Petrofyed Photography
After spending the week down in sunny Florida, it was back home to the gray skies and rainy weather in Houston, TX where I believe everyone has forgotten what the sun looks like. Not to worry because 80's rockers NIGHT RANGER were in town to burn up the stage at one of Houston's hottest venues, Warehouse Live, and take us all at least (Gratuitous Song Reference Warning) Halfway to the Sun. Blackhorse Limo and the hardest working talent buyer in Houston, John Escamilla and Jet Speed Productions, combined to put on a great night of rock that included Ex-SKID ROW front man Johnny Solinger and local ass kickers LOVE N' WAR.
After high energy opening sets from Johnny Solinger and LOVE N' WAR it was time for NIGHT RANGER's return to Houston. The band hadn't played the area since January of 2018 when they co-headlined with Dennis DeYoung of STYX at Smart Financial Center in Sugarland. The band had just come off the Rock Legends Cruise earlier in the week and has pretty much been on the road since the untimely passing of their long time tour manager Todd Confessore. Todd was more than a tour manager, he waved the NIGHT RANGER flag and looked out for the guys. Todd always made sure that the shows and fan experience went exactly by the band's expectations. So if you ever walked away from a NIGHT RANGER concert having had an awesome experience, that was as much Todd's doing as it was the guys on stage. Todd loved working for NIGHT RANGER and I always looked forward to seeing and talking with him, and I know as much as the band, myself and all of his friends miss him he would tell us all to "Keep Rocking".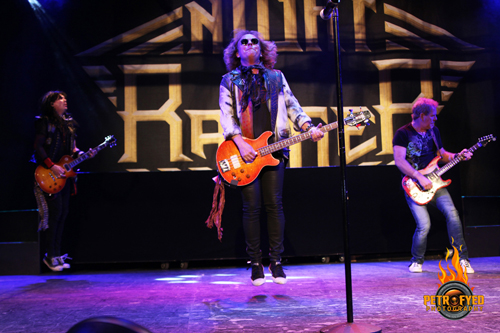 And so the show must go on and at 9:45 PM NIGHT RANGER hit the stage with all the fire and high energy that they're famous for delivering, opening with "Somehow Someway" from their latest release, 2017's Don't Let Up. With an opening key sequence from keyboardist Eric Levy the band seamlessly then went into "Four In The Morning" from 7 Wishes. "Sing Me Away" from their debut album Dawn Patrol followed featuring founding member, drummer and lead vocalist Kelly Keagy.
Now it was time for founding member Jack Blades (Bass, Lead Vocals) to pay homage to his time in DAMN YANKEES with the song that I always felt belonged on a NIGHT RANGER album, "Coming of Age". Next up and going back to the 7 Wishes album, it was Kelly Keagy's first chance to get up from behind the drum kit and take everybody back to the streets of San Francisco with the hit ballad "Sentimental Street".
The next part of the set is one that I always struggle with. If you've followed the band for any period of time then you know that founding member Brad Gillis (Lead Guitar, Vocals) took over guitar duties for Ozzy Osbourne after Randy Rhoads was tragically killed in a plane crash in 1982. There's only a handful of players in the world that could've filled that void and it was probably that time that Brad spent being thrown into the fire that helped make him into the absolute badass that he is today. Guitarist Keri Kelli spent quite a few years in Alice Cooper's band, so when the band breaks into "School's Out" and "Crazy Train" there's always a few fans in the crowd (myself included) going "Man they could've played this NIGHT RANGER song or that NIGHT RANGER song"…insert your favorite deep track. And to be fair they have started adding in tracks to their set that they haven't played in years. In fact to date they've done two "Dawn of Madness" shows where both Dawn Patrol and Midnight Madness are played in their entirety as well as a few surprises, you can read my review of the first show HERE.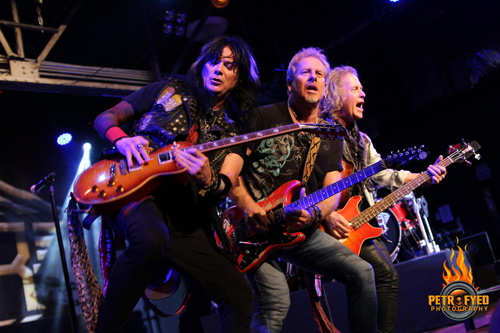 And hopefully they'll play some more of those shows down the road. Back to the Alice/Ozzy covers, the crowd loved them and the band was feeding off of that crowd energy, you could tell the guys were having a good time and after the events of the past couple of weeks, it was great to see the guys with smiles and doing their usual back n' forth with each other onstage.
Now it was the crowd's turn to get involved with the title track from 2014's High Road. Jack Blades gave everyone the task of handling the "Yeah Yeahs" during the chorus and the crowd didn't let him down. I've been to NIGHT RANGER shows all over the country and Houston has one of the best "NIGHT RANGER IQs" out there. Sure a lot of fans come to hear "Sister Christian" and that's cool, and the band certainly had more hits but it's rare when you see and hear a crowd all singing some of the lesser known songs and the newer ones so the band has to love that, so good job Houston!
Next up was what I felt was the highlight of the evening, the song from which the band got its name, "Night Ranger" from Dawn Patrol. They finished the song off with a drum solo by Kelly Keagy with the rest of the band with the exception of Eric Levy, joining in with a pair of drum sticks. Then it was back to the DAMN YANKEES with a snippet of "Come Again" followed by "High Enough".
It was Kelly Keagy's time again to take center stage and walk out from behind the drum kit for the hit ballad "Goodbye" from 7 Wishes. Keagy ended the song by saying "Goodbye Todd" paying tribute to their late tour manager. Finishing the set with the hits "When You Close Your Eyes" and "Don't Tell Me You Love Me", the band stayed on stage for the mega hit "Sister Christian" and the hit rock anthem "You Can Still Rock in America" to finish out their 90 minute set.
In what has been without doubt a very emotional last couple of weeks for the band being the consummate professionals that they are, they've rocked right on thru their schedule of shows giving their fans what we've come to expect from NIGHT RANGER; high energy, dual guitar, uplifting, good time, kick ass rock n roll. There are very few bands from the 80's still delivering a performance at the same level as NIGHT RANGER does and on this night there were no doubts. I can't help but think that my buddy Mr. Todd Confessore is up there saying "That's how it's done boys".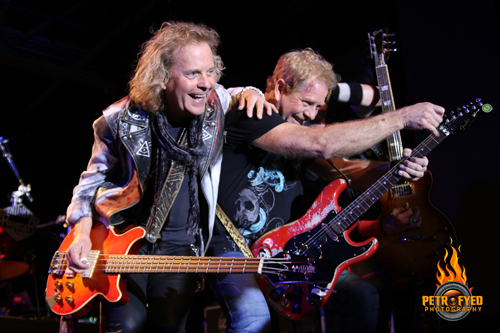 Setlist:
"Somehow Someway"
"Four in the Morning"
"Sing Me Away"
"Coming of Age" (DAMN YANKEES)
"Sentimental Street"
"School's Out" (ALICE COOPER)
"Crazy Train" (OZZZY OSBOURNE)
"High Road"
"Night Ranger"
Drum Solo
"Come Again"/"High Enough" (DAMN YANKEES)
"Goodbye"
"When You Close Your Eyes"
"Don't Tell Me You Love Me"
"Sister Christian"
"You Can Still Rock in America"
Check out some more photos from the show!
All Photos By Larry Petro/Petrofyed Photography