NOTHING MORE, OF MICE & MEN In Los Angeles With Photos!


By Charlie Steffens aka Gnarly Charlie, Writer/Photographer
Monday, March 4, 2019 @ 12:44 AM


| | | |
| --- | --- | --- |
| | | February 22, 2019 At The Belasco Theater |
All Photos By "Gnarly" Charlie/Staff Photographer
Those who came out to see NOTHING MORE and OF MICE & MEN's sold-out show at the Belasco Theater last Friday got to experience the two bands in an intimate, small theater setting. Notwithstanding the size of the venue, it was a loud, all-out rock show, where both acts got to shine. As the headliner, Nothing More had the bigger stage production, allowing all the essential lighting, props, and space to stretch out during their performance. OF MICE & MEN made the most of their scaled-down platform and played a set of favorites, as well as "How to Survive", the new single from their forthcoming album. The band juxtaposed melody and brutality well; "Would You Still Be There" and "You Make Me Sick" were exhibits 1 and 2, displaying their musical breadth. Despite numerous personnel changes and the prominent departure of singer/founding member Austin Carlisle, the band brings the excitement with bassist-turned-vocalist Aaron Pauley at the microphone.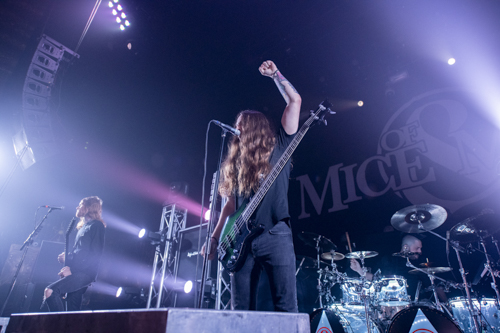 As for NOTHING MORE, behind the semi-opaque curtain that stretched across the stage, singer Jonny Hawkins and his bandmates cast silhouettes as the audience cheered. When the curtain dropped, the band kicked off their set with "Let 'Em Burn" while an array of fiery lights illuminated the stage. Most of the songs performed were from their last album, 2017's The Stories We Tell Ourselves, as well as staples from previous releases. The band's sound was top-notch, scaled just right for the 1600-seat theater. Hawkins, guitarist Mark Vollelunga, bassist Daniel Oliver, and drummer Ben Anderson played with all the fervor which was expected by the fans. Shirtless (half of his torso painted black) and barefoot, Hawkins worked the room tirelessly, with Vollelunga and Oliver engaging the audience as well. An underrated drummer in the heavy music scene, Anderson notably displayed his chops in "The Great Divorce". During a break between songs, Hawkins, a certified Texan, quipped, "There's a lot of weird people in L.A., but you guys are all right." As expected, the singer climbed atop the massive, convulsing scorpion tail and led the crowd in a loud sing-a-long with "We Will Rock You". On this night at the Belasco, NOTHING MORE played as good as this reviewer has ever seen them. They keep proving that they're four extremely talented guys who always take care of their fans, even the weird ones.
SETLISTS
OF MICE & MEN
"Warzone"
"Defy"
"How to Survive" (new single)
"O.G. Loko"
"Would You Still Be There"
"Unbreakable"
"Instincts"
"You Make Me Sick"
NOTHING MORE
"Let 'Em Burn"
"Christ Copyright"
"Don't Stop"
"Funny Little Creatures"
"Go to War"
"Do You Really Want It"
"The Great Divorce"
"Still in Love"
"Mr. MTV"
"Jenny"
"Tunnels"
"Fadein/Fadeout"
"Ocean Floor"
"This is the Time" (Ballast)
"First of the Year" (SKRILLEX cover)
"We Will Rock You" (QUEEN cover)
"Salem<"
Check out some more photos from the show!
All Photos By "Gnarly" Charlie/Staff Photographer

Please log in to view RANTS




YNGWIE J. MALMSTEEN, GLENN HUGHES In Worcester, MA With Photos!

ALICE COOPER Road

RAT ROD Four On The Floor

GIRLSCHOOL WTFortyFive?

DANKO JONES Electric Sounds

AVATAR, ORBIT CULTURE, THE NATIVE HOWL In Houston, TX With Photos!

THE DEAD DAISIES In Hollywood, CA With Photos!

KILL DEVIL HILL Seas Of Oblivion

THE DEAD DAISIES In Ottawa, Canada

MAMMOTH WVH In Santa Ana, CA

UADA Crepuscule Natura

BARONESS Stone

KAMELOT, BATTLE BEAST, XANDRIA In Houston, TX With Photos!

CRYPTOPSY As Gomorrah Burns

RAY ALDER II

GHOST, AMON AMARTH In Houston, TX With Photos!

U.D.O. Touchdown

DETHKLOK Dethalbum IV

STEVE VAI In Ottawa, Canada

PANTERA, LAMB OF GOD In Houston, TX With Photos!