CANNIBAL CORPSE, MORBID ANGEL In Santa Ana, CA With Photos!


By Francisco Zamudio, Metal X Candy 2.0
Monday, March 4, 2019 @ 12:46 AM


| | | |
| --- | --- | --- |
| | | On The Decibel Magazine Tour |
All Photos By James Anargirou/OthersPhotography.com
How do you explain to someone who is unfamiliar what we as Rockers and Metalheads are like and within the atmosphere of an actual concert? This was preciously the question I was asking myself when I ran into a couple of ladies at the Santa Ana stop of the Decibel Magazine Tour, which was compiled of some intense talent in long time veterans CANNIBAL CORPSE, MORBID ANGEL, NECROT and BLOOD INCANTATION. As my buddy, Omar and I were squeezing in closer through the sold out crowd at the Observatory, we found ourselves next to a woman and her step-daughter. Not only well out of the realm in terms of Metal as a whole, but the girls were actually Country Music fans. So for them, having just enjoyed Margarita Day, what better way to culminate a Friday night than some good old fashioned Death Metal?
Starting off the night and hailing from Denver Colorado were newbreeds, BLOOD INCANTATION. We saw both guitarists donning the the BC Rich IronBird guitars that proved popular that night. This band's sound definitely gives you that Mile-High sensation as it weaves what is described as atmospheric Death Metal, not necessarily dronie but with a hint of progression and melody. They went over well with the crowd and it was an excellent way to start the night. Carrying elements from bands like INCANTATION and DEATH, for the half-hour starting the night, they pummeled us with a thick set rewarding those who showed up early.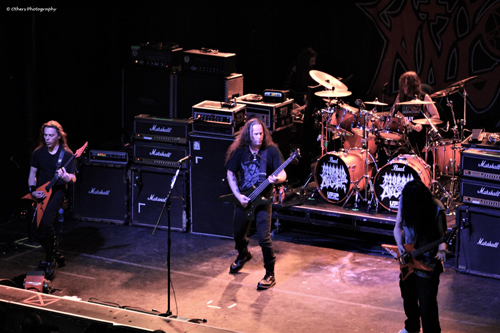 Having known very little about these guys, I had to do my research and looked up NECROT to listen to and man, I was blown away by their 2017 release BLOOD OFFERINGS. The Oakland Power Trio started their set with the very same opening track, "The Blade". A blend of Blackened Death, Thrash and Grind, their sound is guttural, with a nod and some high horns, giving a resurgency to the Old School Death Metal sound. Italian born vocalist and bassist, Luca Indrio stood tall with his mates and gave the night an extra kick into high gear as the pit started to move. It was obvious many had gotten wind of this great new band and wanted a piece for themselves. Keep an eye out for these guys!
I know I'm not alone when saying many things had me looking forward to this night. Not only was I stoked to see a couple of Florida Death Metal's long-standing greats but to see Steve Tucker with MORBID ANGEL is a treat in itself. The HIGHLY and criminally underrated Tucker-era of MORBID ANGEL is some of their greatest stuff. Late 2017's KINGDOMS DISDAINED for me was one of the best albums of the year. While the miles haven't been good to Trey Azagthoth, it may have shown a bit this night. While delving into Pre-FORMULAS FATAL TO THE FLESH material, there was a bit of inconsistency with his playing. Still though, it's great seeing Trey's shredding on that IronBird guitar. Despite this, there was no love-lost from Tucker for the Santa Ana stop of the tour. Their set list spanned a majority of Tucker era material; FORMULAS, GATEWAYS and of course KINGDOMS with some ALTARS, BLESSED and COVENANT. I know many longtime MA fans miss the now born-again Christian, Pete "The Commando" Sandoval on drums – but Scott Fuller is doing an amazing job and kept the set in check.
As we made our way down, it was hilarious to see a couple of guys dressed as Ace Ventura, a sure nod to CANNIBAL CORPSE's appearance in the 1994s flick Ace Ventura: Pet Detective. So as the conversation went on with our new friends from Kern County and I gave them a bit of background about the band and why we salute with the "HORNS". Then as things turned RED, We knew it was time for CANNIBAL to murder the stage. Another great memorable thing about this tour is that producer and guitarist Erik Rutan would be filling in on guitar for the troubled Pat O'Brien. Rutan was certainly familiar with CC's material, having worked with them quite a few times; KILL, EVICERATION PLAGUE, TORTURE and RED BEFORE BLACK. Rutan, again with a BC RICH IronBird, gave such a dominating performance and fit extremely well with CC and the crowd felt it, giving back their all.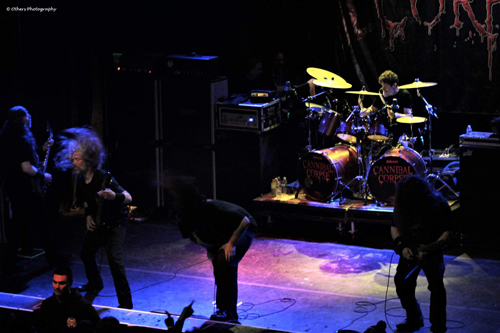 The pit was relentless with bodies flying everywhere. So much energy was flowing that George "Corpsegrinder" Fisher barely had to question if everyone was into it. With such a large discography, their setlist gave enough great recent material as well as a great dose of classic material. "Skull Full of Maggots", "I Cum Blood", "Stripped Rape" and "Strangled" – spanning the 30 years of their career. The only thing missing was drummer Paul Mazurkiewicz's hair. But there certainly was a lot of windmill hair flying and headbanging going around. While Rob Barrett was way stage right playing to the savage crowd, Erik was handling his corner both shredding our faces off as the rhythm section of Mazurkiewicz and Alex Webster made your guts tremble. There's no denying CANNIBAL CORPSE still has it as this night showed. How long Rutan will stick around is interesting to find out and We all thank him for stepping in and handling business. So it's safe to say for the 2 we met from Kern County, the super cool lady and her very pretty step-daughter, they had a killer of a time!
Check out some more photos from the show!
All Photos By James Anargirou/OthersPhotography.com

Please log in to view RANTS