HALESTORM In Salt Lake City, UT With Photos!

By Larry Petro, News Monkey
Friday, April 26, 2019 @ 10:15 AM

| | | |
| --- | --- | --- |
| | | Monday, April 22, 2019 At Union Event Center |
Review And All Photos By Thomas Coffman/Coffman Photography
As a concert photographer I always try to capture bands that I am a fan of. With that being said, it was a no-brainer when I was told that I could photograph the HALESTORM show in Utah. I caught a flight from Houston and was on my way to see them for my first time.
Standing in the pit of the Union Event Center listening to the crowd restlessly anticipating the arrival of their heroes, I could feel the energy. A few minutes later the crowd starts to roar with excitement and I look up and see a silhouette of a black haired beauty dressed in black leather and platform shoes. The rest of the band comes out and the green drums light up and the drummer (Arejay Hale) starts pounding away. Lzzy Hale, the singer and guitar player, belts out "Hello Utah" and that was it, she had them right where she wanted them.
The first song "Skulls" is an ass kicking, great sing along song that grabs you by the throat and does not let go! After that they go into "Love Bites", a crowd favorite. Lzzy's vocals are at top notch and the band is playing like a well oiled machine. Guitarist Joe Hottinger is whaling on guitar while Josh Smith is pounding on the bass. The light show was phenomenal and sound was superb. Just when I did not think it could get any better they break out into "Mz. Hyde", one of my all time favorites from HALESTORM. I have attended and now photographed a lot of shows but I have to say this one was in my Top 5 for sure. The crowd sang along with every song and the band seem to feed off of it. As the night went on, they kept playing hit after hit and when it came to the encore they did not disappoint.
The encore went like this...
"Uncomfortable"
"Misery"
"Here's To Us"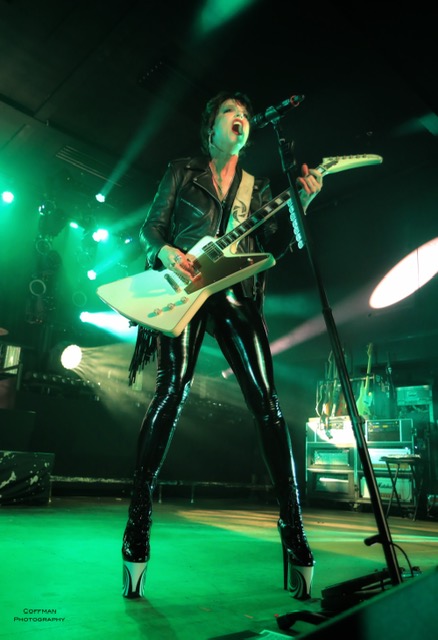 Ending the show with "Here's To Us" could not have been any better. It's a perfect song for the crowd to sing along with and celebrates the band and their fans. To anyone that ever questions if they should catch this band live, the answer is ABSOLUTELY!!!!! This show is a must!!!

Setlist:
"Skulls"
"Love Bites (So Do I)
"Mz. Hyde"
"Nothing To Do With Love"
"Dear Daughter"/"Daughters Of Darkness"
"I Am The Fire"
"Familiar Taste Of Poison"
"Amen"
"The Silence"
"Black Vultures"
"Vicious"
Drum Solo
"Freak Like Me"
"Killing Ourselves To Live"
"I Get Off"
Encore:
"Uncomfortable"
"I Miss The Misery"
"Here's To Us"
Check out some more photos from the show!
All Photos By Thomas Coffman/Coffman Photography