DIAMOND HEAD The Coffin Train


By Andrew Depedro, Ottawa Corespondent
Sunday, April 28, 2019 @ 3:33 PM


| | | |
| --- | --- | --- |
| | | |
DIAMOND HEAD
The Coffin Train
Silver Lining Music




Since their inception as one of the founding conductors of the New Wave Of British Heavy Metal movement some four decades ago, the powerful locomotive known as DIAMOND HEAD have never been a band to bite off more than they can choo-er, chew. Keeping true to their sound and aesthetic, the Stourbridge, England born-and-based band continue railing for the rock on their eighth studio album The Coffin Train and their second album with Danish-born frontman Rasmus Bom Andersen. With plenty of *ahem* tracks to select from, this rockin' engine makes for a sweet enough ride for both the diehard fan and the newfound traveler.

Opening number "Belly Of The Beast" presents itself as the ideal song and single for The Coffin Train to hitch its wagon to. Its adrenaline-fueled fast-tempo pace along with Brian Tatler's catchy hooks and riffs along with Rasmus' powerful vocals harkens back to Lightning To The Nations-era classics such as "The Prince" and "Helpless". Follow-up songs such as "The Messenger" and the title track showcase more of Rasmus' diverse vocals while still maintaining much of the classic groove and riffs that DIAMOND HEAD are known for.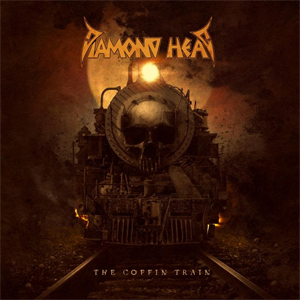 Elsewhere, there are also a few hidden gems that have helped to forge DIAMOND HEAD's sound into one of the band's most diverse-sounding albums in their catalogue. "The Sleeper" and "Death By Design" recall some of IRON MAIDEN's most recent progressive-inspired work as Rasmus' opening low-key crooning erupts into a loud crescendo, varying with every note that Tatler plays. "Serrated Love" is somewhere in between the album's high-energy rockers and mellower-sounding tempos and bridges the gap competently enough even if there's a hint of slower plodding compared to the album's prior songs. Closing numbers such as "The Phoenix" and "Until We Burn" also see Rasmus excelling at his most vocal performance yet.
DIAMOND HEAD may have progressed into a new model over the years after four decades of tooting the whistle for the cause of metal, and The Coffin Train is definitely a significant sign of that progression. But while their original groove showcases a steam engine-like reliability, The Coffin Train demonstrates DIAMOND HEAD's overall diversity and electricity – which is enough for the ardent rock/metal fan to get on board with.
4.5 Out Of 5.0
https://www.facebook.com/DiamondHeadofficial
https://www.diamondheadofficial.com/

Please log in to view RANTS


REDEMPTION I Am The Storm

RON YOUNG Judge This Book By Its Cover

LAST IN LINE Jericho

GRETA VAN FLEET, RIVAL SONS In Anaheim, CA With Photos!

WISHING WELL Sin And Shame

OTTTO Life Is A Game

SAXON More Inspirations

THE WINERY DOGS, BLACK HEART SAINTS In Houston, TX With Photos!

ROBIN MCAULEY Alive

CRADLE OF FILTH, DEVILDRIVER In Santa Ana With Photos!

KAMELOT The Awakening

ALTER BRIDGE, MAMMOTH WVH In Houston, TX With Photos!

ACID KING Beyond Vision

STEEL PANTHER On The Prowl

NIGHT DEMON Outsider

YNGWIE MALMSTEEN In Ottawa, Canada

THEORY OF A DEADMAN, SKILLET, SAINT ASONIA In Houston, TX With Photos!

OFFICER X Hell Is Coming

PERIPHERY Periphery V: Djent Is Not A Genre

INSOMNIUM Anno 1696

STEEL PANTHER, CROBOT, TRAGEDY In Houston, TX With Photos!

BABYLON A.D. Live Lightning

ROTTING CHRIST, CARACH ANGREN, UADA, GAEREA In Houston, TX With Photos!

MOTÖRHEAD Bad Magic: Seriously Bad Magic