POSSESSED Revelations Of Oblivion


By Francisco Zamudio, Metal X Candy 2.0
Monday, May 13, 2019 @ 2:03 AM


| | | |
| --- | --- | --- |
| | | |
POSSESSED
Revelations Of Oblivion
Nuclear Blast




So it is the mind-80s and Metal is about to take a significant change. With Thrash Metal having a prevalent stance in the scene, a few others had goals to push things slightly further. With Anti-Religious lyrical and visual themes turning towards Satanism, other non-conforming and gore-laced perspectives – the birth of Death Metal came to be.

Fast forward 30 years later and one for the Forefathers who forged Death Metal returns with a new, yet familiar line-up of the legendary band POSSESSED. Their release Revelations of Oblivion (NUCLEAR BLAST) will soon be unleashed consisting of Daniel Gonzalez (NAILSHITTER, GRUESOME) and Claudeous Creamer (DRAGONLORD, SERPENT, GIRTH) on guitars, Los Angeles locals Robert Cardenas on bass (COFFIN TEXTS, MASTERS OF METAL, AGENT STEEL, MALICE, ENGRAVE), and El Sadistico Emilio Marquez (BRAINSTORM, SADISTIC, ENGRAVE, BRUJERIA, ASESINO) on drums.

Starting with an interesting and updated version of the intro from a track off 1985's Seven Churches (Combat Records), "Fallen Angel" – this opener entitled "Chant of Oblivion" opens up the gates of hell (pun intended) to the dead as there's "No More Room In Hell". A stern start with the Death-Thrash dynamic we didn't know we missed and a nod to George Romero's classic cult film, Night of the Living Dead. Jeff's unique vocal style is so vibrant on this record. With such a dynamic approach, his voice raises the level of evil and the following track "Dominion" is a great example of this right off from the first verse. The speed on the track "Abandoned" will leave your face scorched, demonstrating some sick and intense drumming by Emilio Marquez. Throughout the album are solos battles back and forth from Creamer and Gonzalez, along with a thick low end provided by Cardenas - their clashing axes then melt together for some hellish shredding. As if to continue where Seven Churches left off, the track "Omen" highlights more of Jeff's versatile vocals and evil lyrics that defined what Death Metal would come to be.

Revelations of Oblivion is chock full of memorable and catchy riffs and lyrics. They knew right away that had to clutch your ear with what they conjured here, 30+ years in the making. Call it Old School Death Metal if you must, it still maintains the classic Thrash element where it originated from. Fitting for this record which has a vintage feel to it, it's great that modern recording technology has caught up with the veracity that Extreme Metal has carried over the decades.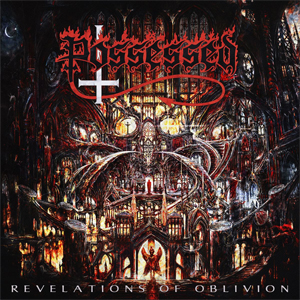 I can't say that you don't need to go back and listen to Gates of Hell (Combat Records, 1986) or Seven Churches to be able to appreciate Revelations of Oblivion. For me to say that would be a disservice and a slap in the face. YOU NEED TO go and listen to those key iconic records to fully understand not only where Jeff and POSSESSED are coming from but you need to understand where DEATH METAL came from. With most certain due respect to the band DEATH and co-Death Metal founding father Chuck Schuldiner, he himself stated that he considered POSSESSED to be the FIRST Death Metal band (see 2004's book, CHOOSING DEATH: The Improbable History of Death Metal and Grindcore). I mean, they coined the phrase as the last track on Seven Churches. Did I mention I'm writing this as I'm wearing a DEATH shirt?
Although claims that POSSESSED over the years had "crashed and burned" (Metal Hammer, Dec. 2018), with on and off extensive hiatuses, Jeff has continually fought to forge ahead. Despite a failed robbery resulting in a severe and near fatal attempt on his life in 1989 (Becerra was shot twice with 1 bullet through his chest and into his spine, leaving him paralyzed from the chest down), he along with a multitude of talent from Los Angeles and abroad (even PRIMUS' own Larry LaLonde) have all been important creation and struggle to keep POSSESSED relevant to those who wisely kept their ears grinded on the underground floor. So to those who counted POSSESSED out, consider them a Dark Phoenix that came back to burn your ass with one of the best releases of the year.
4.5 Out Of 5

Please log in to view RANTS