RINGWORM "Death Becomes My Voice"


By Francisco Zamudio, Metal X Candy 2.0
Thursday, May 9, 2019 @ 11:37 AM


| | | |
| --- | --- | --- |
| | | |
RINGWORM
"Death Becomes My Voice"
Relapse Records




Hardcore bands know no limits. Add some Grind and you'll be in for ultra-violent ride. And we're talking traditional hardcore, not that mainstream excessive groove and breakdown stuff. We're talking crowd-surf while stepping on heads and relentless slamming while screaming in your face. Ohio's RINGWORM has been doing it long enough to have a good grip on things since the early 90's and their first full-length The Promise ('93, Incision Records). Following a 10 year hiatus after their debut and a 4 album (and various demos and Splits) stint with Victory Records, it wasn't until their Relapse Records debut Hammer of the Witch (2014) that gave them a more abrasive edge. Now on their 3rd release through Relapse and nearly 30 years later, RINGWORM release Death Becomes My Voice.

Whatever is in the water in Relapse seems to suit them well. Whereas a lot of their previous material leaned slightly back on the thrash side with a hint of groove metal, Death Becomes My Voice takes things more heavier and focused back to a more Hardcore and Grind sound, as the opening and title track will demonstrate, probably one of the longest tracks they've ever done at over 5 minutes. The second track, "Carnivores" comes in with the traditional crust grind drum and bass work giving way to some blast-beats and continuous assault and throws you a nice change up. Then a couple of tracks changing the mood and slowing things down just slightly, as on "Acquiesce" and "Separate Realities", help give a necessary dynamic.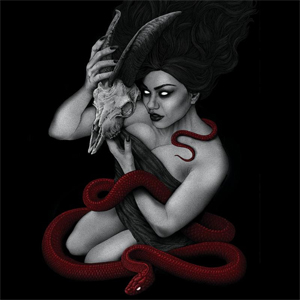 A bit of a far cry from previous efforts and quite more aggressive, the consistency with what RINGWORM does are that all their songs are short bursts of aggression and not uncommon with many Hardcore bands. What does set them a bit apart is their incorporation of harmonies and solos, albeit quick, that fall right into place and breaks up the monotony of their sound a little. The track "Dead to Me" is a fine example as they tease some of that guitar work.
Both returning for the second go around on guitar is Mark Witherspoon and on drums Ryan Steigerwald. They solidify the current sound RINGWORM has gotten to, along with long time members Matt Sorg on guitar, Ed Stephens on bass and the awesome vocal style of James "Human Furnace" Bulloch and have pushed this to an excellently hostile version of what RINGWORM used to be. Death Becomes My Voice gets them in the same conversation as other masterpieces such as CONVERGE's epic Jane Doe ('01, Equal Vision Records). I would love to hear them extend their songs another minute or 2 but they give what they give and are damn good at their style of straight forward aggressive Hardcore.
4.0 Out Of 5.0

Please log in to view RANTS


KAMELOT The Awakening

ALTER BRIDGE, MAMMOTH WVH In Houston, TX With Photos!

ACID KING Beyond Vision

STEEL PANTHER On The Prowl

NIGHT DEMON Outsider

YNGWIE MALMSTEEN In Ottawa, Canada

THEORY OF A DEADMAN, SKILLET, SAINT ASONIA In Houston, TX With Photos!

OFFICER X Hell Is Coming

PERIPHERY Periphery V: Djent Is Not A Genre

INSOMNIUM Anno 1696

STEEL PANTHER, CROBOT, TRAGEDY In Houston, TX With Photos!

BABYLON A.D. Live Lightning

ROTTING CHRIST, CARACH ANGREN, UADA, GAEREA In Houston, TX With Photos!

MOTÖRHEAD Bad Magic: Seriously Bad Magic

TRAGEDY I Am Woman

ROXANNE Stereo Typical

ANTHRAX, BLACK LABEL SOCIETY, EXODUS In Houston, TX With Photos!