Photos By Andrew Depedro
The reigning kings of the blackest of the extreme black metal scene since its inception in the late 70's have been at war with their ever-changing lineups almost as often as with the Horned One to the point that they've been touring under a slightly-amended name for the past three decades. And while I was barely a teen at the time to truly appreciate the original genuine evilness of Welcome To Hell and Black Metal, I was at war with having to endure more babysitting sessions which mostly included putting up with my niece's 40th Netflix marathon of watching the entire Trolls series, so this was as good as an excuse as any to catch this show which included some local and co-headlining acts (give or take a missing drummer or two) making their way to the satanic big leagues.
Plus, I had a ticket reserved for me for the show anyway.
The Mavericks bill was comprised of five bands including two opening bands who both either captured the headliners' raw DIY punk ethos or their bombastic power thrashing heaviness. With song titles such as "Crusty Cum Rag" and "Sperm Warriors" and a guitarist who could pass off as the twin brother of FUBAR's Terry Cahill, it's safe to say that Gatineau-based non-PC crossover punk trio TOTAL GARBAGE lean towards the first definition. Their 16-song set were comprised of 2 minute long by-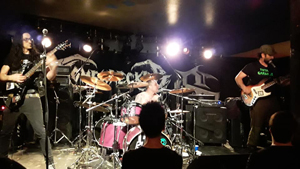 the-numbers punk pounders whose lyrics referenced mostly sperm, suicide, the infamous 2009 Manitoba Greyhound Bus Killer and even more references to sperm. During the course of their two-year existence as a band, they've released a demo and played alongside the likes of DAYGLO ABORTIONS. Turns out that the market for fast crossover punk with lyrics about sperm is greater than what most people give it credit for. That said, it's the fast and furious playing and their frontman also being the drummer that should be of the greatest appeal of this band with the low-hanging-fruit name. The drummer's insane precision and skill is comparable to a young Gil Moore of TRIUMPH – that is, if TRIUMPH wrote songs about sperm. Still, credit to the Garbagemen for having the magic power of the music in them and laying it on the line for just one night during their performance even when their drummer's house in Gatineau was heavily damaged by the recent floods in town.
https://www.facebook.com/totalgarbagepunk/
Going from TOTAL GARBAGE's fast-playing goofy crossovercore to the eight-minute Wagnerian sagas and flashy guitar solos of local power metal quartet LYCANTHRO is a bit like watching AVANTASIA playing after ANAL CUNT. Neither band have much in common musically but that won't prevent or deny their audience a high energy show. And LYCANTHRO fulfill their promise here even if their stage space is restrictive by about two dozen feet or so. At least this wasn't the UDO show when they were denied use of the stage entirely. Their setlist may be short of the number of TOTAL GARBAGE's songs by ten, but LYCANTHRO can still be just as appealing to the growing crowd numbers with their Skyrim-inspired tracks such as "The Raven", "Crucible", "Fog Of War" and an ambitious cover of IRON MAIDEN's "Futureal". Frontman/guitarist James Delbridge was even polite enough to ask the crowd the two-part question before playing the song at least:
"How many of you like IRON MAIDEN?"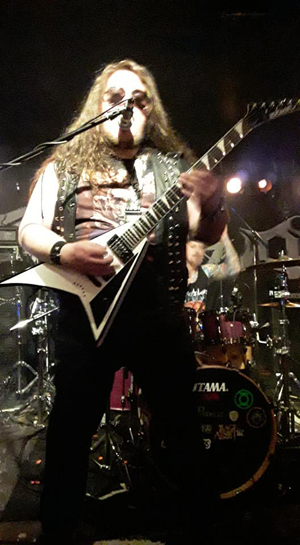 *applause*
"And now….how many of you like Virtual IX?"
*mixed response before the song is played anyway*
Thanks to LYCANTHRO's stellar performance of the song, the Blaze Bayley era of IRON MAIDEN was able for at least one night to be moderately more popular than songs about sperm. Keep breaking that stigma, guys!
https://www.facebook.com/Lycanthrokills/
The town of Ashtabula, Ohio doesn't quite have the music appeal of Cleveland for want of Ian Hunter's will to proclaim how much it rocks, but given that the average age of the members of up-and-coming metalcore quintet HOMEWRECKER is about 29 (including their guitarist Matt Barnum who celebrated his birthday on the same day as their Ottawa debut), they likely don't seem all that bothered about the comparisons. Formed in 2008 and touring in support of their third studio album Hell Is Here, the band's mix of late 80's death metal and modern metalcore has the pit activated to near-full capacity. Not bad for a band whose road crew didn't seem to believe in the concept of visible lighting, making photos difficult to take half the time. I get a bit of the whole mystique thing but you'd think that Papa Emeritus was going to come out by the side stage and duet with the band on "Square Hammer" after the third song. Otherwise, HOMEWRECKER's demolition men kept a solid affair and connection with the audience that would make the creators of Ashley Madison and Tinder want to retire. Credit the heavy and fast-pounding tracks such as "Buried In Suffering", "Land Of The Damned", "Burden Of Self", "Worms And Dirt" and the neck-wrecking closer "Perpetrators". And they also had a singing drummer – Matt Izzi, on loan from the band SCORCHED, though it appears that he'll be more of a permanent fixture in their lineup – on half of the songs (seriously, what is it with TRIUMPH and their appeal among newer extreme metal bands who sound nothing like them these days?). So, while "Ashtabula Rocks" doesn't quite roll off the tongue compared to Cleveland, there's plenty about HOMEWRECKER's catalogue that shook many foundations that night.
https://www.facebook.com/HomewreckerOH/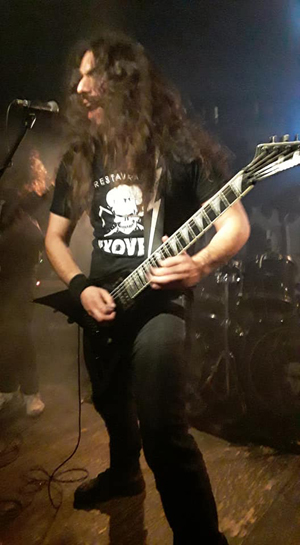 Up next and straight from the battlefields of southern California (and who have likely shared as many victorious Skyrim skirmishes with the members of LYCANTHRO as they have shared stages) would be thrashing warmongers EXMORTUS – or at least three out of the four members anyway. Hot on the hooves of promoting last year's The Sound Of Steel album, their show was delayed for about a couple of minutes as their drummer Adrian Aguilar had gone missing; a miscommunication between their road crew and staff later revealed that the band's drummer was missing from the Canadian leg of the tour as he had been denied entrance into the country (presumably for something more serious than declaring to CBSA officers that he could out-drum Gil Moore of TRIUMPH on any given day of the week), which frontman/guitarist Jadran "Conan" Gonzalez would eventually admit to as they opened with the raging number "Feast Of Flesh" with programmed drum tracks. Sure, it did look odd for Jadran and his other two colleagues Philip Nunez (bass) and Chase Becker (guitar) to be playing their battle hymn classics such as "Foe Hammer", "Into The Maw Of Hell", "Moonlight Sonata (Act III)" and the closing number "Metal Is King" to recorded drum tracks when they couldn't get a fill-in drummer at the last minute (I'm as surprised as you are given the wealth of skilled tub-thumpers on this bill) to sub for their absent colleague, but they were not the type of band to shy away from a challenge or battle that they knew would be easily winnable. And TRIUMPH-er, triumph they did. To be honest, I'd say that most of us were staring at the black T-shirts bearing the logo of Ottawa's first heavy metal themed restaurant The Koven the band members were wearing during their set than at the fact that they were slimmed down to a trio. A thousand hails to EXMORTUS for making haste to go on with the show even if their drummer was briefly in and out of the country.
https://www.facebook.com/exmortusofficial/
https://exmortusmusic.com/
Just about to lift up your feet and relax after over four hours of non-stop moshpit action? Be prepared to lay down your soles for the gods of rock 'n roll once more as headliners VENOM INC. take the stage and belt out "Metal We Bleed" from 2017's Avé. The current lineup is looking somewhat different from the original lineup from 1981 which comprised of bassist/vocalist Conrad "Cronos" Lant, guitarist Jeffery "Mantas" Dunn and drummer Anthony "Abaddon" Bray – particularly since Cronos and Abaddon have been absent from the band for about two decades, their roles respectively taken over by Tony "Demolition" Dolan (ex-ATOMKRAFT) and Jeramie Kling (ex-sound engineer for EXODUS and SEPULTURA, THE ABSENCE). You'll also wonder why the band has been billed as VENOM INC. for some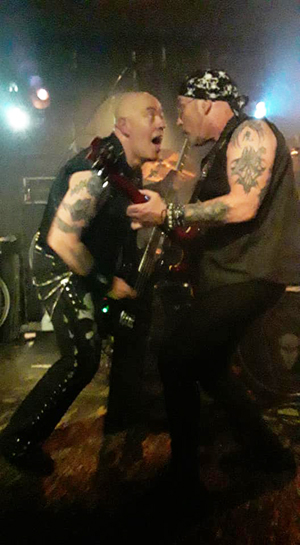 time and it's got nothing to do with Demolition's tattoo collection. Not surprisingly, back in the day, the split between Mantas and Cronos over differing musical directions wasn't on the most acrimonious of terms, with Cronos securing publication rights to the original band name (under which he still tours to this day). Even Abaddon's time with VENOM INC. was abruptly cut short – reportedly over a dispute over maternal leave when he found out he would be a father for the first time – following a series of side projects including PRIME EVIL and b>M-PIRE OF EVIL which led to the eventual forming of this current lineup. But, regrettable as the soured relationship between the three original parties had become, the set was otherwise a whirlwind celebration of the classic 80's era of VENOM for both the veteran diehards and the aspiring tryhards who saw the band put the "extreme black" in "extreme black metal".
With openers "Metal We Bleed" and "War" comprising the more recent songs from a catalogue spanning 40 years under the VENOM moniker, the lineup of VENOM INC. showed that they – and particularly Mantas – continued to have a vested appreciation in the music. Demolition cut an intimidating figure with his shaven head, his tattooed brawny physique and his perfectly replicated Cronos-style growl as he plowed his way through classics such as "Witching Hour", "Black Metal", "Welcome To Hell", "Bloodlust", "In League With Satan" and "Countess Bathory". He even got the rambunctious crowd to form the famous Wall Of Death twice which the bearded biker VENOM fan in his 60's next to me was lucky to have survived both times after catching an elbow to the side of the head during "Witching Hour", reminding me why I've long since left the fury of the pit to a more younger generation. Mantas looked and sounded in his prime as he delivered a mighty axe attack to the classics and recent numbers, his chemistry with Demolition just as solid and vibrant as it was during the PRIME EVIL/M-PIRE OF EVIL years if not more. Finally, drummer Jeramie Kling may be the latest addition in the ever-changing lineup but his primal rapid fire beats and precise rolls and slams spoke more of a veteran musician rather than a veteran sound engineer though his work with Michigan-based death metallers THE ABSENCE certainly invokes much of the blackened brutality of much of VENOM's own early work so it's easy to see why he can count clients such as EXODUS and SEPULTURA as among his biggest fans of his sound production work. EXMORTUS should've cut him a quick deal to sub for their drummer during the Canadian leg of this tour.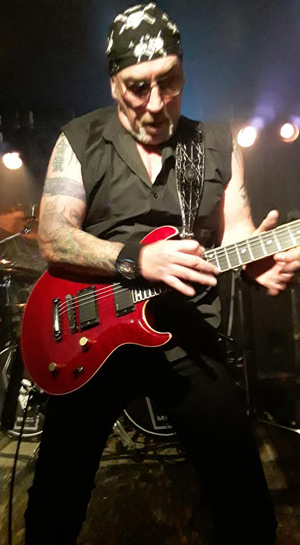 With the actual witching hour upon us, VENOM INC. ended their show on a loud and fast note as they tore through "Countess Bathory" and left the masses sore and battered from much moshpit excess – but satisfied that in spite of the numerous lineup changes that the gods of black metal have endured over time, VENOM INC. both cut and bled the metal game they've always claimed to play to the extreme.
Setlist:
"Metal We Bleed"
"Die Hard" (Venom)
"Welcome To Hell" (Venom)
"Live Like An Angel (Die Like A Devil)" (Venom)
"Blackened Are The Priests" (Venom)
"Carnivorous" (Venom)
"Parasite" (Venom)
"Warhead" (Venom)
"Don't Burn The Witch" (Venom)
"War"
"Lady Lust" (Venom)
"Leave Me In Hell" (Venom)
"Black Metal" (Venom)
"Sons Of Satan" (Venom)
"Witching Hour" (Venom)
Encore:
"Bloodlust" (Venom)
"In League With Satan" (Venom)
"Countess Bathory" (Venom)
https://www.facebook.com/VenomIncOfficial/
http://www.venom-inc.com/