L.A. GUNS
The Devil You Know
Frontiers Music Srl
http://www.lagunsmusic.com




After seeing L.A. GUNS live back in mid-April, I was quite keen to take a listen to their latest album The Devil You Know. After decades of considering myself a casual fan of the band at best, the previous The Missing Peace and that stand out concert had gotten me a bit more into the band.

Two songs from this album have made it into the L.A. GUNS set list for this current tour they've been on. The first of the songs is "Rage", the song that opens up the disc. The song definitely lives up to its title as it has both a grim and gritty feel to the music while also being furiously and relentlessly paced. The second song the band added to their show is the album's title track. That one features a kind of grinding midtempo groove to it with a killer guitar run through as well. It just has a very cool vibe to it and you can see why the band would keep playing it in their current shows.

Now, I can't rightly say exactly why but after the song "Rage", I found that the rocking "Stay Away" came off a little bit monotonous to me. If there's a song that I would say that I just flat out didn't care for on The Devil You Know, it would be this one.

That said, the 11-track album is otherwise pretty much a thrill ride. L.A. GUNS barely take any time to slow down and the chemistry between Phil Lewis and Tracii Guns shines through. The band is definitely in charge throughout the disc. Guns produced the album and the individual players were credited together with writing the songs as a whole.

Tracks like "Down That Hole", "Going High" and "Gone Honey" sizzle with a crackling sense of the energetic. And then you have songs like "Loaded Bomb" and "Don't Need To Win" which are just electric rockers from start to finish. The same could be said for the bonus track "Boom", which is just a balls out rocker you'll be unable to get enough of.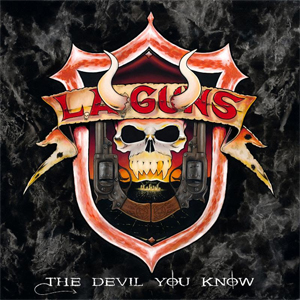 When I first saw the title of the song "Another Season In Hell", I was instantly reminded of the Eddie And The Cruisers film duology. In that series, there's a mythical unreleased 2nd album from the band which was called Season In Hell. This song was far slower in tempo than the rest of the album, taking care to be more of a methodical progression within the song. Musically, the song felt incredibly heavy and there's something about the song that allows it to fold you into it. It was just a really well done song and I'd love to see how they'd pull off a live performance of this one.
Of course, if I'm going to put forth an opinion about what I think the single best track on The Devil You Know, I'd have to go with "Needle To The Bone". It's a blazingly fast and intense rocker that gets inside your head and just shakes your brain around. For my money, this is such a strong song that it should be immediately showcased for the band's live audience.
It takes a lot to change my mind once I've made it up. It's not that I'm not open to readjusting an opinion over time but I'm certainly not going to do it without a convincing case being made for doing so. Not that I was expecting to have it happen, but over the last 2 or 3 years L.A. GUNS has put out some fantastic music that does indeed find me with a vastly different opinion about the band. If you want to have the case laid out before you, just listen to The Devil You Know and you'll see just exactly what I'm talking about. It's a fantastic album that shows the band in its best possible light to both vintage fans and those just coming around to what rockers worldwide have known for years.
4.5 Out Of 5.0