HATE Auric Gates Of Veles


By Peter Atkinson, Contributor
Thursday, June 13, 2019 @ 1:16 PM


| | | |
| --- | --- | --- |
| | | |
HATE
Auric Gates Of Veles
Metal Blade Records




Where on its 10th album, 2017's Tremendum, Warsaw-based HATE explored the more "blackened" side of its blackened death metal sound and personality, its latest outing sees the band bringing a good portion of its death metal heft back into the mix. It makes for a near perfect balance.

Despite its lofty title, the band's 11th album, Auric Gates Of Veles, is even more sonically streamlined and vicious than Tremeundum, which saw HATE largely eschewing the symphonic/ambient atmospherics that had become more pronounced on its previous few outings, to the detriment its raw power and fury. There is certainly no shortage of either on this go-round – even as the "band" itself now is just guitarist/frontman/lone original member Adam "ATF Sinner" Buszko and drummer Pawel "Pavulon" Jaroszewicz (also of ANTIGAMA and formerly of VADER), with touring guitarist Dominik "Domin" Prykiel and VESENIA's Filip "Heinrich" Halucha filling out the recording ranks here. But no matter, as Veles absolutely rips.

Sure, there is a thematic thread behind the lyrics here – something to do with "Slavonic mysticism" that I couldn't even begin to explain - but it is unadorned by the usual conceptual trappings. Instead, the album hurtles out of the gate with "Seventh Manvantara" and picks up even more velocity and momentum with "Thriskhelion", both driven by Pavulon stampeding tempos and the sawing guitars of Sinner and Domin that bring an extra measure of heaviosity here by retaining their death metal thickness instead of fully adopting a more tremmy and shrill black metal delivery.

The more dramatic "Sovereign Sanctity" does offer a nod to the grandiosity of IMMORTAL by playing mid-tempo verses and slow atmospheric expanses against all-out sprints with Pavulon's double bass at full gallop over a fairly monumental 6:31. And as the album's centerpiece, it's the perfect song in the perfect spot, especially when paired with the like-minded, but more bracing, "Path To Arkhen".

The title track delivers a hooky chug that could even be described as catchy, although its tone is far more forbidding than friendly. And it's the kind of song where, on albums past, the band likely would have layered on symphonic or ambient splashes and stole some of its inherent thunder. But not here, and song resonates with its full weight and might without any adornments standing in its way.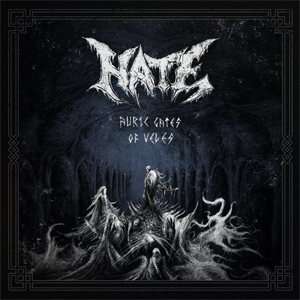 "Salve Ignis" and "Generation Sulphur" circle back to the ferocity of the opening tracks and send the album out with a furious flourish. "Sulphur" is the most balls-out black metal tune here, echoing MARDUK with its compact, hyper-speed riffs and rivet-gun tempo. But even here, there is plenty of grit and bombast, and the song's rather abrupt end is enough to give you whiplash.
HATE has long lived in the considerable shadow of its brother in arms from the north of Poland, BEHEMOTH, with which it has shared many similar sonic and aesthetic elements over the years – not to mention frontmen whose fire-breathing voices are darn near identical. But in stripping things down over its last two albums, HATE has managed to establish a bit of distance while BEHEMOTH has upped the orchestration ante by adding things like children's choirs, etc. And for HATE, it seems to be a smart move. Tremeundum and Auric Gates Of Veles have provided some of the most compelling and viscerally satisfying work the band has done. And not many acts can say that after nearly 30 years in the game.
4.0 Out Of 5.0

Please log in to view RANTS