THY ART IS MURDER Human Target

By Peter Atkinson, Contributor
Monday, July 15, 2019 @ 10:26 AM

| | | |
| --- | --- | --- |
| | | |
THY ART IS MURDER
Human Target
Nuclear Blast Records




I have something of a like/hate relationship with Australian deathcore brutes THY ART IS MURDER (TAIM). I've liked some of the band's albums – 2012's Hate, ironically, is my favorite, 2017's Dear Desolation was decent too. But I absolutely loathed 2015's Holy War, with its rather repellent child suicide bomber artwork setting the tone for a truly dreadful listen. And with its latest, Human Target, looking like it might be coming from the Holy War side of the ledger - given its obviously provocative air, thanks to tunes like "Make America Hate Again" or "Chemical Christ" - can't say I had very high hopes for it going in.

Well, glass half full, Human Target isn't a Holy War-type train wreck. Glass half empty, though, it's not much to write home about either. It delivers what we've come to expect from TAIM, deathcore bludgeon at its most ruthless, but with little mind paid to song craft or musicality.

Human Target is a near ceaseless barrage of churning, gut-punch riffs, galloping drums and frontman CJ McMahon's drill sergeant bellow. The velocities may vary from time to time, and curb-stomp breakdowns are never too far away, but any sense of melody is fleeting and the only hints of catchiness are in the occasional, yet calculating shout-along choruses, as on the aforementioned "Make America Hate Again" - which is such an obvious sentiment, most American bands have given it a pass.

TAIM's songs frequently abandon traditional structure – verse-chorus-verse, or otherwise – in favor of a collection of concussive movements. And with little respite from the battering, via conventional means or wild deviations, it makes for a rather numbing experience, one that can offer as many reasons to simply tune it out as it does to accept the punishment.

Yet as part and parcel of the relentlessly feral tone and carpet bomb delivery comes a crushing, inescapable heaviness. And if you're in the mood for that sort of thing – or just stuck in traffic and itching to rage - Human Target more than does the trick, as it pounds away for 40 minutes.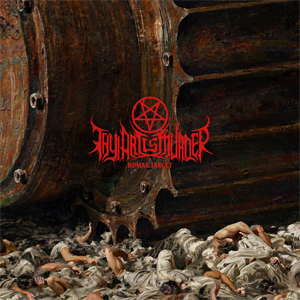 As with past efforts, there are a few moments here where the band lock in on some actual "songiness," alter the mood or add a hint of atmosphere. The nifty slithering rhythm of the title track gets the album off to an intriguing start and "Atonement" shows some undeniable technical flair. It's just too bad there isn't a bit more of that sort of thing here.
Though it has its moments, the album's one-dimensionality – and the band's single-mindedness - ultimately renders it rather forgettable, despite the "Make America Hate Again" sloganeering. A modest dash of spice or variety might have made Human Target feel less like a mere blunt object and more like something you could actually enjoy, regardless of your mood.
But with five albums now under its belt, TAIM seems unlikely to change, much less lighten up. The band has dug its rut and appears content to wallow in it. I guess who needs ambition when sheer brute force will suffice? And Human Target has got brute force – but not much else - to spare.
2.5 Out Of 5.0