SABATON The Great War


By Nathan Dufour, Great White North
Wednesday, August 7, 2019 @ 1:22 PM


| | | |
| --- | --- | --- |
| | | |
SABATON
The Great War
2019, Nuclear Blast




Since their inception, SABATON have played Power Metal that even those not invested in the genre can get behind. They have always been larger than life, with a sound so steeped in bombast, in grandeur, that it is very difficult to ignore them. The band will also teach you something, which is a novelty in and of itself, with each album focusing on historical events or texts, lead singer Joakim Brodén basically everywhere and surely one of the most instantly recognizable voices in metal. And I mean, hey, if SABATON didn't work out, he could surely be a George Michael impersonator. Something about those Aviators…

The Great War is about exactly what you think it is - and is easily the most cheese infused history fest yet in the SABATON cannon. Synths punch out on almost every track, lending atmosphere and an odd elegance to the retellings of various battles. Make no mistake, this is no championing of war, but an exposition thereof, stories of heroes. "82nd All The Way" will be a live staple for certain, the hummable chorus perfectly paced within the context of the tune, and will stick in your head like mortar shrapnel.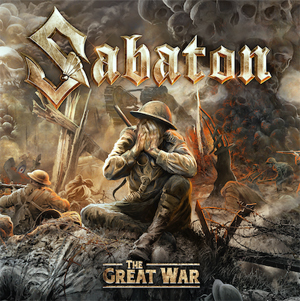 It's hard to quantify and qualify a band like SABATON - you either really like it or not, but again, the band is very hard to ignore. The Great War is not really status quo, the band injecting new moods into their march, but it is expected. SABATON still sound like SABATON, sure, but with the inclusion of lush keys and strings on the immediately affecting "The War To End All Wars" the band show themselves to not be a one trick Trojan horse.
Closer "In Flanders Fields" is a brilliant end to The Great War. Sadly, SABATON will have material to draw from until the end of time. An achievement.
4.0 Out Of 5.0

Please log in to view RANTS