KILLSWITCH ENGAGE Atonement


By Peter Atkinson, Contributor
Thursday, August 15, 2019 @ 11:24 AM


| | | |
| --- | --- | --- |
| | | |
KILLSWITCH ENGAGE
Atonement
Metal Blade Records




After a particularly fraught stretch that followed 2016's Incarnate – notably for frontman Jesse Leach, who endured throat surgery, writer's block and a subsequent bout of depression and self-doubt – Massachusetts metalcore veterans KILLSWITCH ENGAGE have returned with the surprisingly triumphant Atonement.

Rather than wallow in despair, the band has crafted its simplest, most anthemic and buoyant effort yet for its Metal Blade Records debut. Indeed, KILLSWITCH has effectively taken Leach's adversity and negative energy and turned it on its head, making something exuberant and inviting. And though the frontman laments that "I am broken too" on the album's most somber track of the same name, elsewhere "Take Control", "Us Against The World" and "As Sure As The Sun Will Rise" boast a resilient fighting spirit.

The feisty "Unleashed" makes for a fitting opener, given its determined chug and Leach's emphatic "you've unleashed the wild within …" bellow, and sets the, umm, tone for Atonement. The pace is a bit more up-tempo overall than what we have come to expect from KILLSWITCH, which certainly works in the band's favor on its eighth full-length, as the slower tunes, notably the butt-rocky "Take Control" and scream-laden "Ravenous" are the weakest of the bunch.

But thrashier fare like the bracing "The Signal Fire" (featuring guest vocals from ex-frontman Howard Jones, now of LIGHT THE TORCH) and crunching elephant march of "The Crownless King" (aided by Chuck Billy's signature TESTAMENT roar) bristles with intensity and urgency. So, too, do the more furious "Know Your Enemy" and "Bite The Hand That Feeds" with their nifty smattering of black metal trem guitar played over Justin Foley's galloping beats.

KILLSWITCH has long been a model of efficiency, and the band has streamlined the arrangements a bit further here, peeling away some of the widdly-twiddly frills and standard-issue breakdowns of old to yield a batch of especially crisp, concise and consistently punchy songs. Rousing hooks and melodies abound here, and though the album bogs down a bit near the end with the turgid "Take Control" and "Ravenous", the aforementioned "Bite The Hand That Feeds" closes Atonement out with a circle pit-inspiring bang.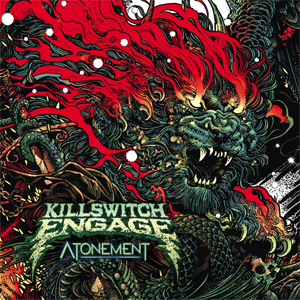 One minor annoyance the band has yet to shake, however, remains the bad cop backing screams that accompany/echo so many of the vocal lines. This is a longstanding metalcore cliché, yet eight albums in you'd think KILLSWITCH would have given it a rest by now. But here again is guitarist/producer/Price Is Right Showcase Showdown winner Adam Dutkiewicz parroting Leach throughout Atonement - "Locked and loaded, waiting to explode (EXPLODE!)" or "Don't lose your faith (DON'T LOSE YOUR FAITH!)" etc. - with an intrusive squawk. Granted, this is a pretty minor gripe in the greater scheme, but just once I'd like to hear the band do without. Maybe next time.
Atonement might not be perfect, but it is enjoyable, unexpectedly uplifting and rocks pretty damn hard. KILLSWITCH continues to perfect a formula it helped pioneer at the dawn of the millennium while so many who followed in the band's wake have fallen by the wayside and are back to flipping burgers or whatever. And formula though it may be, it works fine for KILLSWITCH, which works just fine with it.
3.5 Out Of 5.0

Please log in to view RANTS