BLACK STAR RIDERS Another State Of Grace


By Andrew Depedro, Ottawa Corespondent
Tuesday, August 20, 2019 @ 6:16 AM


| | | |
| --- | --- | --- |
| | | |
BLACK STAR RIDERS
Another State Of Grace
Nuclear Blast Records




A new energy! A new chemistry! A new lineup! And a sax solo?

It took a good seven years and three full-length studio albums to branch out of the shadow of THIN LIZZY, but BLACK STAR RIDERS have taken the march towards stardom on their own terms even if it meant going through some radical upheavals throughout their timeline prior to the release of their fourth album Another State Of Grace. Founders Ricky Warwick and Scott Gorham and bassist Robbie Crane are still the forefront of the acclaimed hard rock quintet but with the addition of two new members: Rhythm guitarist Christian Martucci (ex-STONE SOUR) taking over from Damon Johnson (who left the band last year to focus on session work and his solo career) and drummer Chad Szeliga (ex-BREAKING BENJAMIN, BLACK LABEL SOCIETY) subbing for Jimmy DeGrasso. Even Jay Ruston, who had previously mixed the recording for BSR's previous two albums, has taken on the new role as the actual producer of Another State Of Grace. And while there are still the chest-beating dual-guitar harmonized bangers from the band that we've come to expect, among them the title track, "Ain't The End Of The World" and "Standing In The Line Of Fire" boasting the lyrically sharp dynamic of Warwick's earnest vocals, Another State Of Grace is also a BSR album written from another state of mind.

A perfect example from the album's musical and socially-inspired growth would be "Why Do You Love Your Guns?", a song that stemmed from another turning point in Ricky Warwick's life in December 2012 other than the birth of BSR: The Sandy Hook Elementary School massacre in Connecticut. Addressing the four basic stages of grief, despair, isolation and inevitable numb acceptance stemming from the recurring problem of unnecessary gun violence in the US from his own perspective as a concerned citizen and parent of four children himself, the slow acoustic guitar-driven number penned by Warwick poses the question in the chorus "Why do you love your guns/More than your kids?". And while the chorus may come off as simplistic at first, the final follow-up verse of "I didn't change/I just woke up" ties up the poignancy of the song's subject matter. Another light-sounding yet lyrically heavy song would be "What Will It Take" in which Ricky Warwick duets once more with Pearl Aday, the daughter of bombastic rock legend Meat Loaf (they'd previously shared vocal duties on "Testify Or Say Goodbye" from 2017's Heavy Fire). Continuing with "In The Shadow Of The War Machine", Warwick, frustrated by a lack of leadership on all political levels, dispenses with any and all light formalities and gets his protest rock groove on, challenging the current global status quo with the biting lyric "We can't stand up for falling down". It's probably the closest to sounding like his archetypical mentors in STIFF LITTLE FINGERS that Warwick has ever sounded like in BSR.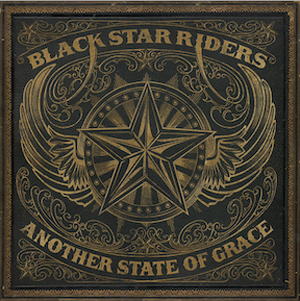 Musically speaking as well, Another State Of Grace is also BSR's most diverse-sounding album to date. "Tonight The Moonlight Let Me Down" evokes so much boppy-sounding grooves reminiscent of ska legends THE ENGLISH BEAT all the way down to the smooth sax solo that you're almost expecting the toasting skills of the late Ranking Roger to make an appearance while "What Will It Take" has a pleasant vintage Tom Petty-sounding vibe to it. Even a punk-sounding number such as "Poisoned Heart" has the garage-sounding RAMONES rhythm and groove to capture the DIY ethic of BSR, with much credit to newcomer Christian injecting some of his own punk rock vibes to the lineup.
In summary, Another State Of Grace has become the signature BLACK STAR RIDERS album from which the band itself can build upon their already solid legacy. One must admit in the end that it's rather impressive for a band whose grace period started out with the initial outcome of seeing the proverbial whiskey in the jar being half empty before they saw the value of free refills.
5.0 Out Of 5.0
https://www.facebook.com/BlackStarRidersOfficial/
https://www.instagram.com/blackstarriders/
https://twitter.com/BlackStarRiders
https://www.blackstarriders.com/

Please log in to view RANTS


THE WINERY DOGS, BLACK HEART SAINTS In Houston, TX With Photos!

ROBIN MCAULEY Alive

CRADLE OF FILTH, DEVILDRIVER In Santa Ana With Photos!

KAMELOT The Awakening

ALTER BRIDGE, MAMMOTH WVH In Houston, TX With Photos!

ACID KING Beyond Vision

STEEL PANTHER On The Prowl

NIGHT DEMON Outsider

YNGWIE MALMSTEEN In Ottawa, Canada

THEORY OF A DEADMAN, SKILLET, SAINT ASONIA In Houston, TX With Photos!

OFFICER X Hell Is Coming

PERIPHERY Periphery V: Djent Is Not A Genre

INSOMNIUM Anno 1696

STEEL PANTHER, CROBOT, TRAGEDY In Houston, TX With Photos!

BABYLON A.D. Live Lightning

ROTTING CHRIST, CARACH ANGREN, UADA, GAEREA In Houston, TX With Photos!

MOTÖRHEAD Bad Magic: Seriously Bad Magic

TRAGEDY I Am Woman