SACRED REICH Awakening


By Francisco Zamudio, Metal X Candy 2.0
Wednesday, August 28, 2019 @ 12:31 AM


| | | |
| --- | --- | --- |
| | | |
SACRED REICH
Awakening
Metal Blade Records




There is an abundance of releases by Old School bands who continue to make their mark in Rock and Metal. Add to that list the bands who have released comeback albums after long periods of hiatus, whatever the reasons being, and release stellar albums. Now 23 years later, releasing their 5th album appropriately titled Awakening (Metal Blade), amidst a time when many haven't, SACRED REICH has returned to bring that 90's attitude to a time where Old School bands are sought out or discovered to relieve many Metal fans from the mundane modern Metal sound.

You can cry and whine that socio-political themes should stay out of Rock and Metal, but the fact of the matter is that lots of bands for the longest time have used this medium as a rebellious ground to stand on against well, whatever continues to hold down society. Songs like "Divide & Conquer", "Revolution", "Manifest Reality", "Something to Believe" – all speak to those who are still open-minded and trust their Metal to stand for something during a time when people are afraid to. But I digress…

SACRED REICH managed to maintain a great (dare I say cult) following all throughout the decades, despite haven gotten lost a little in the shuffle of the great 90's Metal Scene. Now with TWO decades gone by since 1996's Heal (Metal Blade), SACRED REICH delivers an album for what should be a great return into the scene. A sound that keeps them relevant with Thrash and Groove-oriented tunes maintaining your attention through eight (and unfortunately ONLY 8) solid tracks.

Coming back with the same line-up that includes now former MACHINE HEAD drummer Dave McClain, veteran member guitarist Wiley Arnett and bassist Phil Rind whose unique vocal style gives us an extra dose of aggressive versatility, showing us all that he can still wail. Not only do we have years of experience from the veterans shining on Awakening but they decided to try a different flavor in that of Joey Radziwill on guitar. Rind's thoughts on the 22 year old youngblood joining the fold, "He brings a higher level of musicianship and tightness to our band, and he brings a freshness to us. He gives us an opportunity for us to see things from a different perspective." The combination of youth and veteran experience on guitars makes for an excellent outcome. The grooves and rhythms in the songwriting get hammered on through with McClain really giving it his all as if having something to prove.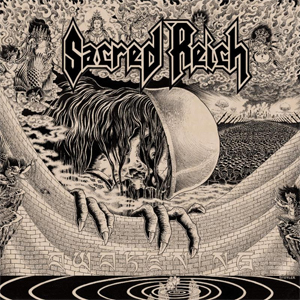 Going back to some of the previous mentioned song titles, "Divide & Conquer" speaks about how we as a society get pinned against one another for the sake of being controlled by "the man". These themes that reflect modern times are subject matter that has always been significant enough, giving bands great motivation and lyrical content that fuels the fire of Rebellious Punk, Rock and Metal. If you're looking for "feel-good" messages, Awakening is full of it. Just like the track "Salvation" is telling you that "love will always be the way". "Manifest Reality" and the line "Be the change you wanna see", shies away from the traditional "f*ck you, f*ck this, f*ck that" (a theme sometimes carried in other influential Metal). As Rind observes, "There is a lot of fear, anger and division going around…so if we choose to be optimistic, focus on positive things and understand that it's all temporary, good and bad anyway, we can enjoy our lives".
As the final track states, this album is exactly, if not more of what SACRED REICH fans have anticipated for a long time since they reunited in 2006 and have hit the touring circuit quite actively - Something to Believe.
4.0 Out Of 5.0

Please log in to view RANTS