TED NUGENT In Canton, OH With Photos!

By Geoff Ketler, Cleveland Contributor
Wednesday, September 4, 2019 @ 6:59 AM

| | | |
| --- | --- | --- |
| | | At The Stark County Fair |
All Photos By Geoff Ketler/Aces High Photography
"I don't play any country songs…because I still have a penis."
The Stark County Fair, situated in northeast Ohio, is home to funnel cakes, demolition derbies, show animals, tractor pulls and breeders of all kinds for one week a year; always at the end of summer, when the nights are just starting to chill and school is back in session. This year's edition of the county fair would include another breeder, a breeder with a hankering for "front straps", Uncle Ted Nugent. With a lot of keyboard jockeys jostling for best anti-Ted rant on social media following the initial announcement of the pending concert and several planned protests, security had to be stepped up. Apparently they all forgot about it or they just didn't have the testicular fortitude to show up because there weren't any protestors in sight (likely the latter). Enough whining…on with the show.
As the sun set behind the grandstands Ted Nugent moseyed up on stage and unleashed "Stranglehold". He was flanked by bassist Greg Smith who additionally sang lead vocals on "Hey Baby", as well as Jason Hartless on the drums. The trio was as tight as tight can be. Ted lauded the "best rhythm section in the world" several occasions during the evening. As for Ted Nugent himself, he looked and sounded great – like he dropped a few pounds and his knees were once again functioning. He got around on stage better than I have ever seen him these last 15+ years – not too shabby for a 71-year-old and he was able to keep it clean. I later saw that the setlist read "PG-13" in bold red letters. This was good, since it is a county fair and the entertainment needs to be family friendly. Ted obliged.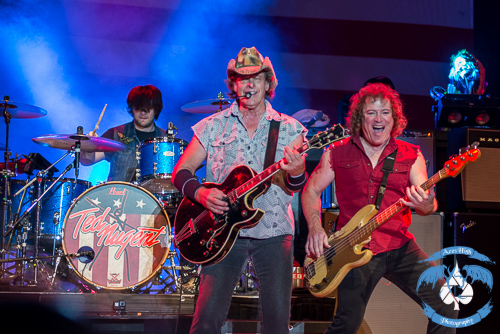 The set was chalked full of classic Nugent staples and a few choice deep cuts. Contemporary Ted always seems to get lost, much to my chagrin. I know we all want to hear the classics, but I would also like to hear some of the great material found on Craveman or Love Grenade. Ted was in usual form; always addressing the audience that had now swelled around the stage. "I only write love songs" – he quipped after an aggressive rendition of "Wang Dang Sweet Poontang". "I just received a note from God – the goats are breeding, the sheep are breeding, the pigs are breeding…" as he pointed out at the livestock barns just past the grandstands.
It was an abnormal setting for the motor city madman, but he made the best of it; dialed in and chatty as always with the raunchiness curbed for the family-friendly environment. It is hard to believe that he is in his 70s and still rocking just as hard as he was back in the day. He credits this to being "stone cold sober for 71 years". In a world that likes to de-legitimize masculinity and provide safe spaces to the thin-skinned, we could all use a little more Ted.
Setlist
"Stranglehold"
"Gonzo"
"Motor City Madhouse"
"Paralyzed"
"Wang Dang Sweet Poontang"
"A Thousand Knives"
"Queen Of The Forest"
"Free For All"
"Hey Baby"
"Need You Bad"
"Good Friends And A Bottle Of Wine"
"Fred Bear"
"Cat Scratch Fever"
"The Great White Buffalo" / "Star Spangled Banner"
Check out some more photos from the show!
All Photos By Geoff Ketler/Aces High Photography