MICHAEL SCHENKER FEST Revelation


By Peter Atkinson, Contributor
Thursday, September 12, 2019 @ 7:56 AM


| | | |
| --- | --- | --- |
| | | |
MICHAEL SCHENKER FEST
Revelation
Nuclear Blast Records




We could spend all day arguing the merits, or lack thereof, of the dubious cover artwork for the second album by Michael Schenker's all-star "Fest" ensemble. But we needn't dwell here, although I will say that if the mercurial guitarist buys into the whole "Jesus Christ Pose" symbolism depicted on the cover - where Schenker is being "crucified" on a Flying V "cross" - his ego is way more inflated than I had ever imagined. It would make Yngwie Malmsteen seem humble in comparison, no easy task there.

Getting past that, however, Revelation, the companion piece/follow up to last year's equally connotative Resurrection – with the Last Supper figuring prominently there – is a high-spirited, rollicking album that offers little of the hint of the dour circumstances depicted on the cover. And that's certainly a good thing. Indeed, the religious references that punctuated Resurrection - in songs like "Take Me To The Church", "Salvation" and "The Last Supper" - are noticeable in their relative absence here, again, in stark contrast to the artwork, though "Old Man" speaks of turning water into wine and such.

Revelation features the same rotating cast of vocalists from various stages of Schenker's solo career as last time – Gary Barden, Graham Bonnet, Robin McAuley and Doogie White, joined here by current RAINBOW frontman Ronnie Romero, who sings lead on the spirited "We Are The Voice". And as it again showcases an all-hands approach, Revelation boasts the sense of camaraderie and enthusiasm that made Resurrection sparkle in spite of its somewhat understated presentation.

That's not an issue here, as Revelation is consistently energetic and effortlessly catchy, offering a series of short, sweet hard-rock gems. The album does stumble a bit out of the gate with the anthemic, self-reverential "Rock Steady". The song itself, with Barden taking the main vocal, isn't necessarily bad, but it's laid-back pace and delivery might have made it better suited for the middle part of the album, as a counter to the more up-tempo fare, of which there is plenty here.

Following the death of drummer Ted McKenna in January, Schenker re-recruited veteran session man Simon Phillips – who played on the first MSG album in 1980 - for Revelation, along with another former bandmate, Bodo Schopf, who performs on three of the 13 tracks. The pair delivers a steady gallop of double-bass patter throughout, making for a livelier, punchier effort than Resurrection. A good two-thirds of the tunes here are built around this jaunty pace and the frisky "Under A Blood Red Sky" that follows "Rock Steady" with its tangled, spider-walk guitar work might have made a more apropos opener, or the swaggering "Silent Again" that comes next.

Or any of the other more kick-ass songs, for that matter. "Headed For The Sun" with Barden on lead is as bracing as it is jubilant. The Bonnet fronted "The Beast In The Shadows" and "Still In The Fight" border on speed metal – as does the instrumental "Ascension" that brings the album to an emphatic close. The burlier "Behind The Smile" with White taking the lead recalls UFO's classic "Lights Out" with its surging riffs and rousing chorus. "Lead You Astray" and the aforementioned "We Are The Voice" have a hard-charging UFO-like vibe as well, which should have old school fans peeing themselves.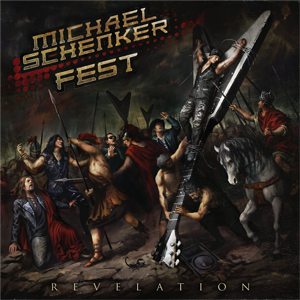 For a change of pace, the choices are few, but they do add some nice variety. There is bluesy, but quite hooky "Old Man", the mid-tempo crunch of "Crazy Daze" that is offset by splashes of piano and easy-going chorused and the super-catchy hard rocker "Sleeping With The Light On" that harks back to the early days of MSG in the soulful grit of Barden's lead vocals. Indeed, while all of the singers here turn in inspired performances, Barden's efforts, perhaps surprisingly, really stands out.
Of course, Schenker's guitar work is a supple and splendid as ever and, with a few notable exceptions such as "Ascension", comparatively humble in the usual "guitar god" scheme of things. Here again, his solos are sleek and nimble, but typically nowhere near the searing shred of so many other hot-shot six-string slingers, making them more than suitable companions to the songs they are a part of, instead of overshadowing or completely overwhelming them.
Schenker's knack for composing simple, yet effective, hard-hitting melodies and the ability to weave his extraordinary skills as a guitarist into them so that they feel like a "Natural Thing", to borrow a title from another UFO nugget, have long been his greatest strengths, as evidenced once again by Revelation. Ego never seems an issue for him from a musical perspective. On the personal side? Well, I guess that's another story if one judges this "book" – or album – by its cover.
4.5 Out Of 5.0

Please log in to view RANTS