GATECREEPER
Deserted
Relapse Records




I didn't really have many – indeed if any - good things to say about the 2016 debut album from Arizona old school death metal nostalgists GATECREEPER. Indeed, I basically slagged off Sonoran Deprivation as offering "little here that you haven't heard before from someone who was actually part of the original scene – or who have rehashed it all already."

So expectations for the quintet's second album were running rather low, even if I was hoping GATECREEPER might have matured a bit in the interim and learned some lessons from a couple years on the road. And it would seem that the band has.

The follow-up, Deserted, is less derivative and more distinctive and craftier than the debut. That's not to say it doesn't sound unabashedly throwbacky. It certainly still flies the flag of early '80s death metal – be it Swedish, Floridian or what have you. It's just not quite so textbook and reverent.

The title track leads things off with a mighty, OBITUARY-like creepy crawl/chug back and forth topped by frontman Chase H. Mason's ragged, heaving bellow. "Puncture Wounds" and "From The Ashes" that follow offer the same sort of heft, but at a brisker pace. However, the band never really goes full bore here, focusing on groove rather than the velocity of vintage ENTOMBED or DISMEMBER, like last time – even if the crusty tone and flighty guitar asides still borrow liberally from the Swe-death playbook.

This is true of most of the uptempo material. Even the grinding "Barbaric Pleasures" with its galloping kick drums or "In Chains" and "Sweltering Madness" with their intermittent sprints are built around dense, crunching hooks and don't put the pedal down all the way - or at least for the duration.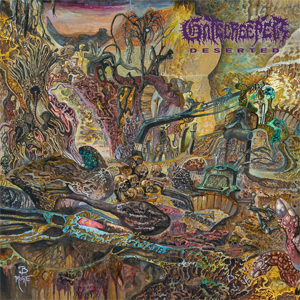 But by the same token, GATECREEPER hasn't gone full "death 'n roll" with Deserted - a la ENTOMBED's Wolverine Blues - and sacrificed intensity for melody or simplicity, except, perhaps, on the death/doomy closing number "Absence Of Light" with its sweeping guitar harmonies and surprisingly catchy plod. Yet even there, there is plenty of muscle. Nothing has been stripped away, except for some speed – and it's a really good song to boot.
Elsewhere, "Boiled Over", "Ruthless" and "Everlasting", which revisit the crawl and chug delivery of the opening track, are menacingly heavy. The production on Deserted cleans up some of the debut's omnipresent grittiness while at the same time adding a bit more beef, which is amplified by the assertive mix from CONVERGE guitarist Kurt Ballou. Volume is certainly in no short supply here, so the modestly less abrasive presentation is welcome.
All this helps give GATECREEPER some separation from the slavish Sunlight Studio-like sound of the debut. Adding more CELTIC FROST, early PARADISE LOST and OBITUARY influences into the mix has made for an album with more depth and breadth. And while that might not go very far in cementing a "GATECREEPER" identity, it is a step in the right direction. Regardless, Deserted is a marked improvement over the debut.
3.5 Out Of 5.0