MURDERBIRD Pillars of Creation


By Alex Yarborough, Orlando Contributor
Thursday, October 17, 2019 @ 9:33 AM


| | | |
| --- | --- | --- |
| | | |
MURDERBIRD
Pillars of Creation
2019 Independent




New Swedish metal band, MURDERBIRD, released their debut album recently, and it has been creating a buzz ever since. I gave Pillars of Creation a listen to see what all this buzz was about. The band describes their sound as "modern old school metal" that mixes big melodic hooks with thrash-riffs and stomping grooves." MURDERBIRD draws inspiration from fellow Swedes THE HAUNTED and IN FLAMES as well as American bands like KILLSWITCH ENGAGE and PANTERA. The first thing I noticed was how this band explodes from the speakers. There is an obvious spark on Pillars of Creation, something that is lacking in a lot of releases today.

Lead track "Into Fire" begins with a stop/start rhythm and builds with an undeniable energy all the way to the end. The refrain: "Reignite, awaken, Come alive and come into the fire / Free your mind, embrace it, Break the silence, come into the fire" invites the listener to join in the euphoria. You can view a video for the song on KNAC.COM HERE. Vocalist Tobias Ekholm's voice has a unique edge to it, and makes this song a standout. "Life Begins" has a catchy intro riff, and immediately takes off on a headbanging journey, with guitars provided by Markus Söderqvist and Patrik Forsberg. Drummer Marcus Hamrin adds some double bass to the mix. There is a really cool solo on this song as well. "Mr & Mrs Prejudice" tackles human nature (pride, prejudice, ego) and has a fairly vicious delivery, something that works well here. Stefan Haglund provides a bouncing bassline to this song.

"The Silver Lining of Yesteryear" is a geopolitical song that relies more on melody than previous tracks, while "Lift Me Up" has a commercial angle and would make a good single. "Shining Star" is a galloping track that has lyrics dealing with empowerment, and one's own fate. "Inferno" offers a mellow acoustic intro, but eventually power chords explode from the speakers and it becomes a more straight-ahead song, occasionally bordering on power metal. "Long Live Wanderlust" expresses the band's desire to travel and search for their fortune on the open road. I really like this song, and the solo section is the cherry on top.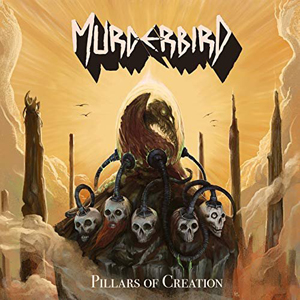 "Lifting The Veil" addresses human nature, and is easily one of the strongest tracks on Pillars of Creation, with a nervous tempo that will get your head banging. "Wildfire" has some satisfyingly chunky riffs, and a melody that is irresistible. This is another single possibility. "Just Another Tuesday" offers introspection on day to day life. Album closer, "Volition" examines crime and violence in the world.
Pillars of Creation is a pretty lengthy chunk of steel, featuring twelve songs that clock in at over an hour. The album's cover art is an interesting sci-fi vision of a twisted future. The main takeaway for me is the modern sound of this band and the passion and the urgency of the songs. The band embraces a contemporary metal approach as advertised, yet has some throwbacks to classic metal bands (such as IRON MAIDEN) embedded in their sound. I would expect nothing less from a band from Sweden, one of the most metal countries on earth. I think this is a rather mature album for a new band. They should be proud of this debut!
4.2 Out Of 5.0

Please log in to view RANTS