ENTRAILS
Rise Of The Reaper
Metal Blade Records




There is a fistful of Metal labels that accurately reflect a genre of which their region is included in the description. You have the New Wave of British Heavy Metal (NWOBHM), East Coast and West Coast Hardcore, Florida and New York Death Metal, Bay Area Thrash, Norwegian Black Metal – and the list goes on. Thankfully we have people like Sam Dunn's BangerTV and his acclaimed series Metal Evolution and Headbanger's Journey to brief you on some of this.

One genre or one nation I should say that has really spearheaded Death Metal is Sweden. Swedish Death Metal and the (discontinued, and arguably out-dated) "Heavy Metal" overdrive Guitar pedal by BOSS pushed to the max, is a sound that is ultimately and undeniably recognized throughout the Metal World. Of the countless bands still bringing that crunch from Sweden and only 2 decades into its existence is ENTRAILS with their 6th release to date, RISE OF THE REAPER (Metal Blade Records). Although many of the faces have changed, those that helped bring not only to fruition, the present sound of the band but just bringing back the name in general from as early as the 90's – there is still a focus of establishing ENTRAILS as part of the conversation involving Sweden's outstanding role in Metal.

This new effort is consistent with the style ENTRAILS has honed in for some time now but here they hit the accelerator a bit more while at the same time leave behind some of the symphonic influence from their prior release, WORLD INFERNO (2017, Metal Blade) and more in-line following the footsteps of OBLITERATION (2015, Metal Blade). Synonymous with Swedish Death Metal has also been the label "Death n' Roll" and helps describe the style on RISE OF THE REAPER, with its rock n' roll style but with crunchy guitars and death vocals.

After an instrumental intro consisting of some piano and a little symphony play, the lead track "For Hell" quickly urges you to slaughter some souls in the pit as it immediately lets you know that this is a Swedish Death Metal group. The level of maturity this album possesses is excellently demonstrated with songs made up of different moods.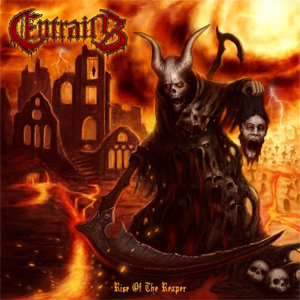 You have "In the Shape of the Dead" which is all groove; Well composed songs that have great intros, verse/chorus and middle meaty parts that make the songs constantly fun to listen to. A well put together track list that flows like an ever flowing stream. Moving songs like "Crawl In Your Guts" is a sure get a pit going with its non-stop thrash-groove element. It's not until "For Whom the Head Rolls" that they revisit some of those symphonic hints from previous works then and bring it to a different level throughout the song. No Death Metal album would be complete without some blast-beats and tracks The Pyre" and "Evils Of The Night" gives us plenty of that. On the 12th track they even went as far as demonstrating the Doom side of their persona with the 7 and a half minute tune "Cathedral Of Pain".
A tip of the hat goes to ENTRAILS for actually giving us 11 solid tracks (13 if you include the intro and outros) as opposed to the typical 9 songs that bands sadly settle for nowadays. In order to help you understand what the band and this album sounds like It would be easy to name off bands that you may already recognize, to compare to or help you understand how good RISE OF THE REAPER is. All in all, it's a great record that captures all the characteristics of Swedish Death Metal. The thrash propelled beats and melodic rhythms on here make it a well-rounded album.
4.5 Out Of 5.0