ROB HALFORD Celestial


By Alex Yarborough, Orlando Contributor
Thursday, November 7, 2019 @ 6:56 AM


| | | |
| --- | --- | --- |
| | | |
ROB HALFORD
Celestial
2019 Sony/Legacy




Rob Halford released his third HALFORD solo album, Winter Songs, back in 2009. That album featured covers of Christmas classics like "We Three Kings", "Come All Ye Faithful" and "What Child Is This?". Ten years later, and in time for the Christmas season, Rob has finished the sequel (and his fifth overall studio album) called Celestial, recorded with his family and friends. Featured along with Rob, are his brother Nigel (drums) and sister Sue (bells), his nephew (and Ian Hill's son) Alex Hill on bass, as well as guitarists Robert Jones and Jon Blakey.

I think it's admirable that Rob continues to record Christmas material. As he said after Winter Songs was released, "We need Christmas." Rob loves Christmas songs, and he is great at putting a new spin on these standards. As a collector of heavy metal Christmas songs (there are far more than you may realize), I enjoyed Winter Songs and looked forward to more. I really liked the rocking flavor HALFORD injected into older songs that had grown stale over the decades like "O Come, O Come Emmanuel", but I think the originals like "Get Into The Spirit" were what set the album apart from the typical Christmas album. Winter Songs featured his HALFORD band at the time, and was produced by Roy Z. As far as I can tell, none of those musicians are involved in Celestial.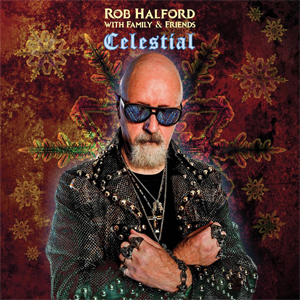 On Celestial, Halford follows a similar formula as Winter Songs, by putting a metal twist on more Christmas classics such as the riff-fueled "God Rest Ye Merry Gentlemen", the pounding power metal of "Deck The Halls", and the melodic "Joy To The World". "O Little Town Of Bethlehem" is interesting with its acoustic approach, while "Hark! The Herald Angels Sing" actually rocks pretty hard. As on Winter Songs, the most interesting aspect can be found in the original songs. The title track, "Celestial", serves as an intro; you hear horse hooves on cobblestone, church bells ringing, and Santa saying "Merry Christmas". The orchestration grows louder and segues into the first proper track, "Donner and Blitzen", a song that gives credit to other reindeer for a change. The track borrows from JUDAS PRIEST's "Lightning Strike" and possibly "Judas Rising". You can view the video for the song on KNAC.COM HERE. The exceptional original ballad "Morning Star" is a standout track. This is potentially a hit single, and one of the best songs on the album. "Good King Wenceslas" suffers from an intro that is far too long, but eventually shows some guts and kicks in with some power chords. "Protected By The Light" acts as a closing hymn for the album. The song reminds me a little of "Auld Lang Syne".
As with Winter Songs, this isn't meant to be the next JUDAS PRIEST album, or even the next proper Halford solo outing. Celestial is meant to be an album fans could kick back and rock with during the holiday season. There are a total of 12 songs, clocking in at around 45 minutes. Celestial is available now on CD and vinyl.
4.0 Out Of 5.0

Please log in to view RANTS