LACUNA COIL Black Anima


By Andrew Depedro, Ottawa Corespondent
Tuesday, November 12, 2019 @ 10:13 AM


| | | |
| --- | --- | --- |
| | | |
LACUNA COIL
Black Anima
Century Media/RED Music




Since their inception in 1994 in their hometown of Milan, Italy, the success of LACUNA COIL has spiraled to unprecedented heights worldwide thanks in part to the band's multi-faceted marriage of dark goth undertones and driving hard rock/metal sound. Credit in part goes to the tuneful vocal dynamics of Cristina Scabbia and the rough gritty sounds of Andrea Ferro, their roles in the band comprising the dual female/male harmonics that have earned them success both at home and abroad, including a few stints touring with Ozzfest and some of their own headlining tours. With nine studio albums to their credit, their latest dark offering Black Anima shows LACUNA COIL at almost their darkest sounding to date.

Opening number "Anima Nera" isn't exactly the most riveting number on the album to start off with, the short track mostly an exercise in heavy-sounding synth with Cristina chanting occasionally in Latin. It somehow ties in with the closing title track but otherwise it's about the only track that showcases the band's goth/alternative/new wave roots in brief detail. Meanwhile, the rest of the band including Ferro, bassist Marco Coti Zelati and newer members guitarist Diego Cavallotti (subbing for longtime guitarist Marco Biazzi who retired from the band in 2016) and drummer Richard Meiz, are better represented musically throughout the rest of the album. Ferro's impressive vocal work on songs such as "Sword Of Anger", "Reckless" and the rapid-sounding breakout single "Layers Of Time" reveal a new departure in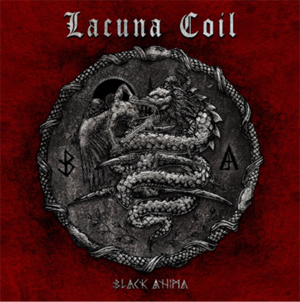 his singing style, bordering almost onto death metal in parts particularly on "Swords Of Anger" which could easily pass as a grandiose operatic version of OPETH's early work. Cavallotti's riffing skills are equally impressive on the long yet anthemic number "Veneficium" while Ferro and Scabbia are delivering the chorus with unbridled energy and fury. Meiz' drumming is pretty much the introduction of blast beats into LACUNA COIL's lush goth sound and resonates well on "Sword Of Anger" and "Layers Of Time" – the energy and bluntness of the track so visceral you can almost hear Ferro taking control of the song midway. Elsewhere, the band's familiar goth rock tones resume their focal position in the shape of songs such as "The End Is All I Can See" and "Save Me" – dark and brooding but always mystifyingly catchy.
Cristina Scabbia has explained the lyrical concept of Black Anima as the revelation of "everything we hide and fiercely expose to a world that's halfway asleep". Certainly, the album's obscure overtones reflect the changing mood and approach that LACUNA COIL have frequently taken to their music throughout each and every one of their nine studio albums. Black Anima continues a bit of that trend but firmly touches base to the listener who truly wants it darker, providing that ambience and a reason for the light to exist in the first place.
4.0 Out Of 5.0
http://www.lacunacoil.com
http://www.facebook.com/lacunacoil

Please log in to view RANTS




AVATAR, ORBIT CULTURE, THE NATIVE HOWL In Houston, TX With Photos!

THE DEAD DAISIES In Hollywood, CA With Photos!

KILL DEVIL HILL Seas Of Oblivion

THE DEAD DAISIES In Ottawa, Canada

MAMMOTH WVH In Santa Ana, CA

UADA Crepuscule Natura

BARONESS Stone

KAMELOT, BATTLE BEAST, XANDRIA In Houston, TX With Photos!

CRYPTOPSY As Gomorrah Burns

RAY ALDER II

GHOST, AMON AMARTH In Houston, TX With Photos!

U.D.O. Touchdown

DETHKLOK Dethalbum IV

STEVE VAI In Ottawa, Canada

PANTERA, LAMB OF GOD In Houston, TX With Photos!

OVERKILL, EXHORDER, HEATHEN In Los Angeles With Photos!

PUPIL SLICER Blossom