TYGERS OF PAN TANG
Ritual
Mighty Music




It's with much anticipation that NWOBHM stalwarts TYGERS OF PAN TANG release their new opus Ritual. Their 2nd for Mighty Music as their self-titled from 2016 has to this point sold in excess of 10,000 copies worldwide. No small feat in today's musical climate I might add.

Also the second straight with the same lineup being Jacopo Meille on vocals, Michael McCrystal on one guitar, Gav Gray on bass, Craig Ellis on drums, and El Hefe and lone original member 'Tyger' Robb Weir on the other guitar. A stable lineup invariably helps build a tighter, cohesive band and the songs normally bear out this fact.

Produced in one-time TYGERS guitarist Fred Purser's studio in Newcastle Upon Tyne, the 11 songs build upon the solid foundation of what the TYGERS legacy was and is.

Album opener "Worlds Apart" has a driving rhythm and a solid hook. A headbanger and great album opener. "Destiny" is reminiscent of KISS' "Detroit Rock City" as the song starts on a car's radio before storming thru the speakers. A nice touch indeed. The song itself could easily be played on Rock radio if such a thing even exists anymore. It sadly doesn't where I live. "Rescue Me" is a slow grinder with a menacing riff and a memorable chorus to boot.

"Raise Some Hell" is a fine uptempo banger that will have your head banging and fist in the air live. A little VAN HALEN-esqe interlude is a nice touch as well. "Spoils of War" is a mid-tempo ditty and "White Lines" follows with an 80's vibe but doesn't sound dated in the least. Great hook in the chorus as well. Well done.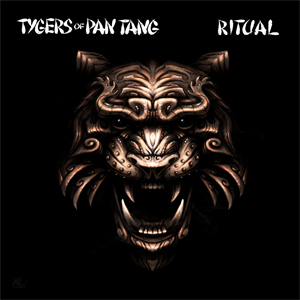 "Words Cut Like Knives" is a ballad with lyrics that will definitely make you think about your past. It did me anyway. "Damn You" gets the TYGER train back rolling again with a killer riff that pulls no punches. You may have to watch your speed if you're in a moving vehicle with this one! "Love Will Find A Way" is ballad-esque but more electric like the absolute classic TYGERS track "Don't Stop By". A worthy successor indeed.
"The Art of Noise" is in fact not noisy at all, unless you're some old geezer who listens to talk radio for your entertainment. It is, in fact, an uptempo butt kicker that would blow the head off of said geezer if this bellowed out his speakers instead of the propaganda normally spewed on those stations. Album closer "Sail On" is naturally a sea-inspired tale complete with seagulls, pounding waves and ominous voice. The track itself is a slower dirge and also the album's longest at over 7 + minutes, including a mellow interlude with a tasteful guitar solo.
A solid album with great production, stellar playing and all the ingredients for another well selling product for Robb & Company. If for some reason you've never listened to the TYGERS OF PAN TANG before then I'd say this is the perfect place to start. If you're a longtime fan then you will be well pleased with this offering. Either way, get ahold of it and crank it up!!
For my Vinyl fam, as the Vinyl resurgence continues so too is this on our beloved Wax. Buy or Die!!
4.0 Skulls Out Of 5.0