SLAYER
The Repentless Killogy
Nuclear Blast




It's late summer of 2017 and the Great Western Forum played host to another historical night. No, it wasn't another Lakers Championship but it was a night of Champions. Still roaring off the 2015 release REPENTLESS, SLAYER came once again to spread a little hate world-wide. Little did we realize that this would be considered the end of a long and winding road. This point in time was captured and has now been released with what the one and only Danny Trejo claims as," …the end of the Monsters". A story-telling trilogy of videos that accompany this new release by the So-Cal Metal giants and Director BJ McDonnell (HATCHET III) titled, THE REPENTLESS KILLOGY. The bloody killing spree we follow is that of former Neo-Nazi "Wyatt" (Jason Trost) who has set out on revenge for reasons we fall short of knowing, only that both the mother and his unborn child were caught in the middle of the retaliation by the "The Hand Brotherhood" who did not sympathize with Wyatt's decision to leave behind a haunted and disturbing past.

The first part of this trilogy is the video for "YOU AGAINST YOU" where we're presented with a human pincushion covered in blades that greets our protagonist, Wyatt. The music grooves in as it sets the tone for this gruesome discovery and the threat looming ahead. Then the song kicks in with thrashing beats and piercing solos by Holt It's then that the action goes full throttle as well. There is a bit of symbolism here as SLAYER is doing their thing in an airplane graveyard reflecting a sort of flight-or-flight vibe. Here though, Wyatt has plenty of fight.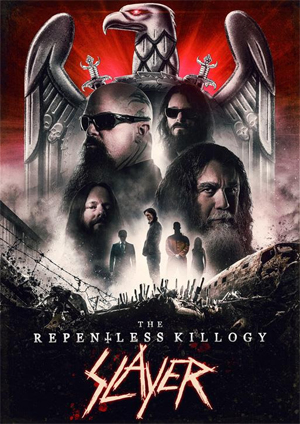 The next chapter brings us to the title track "REPENTLESS" where we find Wyatt in prison after the massacre from the first chapter. A riot breaks out with SLAYER nearly caught in the middle. Guards fend off the inmates trying to get to them, while we see Wyatt standing his ground, slicing throats left and right, slaying guard after inmate just enough to survive before he willingly returns to his cell.
The third chapter, "PRIDE AND PREJUDICE" fast forwards two months into the story and takes us to the next level of the gauntlet with Wyatt and Danny Trejo who simply goes by "Danny" are kidnapped from prison and taken to a dungeon inside the home of a superior of The Hand Brotherhood, Bill Mosely, who was preparing to have quiet Christmas dinner with his wife and 2 kids. It's here that Wyatt's rage becomes over-fueled with hate and heartbreak when the decisions he's made up to this results in losing his love and unborn child at the hands of more minions of the hate-filled organization. Danny, who's life is spared by Wyatt as well as gifted the pleasure of his own revenge, confronts dungeon master "Nazi Dad" (Mosely) in front of his family, putting an end to their lives and chapter of this Killogy.
Now as end credits go these days, an epilogue added footage to THE REPENTLESS KILLOGY that takes the story further and full circle as Wyatt goes through more of the Brotherhood, demanding the whereabouts of "Luther" played by Micah Fitzgerald but not before he sheds more blood and taking more heads leading up to SLAYER's concert at the Fabulous Forum. Unfortunately as Wyatt is lead out by Trejo further down the road of Hate, we didn't get the climax that was anticipated between Wyatt and Luther. Another stepped in for the favor and also, unbeknownst to them, protected SLAYER from danger.
There was much more story left to be desired and it did leave it open for the possibility of a furthering Wyatt's (and possibly Danny"s) journey. I do highly recommend reading the comic books put out through Dark Horse Comics called SLAYER: REPENTLESS, written by the late Jon Schnepp (RIP) that expands on this. The movie itself is filled with really good action sequences, even if for just being an Indie-film of sorts. Jason Trost does an excellent job in leading a great cast for such a high-impact and controversial story-line. I could easily see the squeamish shy away and take issue with how bloody violent this short-film is. This type of entertainment combined with the soundtrack SLAYER provides perfectly, is not for the faint at heart at all.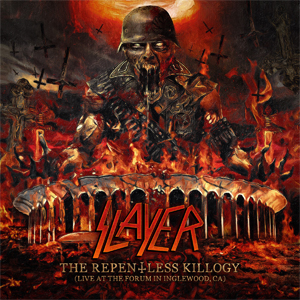 The other half of this release was live concert from August 2017, with video directed by Wayne Isham. Now much as our eyes might dart around while at an actual show, if I'm at home watching a home video, I'd like couple of seconds in each (other) shot to focus our attention on the actual show. Not only is it solely for entertainment but this is also a learning tool for many who grew up or are now growing up, listening, watching SLAYER and many of their favorite bands - trying to emulate their every move. There could have been more and greater views of the entire stage, backdrops and pyro they had on display, which is a HUGE part of their stage show now. But it was an outstanding concert nonetheless and even though I was there too, it was a nice to see a reminder and relive that night again and see what I missed.
So while many may consider the SLAYER entity "evil", My perspective is that these aren't the Monsters Trejo is referring to. He refers to those that drive us to Hate that we either use as a means to seek revenge or that empowers us – maybe both. Eventually we confront those monsters and they end.
Short-film 4.5 Out Of 5.0
SLAYER's Concert 5.0 Out Of 5.0
Concert Video 3.5 Out Of 5.0