KING DIAMOND In Portland, OR With Photos!


By Ruben Mosqueda, Contributor
Monday, December 2, 2019 @ 6:46 AM


| | | |
| --- | --- | --- |
| | | At Arlene Schnitzer Concert Hall, November 26th, 2019 |
All Photos By Mike Lewis Photography
KING DIAMOND's use of visuals, props and elaborate stage sets have become a part of the experience, much like his idol ALICE COOPER, KING gives the fans what they come to expect and does it in a way to give them more for their hard earned dollar. The stage set for this run features two levels and staircases. The set is an asylum which goes with the upcoming concept album Institute, which is due in the first quarter of 2020. KING DIAMOND was rolled out on stretcher, he unstraps himself and we're off!
The show opener was "The Candle", from KING DIAMOND's 1986's debut, Fatal Portrait, and from there KING DIAMOND blasted through classics from the back catalog. Like with previous performances, there's skits related to the album which the songs derived from. Yes, there was the ritualistic murder of the infant Abigail before "Arrival" and "A Mansion In Darkness". While we're in November and closer to Thanksgiving at this point, "Halloween" brought the house down.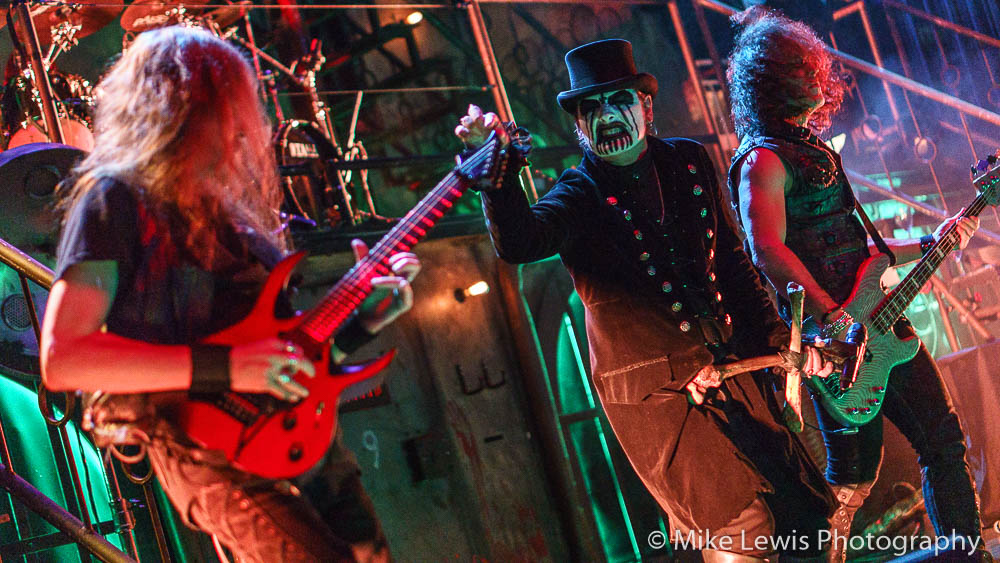 KING DIAMOND'S trademark falsetto was out in full force, albeit with some support at times, courtesy of backing vocalist LIVIA VITA [A.K.A. Mrs. KING DIAMOND] who was on the upper deck of the stage, left of the drum kit. Kudos to KING DIAMOND for the transparency putting Vita on stage with the rest of the band. You know how many other acts would place anyone providing support in the back behind the curtain? Or simply just run backing tracks?
MIKE WEAD and ANDY LAROCQUE are easily one of the most under appreciated guitar duos out there right now, but not to KING DIAMOND fans however, you've known that for years. MIKE WEAD handles the majority of the solos, while Larocque is KING DIAMOND's right hand man and essentially the musical director. Larocque's rhythm playing is the ingredient that holds the songs together, the 'satanic glue' if you will. The highlights of the set "Halloween", "Welcome Home", "A Mansion In Darkness", The Invisible Guests", "Sleepless Nights", "The Lake" and "Black Horsemen".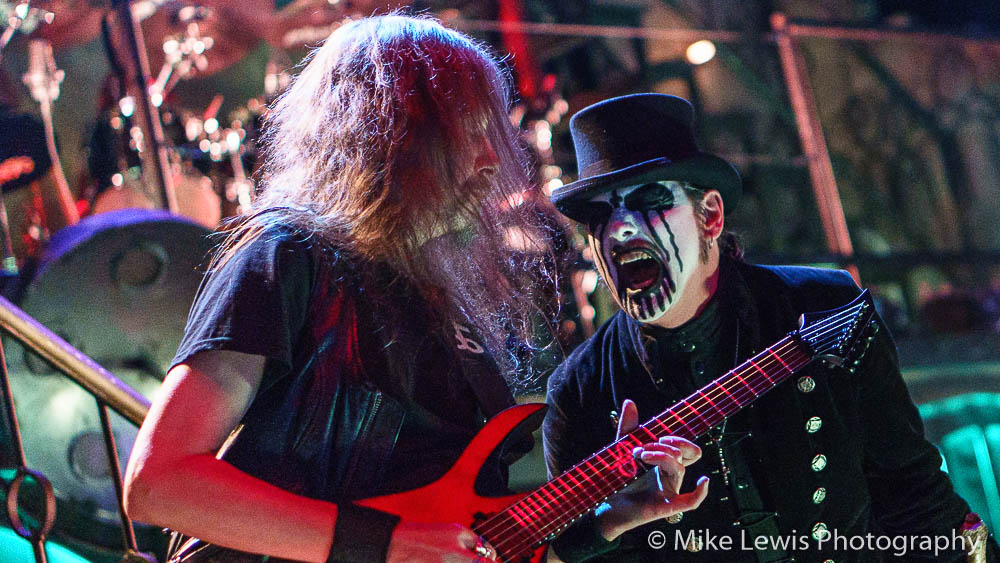 The only new material in the setlist, "Masquerade of Madness", which was placed strategically next to classics, was well received and got a roaring response by the Portland 'Diamond Bangers'.
The encore consisted of "Burn", then KING DIAMOND closed with "Black Horsemen", which is being performed as a tribute former bandmate TIMI HANSEN who lost his battle with cancer a few weeks ago. If you're a KING DIAMOND fan you know Hansen played bass on classic albums Fatal Portrait and Abigail. Hansen showed his chops on said albums, leading KING DIAMOND to say that Hansen is his favorite bass player who he has performed alongside. The audience chanted "KING! KING! KING!" In hopes we'd get another encore, we didn't, but we didn't need it. This was a spectacular performance as is. Hail KING DIAMOND.
Check out some more photos from the show!
All Photos By Mike Lewis Photography

Please log in to view RANTS