STEVE GRIMMETT'S GRIM REAPER
At The Gates
Dissonance Productions - 2019

https://grimreaperofficial.co.uk




You remember what it was like when you were a kid and once you grasped what Christmas meant, it took forever for that day to actually arrive? That's what it felt like waiting to get my hands on a copy of At The Gates. The original release date was eventually pushed back to December 6th. And even then, it took another three weeks before I was finally able to track down a copy through my friend's record shop.

But my persistence paid off and I finally got to listen to the album that I'd been waiting for like the proverbial kid at Christmas time. I won't say I'm shocked, but I was a bit surprised to find out just how good At The Gates turned out to be.

As covered by a brief note on the back of the album's booklet, it has been a bit of a challenge for Steve Grimmett and the band since the 2016 release of Walking In The Shadows, not the least of which was Grimmett losing a leg. But those challenges have fueled the band to produce an album that hits almost every right note.

Regarding Steve Grimmett's vocal performance on this album, what can I say? I've long been a fan of how he sings, there's just something about the way his vocals sound that appeals to me since I discovered the original GRIM REAPER's Rock You To Hell album. While nothing has changed to affect my enjoyment of his singing, I did notice what seemed to be a deeper sound to his vocals on At The Gates. I don't know if that's the result of changes that have come to his voice or if the deeper sound was brought on by the album's production but whatever the reason, he just sounds even better.

And that is clear from the start. The album opens with the title track and the guitar riffs combined with those vocals give the song an immediate extra dose of heaviness. Guitarist Ian Nash has a number of great moments (especially when he unleashes one great sounding solo after another) on the album. He produced the disc with drummer Mark Pullin and I think that really helped make this a real BAND album as opposed to just spotlighting Grimmett's vocals with the music serving as an afterthought in the background. This isn't a surprise of course, because as with Walking In The Shadows, the music flows from one song into another with nary a letdown or for that matter, much of a pause.

If you are looking for a slow song, you are going to be a bit disappointed here. The album pretty much rocks throughout the 11-track running order. In fact, the slowest song is probably the closing "Shadow In The Dark" which opens with a brief a capella vocal. But that quickly gives way to the song kicking into full gear and rocking to its conclusion.

But before you get to that, you have songs like "What Lies Beneath", "Line Them Up" and "A Knock At The Door" that just blaze fast and hard to get the blood (and I'm sure when in concert, the fists) pumping.

Now, I won't say this is a perfect album. While the song "Venom" is overall pretty good, the repetitive use of the "venom" chorus got monotonous. And if you are like me and like to read along with the lyrics on that first spin of a new album, the difference in what was sung on "Only When I Sleep" and what the lyrics were in the booklet will be a nagging annoyance. I realize that last part is probably just my own little nitpick but hey, it's my review!

That aside, I can't help but feel energized by songs like "The Hand That Rocks The Cradle" or "Under The Hammer". Both songs feature a kick-ass musical soundtrack and killer lyrics with a in your face chorus. The tempo of "Breakneck Speed" matches the song's title, a relentlessly driven number that drags the listener along with the song.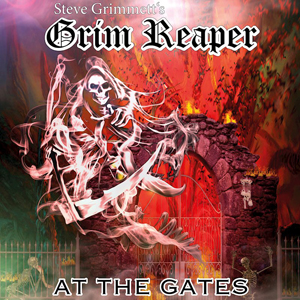 Of course, I like songs that feature that anthemic feeling in both music and lyrics so the very hard-hitting "Rush" really did the trick for me. It's funny that the song worked so well for me considering the opening verse features lyrics that take a very dark sounding turn. But I love the phrasing and sentiment behind the verse that followed it:
"We were born of the same blood
Forged from the same fire
under the same sun
We were forged from the fire"
Maybe it is just my own self, but I think that kind of sums up the brotherhood of metal and metal fans. Whatever the reason for the song resonating with me so singularly and strongly, it's a great track and the one I'd likely showcase if I was to introduce a new listener to the band through this album.
And that's what I like, the album makes me want to play it for others. I want people to hear this disc because it does a great job representing what makes me love metal music so much. For me, there's no need to come up with a clever turn of phrase to cap off this article. Simply put, At The Gates is a fantastically entertaining heavy metal album that spotlights a singer I quite enjoy with a band that fires on all cylinders. What can be better to say about a band than that?
4.5 Out Of 5.0