STEVE HARRIS' BRITISH LION In Nashville, TN With Photos!


By Michael Fischer, Writer, Cartoonist
Friday, January 31, 2020 @ 12:55 AM


| | | |
| --- | --- | --- |
| | | At The Cowan With Special Guests THE PICTUREBOOKS, LINES IN THE SKY |
All Photos By Brandy Beverung Photography
www.shotofbrandyphotography.com
Let us journey back to the Summer of 1982 in Nashville Tennessee. The first time I met STEVE HARRIS (Bassist IRON MAIDEN) was at a local record store on the Elliston Place Rock Block. IRON MAIDEN was touring America for the first time in support of NUMBER OF THE BEAST. Our local Rock Radio Station ROCK 106 sponsored an IRON MAIDEN meet and greet at a record store before the concert. IRON MAIDEN was opening for POINT BLANK and .38 SPECIAL at Municipal Auditorium Arena. Great line up right? A new British Heavy Metal band affiliated with the Devil and two unanimated Southern Rock bands. Funny outside that first MAIDEN concert, some .38 SPECIAL fans actually thought the Anti-Satan Church protesters were condemning them to hell for sex, drugs and "Hold on Loosely"! I was infatuated with IRON MAIDEN at age 18. My hair grew longer, my stereo became louder, Eddie Killers sticker on the back car window. IRON MAIDEN is my musical battle flag! When I first got Number of the Beast thats all I listened to for an entire year. The cassette tape would end, Id just flip it over and let it keep playing. So back at the record store meet and greet in 1982, it's 3pm, two car loads of us pile into the record store excited to meet IRON MAIDEN. Up from the back door stairs below walks in STEVE HARRIS holding a long neck bottle beer followed by the entire band including the late CLIVE BURR (Original Drummer IRON MAIDEN). What's really funny is no one really showed up for the meet and greet but us, it was like the scene in Spinal Tap with "Artie Lufkin aka Paul Shaffer" (Polymer Records). I wonder if he worked for EMI? For the next half hour we hung out with the band at a table and to Bruce's amusement making jokes about how they were going to blow away the other bands. We had some laughs, they autographed our albums, then we bolted to the show so we could get in first, dash down to the front of the stage and secure middle front row standing against the metal barricade. At the encore of the concert I remember STEVE HARRIS looking down acknowledging us from the stage tossing us his wrist bands. Can you believe from that moment on, anytime Steve came through Nashville, he always remembered me?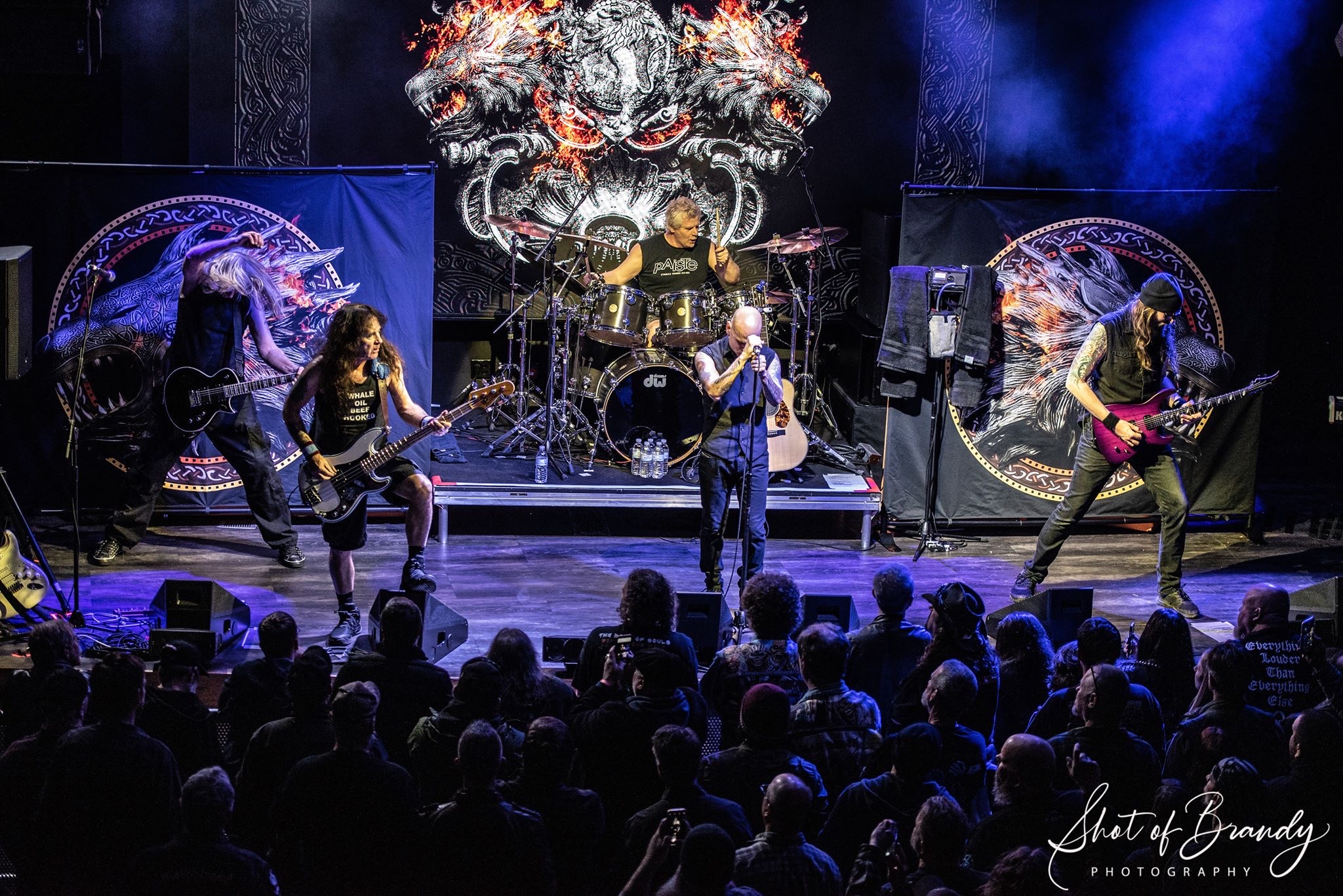 Now here we are 40+ years later, Steve is back in town still firing on all cylinders, touring non stop continuing to blaze ahead representing everything I believe in musically. Thats pure dedication! It's a cold Tuesday evening in Music City where theres always a party and live music downtown no matter what street corner you land on anytime of the year. STEVE HARRIS' solo band BRITISH LION has landed in Music City tonight on their very first American Tour in support of their new 2nd record release THE BURNING. I once saw Ronnie James Dio perform in a small club in Louisville @ the Toy Tiger during the Angry Machines Tour in 1998. I remember thinking anytime you have a chance to see an Arena Artist in a small night club, go! It's a real treat. BRITISH LION is a slight sound departure from IRON MAIDEN. Same thunder, different sky! It sorta reminds me of things Steve was doing and music he was writing in the beginning of his career. I hear those great lyrics, familiar monster chord progressions and his signature right hand riffs, they're part of what makes BRITISH LION a unique rock project. A lot of the old, little of the new. The things you love sounding a bit different with the same pounding tempos, dynamics and a new fresh voice. It's a nice blend of what we're used to as a fan of Steve's work.
I Love BRITISH LION's new single "Lightning". It's been getting mucho air play on KNAC.COM. It's a great tune! The more I hear it, the more I like it. Although there's only one Bruce Dickinson, BRITISH LION frontman Richard Taylor is really clever in his own style. Hey, he's British! He's not trying to be Bruce or sound like Bruce, but at times I could hear Bruce singing a lot of this material. It has that quality. BRITISH LION reminds me of the first time I strayed from IRON MAIDEN's Number of the Beast back into the first two IRON MAIDEN records with Paul Di'Anno. Exactly the same, but totally different. BRITISH LION Drummer Simon Dawson and Guitarists David Hawkins and Grahame Leslie are an animated pair of English ax slingers, with Orange cabinets behind those back drops. Some tasty guitar solos and at first glance, it's as if Eddie had come to life as six string bookends on stage. These blokes fit right into the team character-wise. They'd certainly be great mates to have on your side if a brawl broke out at your local pub. Again, great to see STEVE HARRIS in a small night club when he's normally performing for 100,000's of people at European Rock Festivals. He still mouths all the words to the songs, which I love (No other bass players do that unless Jeff Pilson is making Don Dokken sound better). Experiencing STEVE HARRIS live on stage is a performance clinic more entertaining to watch than Spongebob Squarepants.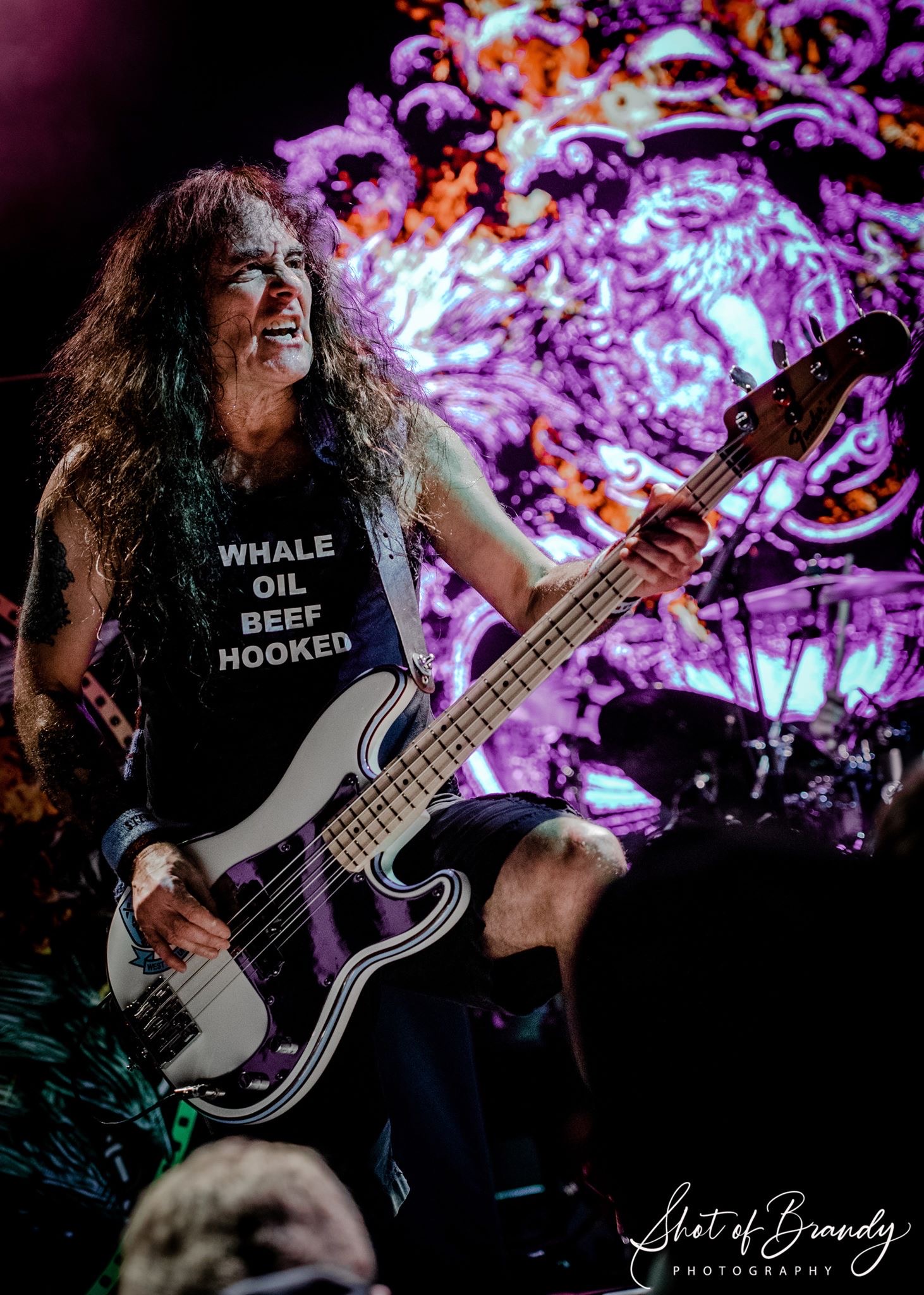 Tonight BRITISH LION were supported by two original opening bands, a local Nashville sonic progressive rock trio LINES IN THE SKY followed by a German Duo out of Long Beach California hand picked by Steve called THE PICTUREBOOKS. Heavy Opening Tuning Slide Blues. Very Tribal. Soon to be joining VOLBEAT and PRONG on their 2020 Summer Tour. The overall live sound tonight was fantastic. The new material sounded heavier live. The crowd was fantastic, including Richie Faulkner (JUDAS PRIEST), who was in the crowd.
BRITISH LION is a brilliant band live. MR. STEVE HARRIS, what an amazing work ethic. He was just here in Nashville @ Bridgestone Arena last June on a lengthy 2019 Arena Tour with IRON MAIDEN. While the rest of the band is taking time off before the release of their next record and 2020 tour, here's Steve right back in Nashville on stage in his natural habitat rocking a small club. Just a lucky guess he doesn't need the money. He's out touring making music because that's his life and thats what he loves to do. Die with your boots on right!?!?
I watched STEVE HARRIS signing autographs and greeting people after the show tonight. He took the time to come out and meet fans, take a photo and sign something (for no charge). It reminded me of Ronnie James Dio. The guy just rocked his ass off, he's still covered in sweat and then patiently took the time to come out and to acknowledge and thank each individual fan. Artists like this are true masters of their craft and loyal to their fans. STEVE HARRIS is a Metal Master and Rock Royalty. We never think of caring about IRON MADIEN being in the Rock n' Roll Hall of Fame because they're so far above any of that corporate hoopla bullshit. We know who's king! STEVE HARRIS has carried this torch since I was in high school and picked up my first IRON MAIDEN record at Port O' Call Record Store on Harding Place. IRON MAIDEN was a game changer in 1980. We were all inspired by STEVE HARRIS in the beginning and speaking for all of us, we still are. All I ever wanted to do was rock like Steve does. What an inspiration. He's has survived the test of time, fads, trends and others like him. STEVE HARRIS is timeless! I remember the first time my Mom saw the IRON MAIDEN Killers Tour on video, she looked at STEVE HARRIS and said "Oh honey that looks like you, and he's wearing your pants!" Ohhh gee thanks Mom! Lol. It would have been really cool if BRITISH LION pulled "Run to the Hills" out as an encore. But hey, that's for another place and another night Somewhere in Time ~
SET LIST:
"This is My God"
"City of Fallen Angels"
"Judas"
"Father Lucifer"
"The Burning"
"Spitfire"
"The Chosen Ones"
"Land of Perfect People"
"These are the Hands"
"Legend"
"Bible Black"
"Us Against the World"
"Lightning"
"Last Chance"
Encore:
"A World Without Heaven"
"Eyes of the Young"
Buy Tickets for remaining BRITISH LION U.S. Tour Dates at www.steveharrisbritishlion.com or www.ironmaiden.com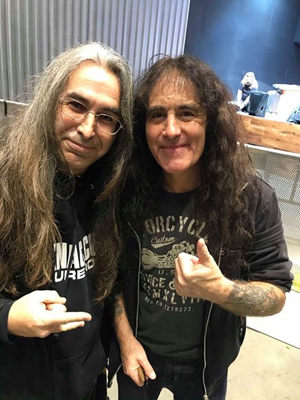 Please log in to view RANTS


WISHING WELL Sin And Shame

OTTTO Life Is A Game

SAXON More Inspirations

THE WINERY DOGS, BLACK HEART SAINTS In Houston, TX With Photos!

ROBIN MCAULEY Alive

CRADLE OF FILTH, DEVILDRIVER In Santa Ana With Photos!

KAMELOT The Awakening

ALTER BRIDGE, MAMMOTH WVH In Houston, TX With Photos!

ACID KING Beyond Vision

STEEL PANTHER On The Prowl

NIGHT DEMON Outsider

YNGWIE MALMSTEEN In Ottawa, Canada

THEORY OF A DEADMAN, SKILLET, SAINT ASONIA In Houston, TX With Photos!

OFFICER X Hell Is Coming

PERIPHERY Periphery V: Djent Is Not A Genre

INSOMNIUM Anno 1696

STEEL PANTHER, CROBOT, TRAGEDY In Houston, TX With Photos!

BABYLON A.D. Live Lightning

ROTTING CHRIST, CARACH ANGREN, UADA, GAEREA In Houston, TX With Photos!

MOTÖRHEAD Bad Magic: Seriously Bad Magic

TRAGEDY I Am Woman