LOVE AND WAR Edge Of The World


By Larry Petro, News Monkey
Sunday, February 2, 2020 @ 9:10 AM


| | | |
| --- | --- | --- |
| | | |
LOVE AND WAR
Edge Of The World
Self-Released/Distrokid




Up for review today is the sophomore effort from Houston's LOVE AND WAR entitled Edge Of The World, out February 3rd on all streaming services and Distrokid, and what a disc this is!

Admittedly I am a bit biased toward the band, vocalist Jeff Vandenberghe, guitarist John Adams, drummer Donny Bragg and bassist Ray Soliz, having gotten to know the guys on a professional and personal for the past 10 years or so, just prior to LOVE AND WAR's first release, Up The Annie in 2012. For Edge Of The World the band chose once again to record with Gregg Gill (Z-LOT-Z), but in the ensuing years since Up The Annie's release Gregg had relocated his family to Missouri where he opened Endeavor Studios. It was this choice that inevitably led to the recording taking far longer than it would have had they chosen to record in Houston as each of the band's members had to schedule time off from their respective regular jobs to travel to Missouri to record their parts. The question that arises is, would the decision and effort be worth the long wait? The answer would be a resounding yes!

Having had the benefit of watching the band perform most of the tracks on Edge Of The World in a live setting, both in their own shows and opening for national acts such as UFO, QUEENSRYCHE, NIGHT RANGR, MSG, KROKUS and Y&T, certainly gave me familiarity with the album and unlike a lot of releases that sound better in a live setting, such is not the case with Edge Of The World. The energy and intensity that are apparent on the recorded versions is obvious as the band has turned things up to 11 and then some!

This disc is chock full of ferocious guitar riffs, soaring vocals, pounding double bass drums and low end grooves, as evidenced by the album's lead off track, "We All Fall Down", an absolute barnburner and a perfect way to start things off. A furious opening salvo by guitarist Adams kicks things off as the band heads balls-out into the meat of the song. This song is one the band has used to open numerous shows and for good reason. It gets the blood flowing and fists pumping in short order and serves notice that LOVE AND WAR are back and heavier than ever! As with nearly every song on the record, Adams shows his chops with solos that will blow your mind. You know it's good when you inspire the KNAC.COM Program Director to place the track into the site's rotation, the first station in the world to do so!

The CD continues with "Start Believing" and some great low end groove from Soliz and then "Mercenary Man" which evokes a classic SAXON sound with vocalist Vandenberghe channeling his inner Biff Byford. The album's title track follows and starts off with another Adams riff ala Jake E. Lee on "Bark At The Moon" and kicks your ass with nice double bass kicks from Bragg.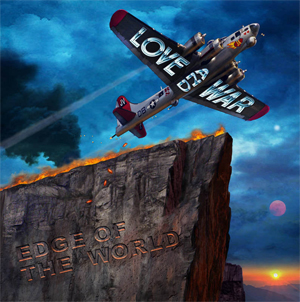 Elsewhere on the album you get a distinctly Southern-styled track in "Strange Kind Of Medicine", complete with some slide guitar, harmonica and yes, even some banjo! The track definitely showcases the band's diversity and ability to rock your socks off in any manner they choose. The album closes with "Southside Johnny", a song about a high-end pimp nicknamed, you guessed it, Southside Johnny. This track has a definite old-school VAN HALEN Women And Children First vibe to it, complete with vocal harmonies that harkens back to the glory days of rock and metal.
The production by Gill and his crew is as perfect as you can get, with plenty to discover with each repeat listen, from the twin lead harmonies, solos by Adams and the ability to isolate each instrument in the songs. Patience is absolutely a virtue and good things indeed come to those who wait, so if you're looking for some good, new hard rock that is capable of melting your face and blowing the speakers on your stereo, then you must check out Edge Of The World! You can thank me later.
The band tried to get this released prior to the end of 2019 and I was a little bummed that it didn't transpire because I had already placed this album in my Top 5 for the year, but they now have the distinction of being the first band in my Top Ten list for 2020.
4.8 Out Of 5.0

Please log in to view RANTS