BRIAN POSEHN Grandpa Metal


By Francisco Zamudio, Metal X Candy 2.0
Monday, February 3, 2020 @ 12:41 AM


| | | |
| --- | --- | --- |
| | | |
BRIAN POSEHN
Grandpa Metal
Megaforce Records




In a lot of ways, Metal isn't meant to be taken serious. From lyrics about politics, gore and "satanism", it's somewhat tongue-in-cheek when it comes to the seriousness of it. So to further inject a gesture of jest, why not get a great comedian to make a Metal record. Brian Posehn has dabbled in quite a lot of multimedia, from video games to comic books (one of which was the now more popular than ever DEADPOOL series back in 2012 through 2015), to acting in various TV shows and movies both as full cast member and brief cameos. Part of that long list is vocalist and songwriter as he now further exposes this side of himself with his first full-length release GRANDPA METAL (MEGAFORCE RECORDS). Helping extend the branch on this hilarious new effort is ANTHRAX's own Scott Ian who co-wrote a lot of the music along with a stellar collaboration of many of Brian's friends. Joe Trohman (FALL OUT BOY, THE DAMNED THINGS) lends his songwriting skills on this cleverly written album, along with another whose name is synonymous and no stranger to comedic Metal, DETHKLOK/METALOCALYPSE creator Brendon Small.

Leading off the album is one of several short skits laced throughout the album that connect its concept, "Grandpa Metal"L. Brian heeds warning about Metal's beloved "mascot" Satan and how the glorified Beast is tied to all our favorite bands. This is a great lead into the opening song "Satan's Kind Of A Dick". No, not any sort of propaganda attempt but a clever angle he takes on what Hell actually is, in his words.. Who better to help coin a theme song about Hell than SLAYER (RIP) and EXODUS guitarist Gary Holt with some of his amazing trademark shredding. His is one of many great guest solos throughout the record.

From Goblins to Monsters, Satan and Vikings, even todays modern "music artists" aren't safe from Brian Posehn. He's always been vocal about his distaste for bad music and he gives a great tongue-lashing on the song-pairings "New Music Sucks" where he goes off naming off all these faces in modern pop that should just go away, and I couldn't agree more! Adding to the comedic factor, he plays the part and goes as far as using a programmed beats and a thing called "auto-tune", a cheat program used in the studio used on voices to hide their inability to actually sing in tune. Following the dance track, he makes a metal "reprise" version of this song and it's just as hilarious.

A real tear-jerking moment for me was hearing the voice of the late, great Jill Janus (HUNTRESS). She makes a couple of appearances on GRANDPA METAL and one is the cover track of A-HA's "Take On Me". Accompanying her here is another face from EXODUS, Zetro Souza along with TESTAMENT's Chuck Billy for a great rendition of one of the most viewed videos on YouTube. She also appears on the hysterically romantic song "Goblin Love" as the "Female Goblin". A clever role-playing interaction with Posehn and an amazing solo by Small makes this one of the best hits on the record. This is possibly the last time her voice was recorded for any release just before her passing in late 2018. This alone helps makes this record a collector's item. Her career was short-lived and this will be cherished by her fans, me included.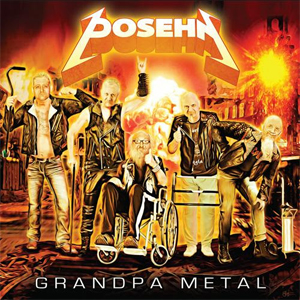 The roster put together on GRANDPA METAL reads like the "who's who" of today's and yesterday's Metal scene. Viking Metal greats AMON AMARTH are represented here by vocalist Johan Hegg, and naturally appears on the song "One Quarter Viking, Three Quarters Pussy". SOUNDGARDEN guitarist Kim Thayil appears on the album's title track which pokes a bit of fun at Ian, an old-schooler in Metal who's been around and done a thing or two. Some of the other awesome guitarists to lend a chord on this record are Bumblefoot (GUNS N' ROSES), Phil Demmel (VIO-LENCE, ex-MACHINE HEAD), and TESTAMENT's Alex Skolnick. Even Corey Taylor (SLIPKNOT) gets involved along with too many others to name here.
Brian Posehn has actually been at this for a while ever since back in 2006 when he worked with Scott Ian for a couple of tracks on the stand-up comedy album LIVE IN: NERD RAGE. They released the songs "Metal By Numbers" and their great cover of the Kenny Rogers epic classic "The Gambler". Then there was his follow-up FART AND WEINER JOKES with the track for which he released a hysterical animated video, "More Metal Than You" back in 2010. It was that far back that he also started working with Brendon Small. Being a Metalhead himself, Brian Posehn has a knack for connecting with the metalhead community. His love for all things metal follows in the footsteps of CHEECH and CHONG and "Weird" Al Yankovic (who also makes an appearance on GRANDPA METAL), making comedy and metal a crossover that will never get old.
4.0 Out Of 5.0

Please log in to view RANTS