THE THREE TREMORS In Orlando, FL With Photos!


By Alex Yarborough, Orlando Contributor
Friday, February 7, 2020 @ 6:31 PM


| | | |
| --- | --- | --- |
| | | At The Soundbar February 1, 2020 |
All photos by Alex Yarborough
On Saturday night, downtown Orlando nightclub Soundbar welcomed the supergroup THE THREE TREMORS to town to play a night of heavy metal that won't soon be forgotten. The band arrived in town from West Palm Beach, where they had just played their second of three shows in the state of Florida. The first night, in Tampa, was also attended by your truly. For those unfamiliar with the band, THE THREE TREMORS are: vocalists Harry Conklin (JAG PANZER), Tim Ripper Owens (JUDAS PRIEST) and Sean Peck (CAGE), who are backed by guitarists Dave Garcia and Casey Trask, drummer Sean Elg and new touring bassist Zaco Pastorius.
The show started with four songs from the band's self-titled debut album: "Wrath of Asgard", "Bullets For The Damned", "Invaders From The Sky" and "When The Last Scream Fades". Next, Tim Ripper Owens took the spotlight to sing JUDAS PRIEST's "Burn In Hell", which was unquestionably a show highlight. The band then played their own song "King of The Monsters", (written about legends Lemmy and Ronnie James Dio), which segued BLACK SABBATH's epic "Heaven and Hell".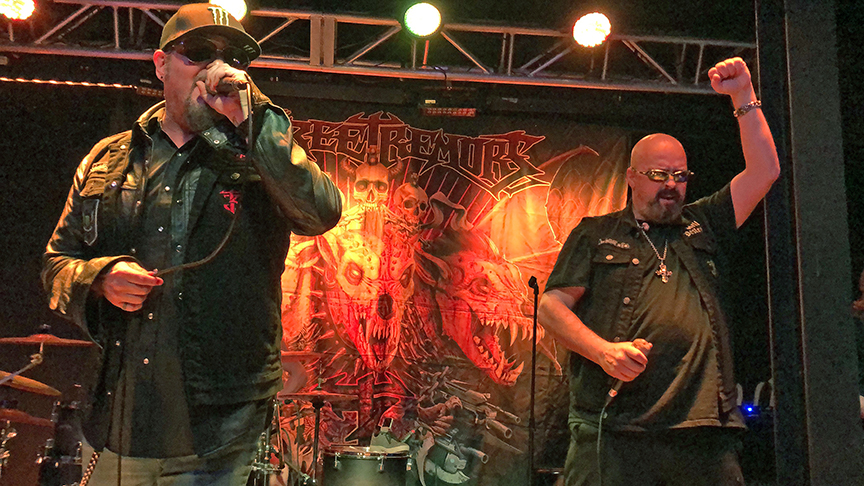 Harry Conklin performed JAG PANZER's "Black", which was another memorable part of this show. The way Harry sings this song while banging his head is quite impressive. Additional THREE TREMORS songs "The Pit Shows No Mercy", "Sonic Suicide", "Fly Or Die" and "Lust Of The Blade" were also performed. Some other nice surprises in the set included JUDAS PRIEST's "Painkiller" and a rendition of "Breaking The Law" that featured Todd Mills from local band SAINTS OF DEBAUCHERY on guest vocals. Mad props to him for a killer performance! The set closed with the band's namesake song, "The Three Tremors".
I can say without a doubt that I thoroughly enjoyed this show. Every song was a blast and the band sounded incredible! All members of the band made themselves available to fans throughout the night and happily signed anything they were asked. THE THREE TREMORS are a fun live band and we were lucky to have them visit us down here in Florida. For that, I thank them. Come back soon!
Check out some more photos from the show!
All photos by Alex Yarborough

Please log in to view RANTS